We had the chance to preview the new releases from Dark Horse Comics for the week of 30 Nov 2011, and these were the highlights: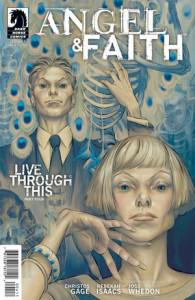 Angel and Faith #4
Writer: Christos Gage
Artist: Rebekah Issacs
Colorist: Dan Jackson
As Angel continues his quest to resurrect the dead by following leads he digs out of the Watcher's Files, Faith has second thoughts about supporting his seemingly impossible venture. A new ally warns her to weigh the consequences–good and bad–of Angel's endeavor. Meanwhile, amidst clubbing, mentoring, and slaying, Faith has her own concerns counseling a damaged and vengeance-seeking Slayer! There's pressure from all sides. Can Faith handle it?
This series continues to be an absolute joy, covering plenty of character and plot development spinning out of Buffy: Season 8. The story manages to delve into both Angel and Faith's current psychological space, while still leaving the future in doubt. And I contend that the art is still much better than what has been done for Buffy: Season 9. – John Keegan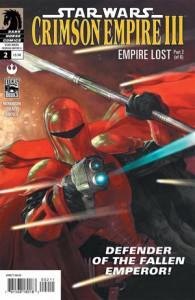 Star Wars: Crimson Empire III: Empire Lost #2
Writer: Mike Richardson
Artist: Paul Galucy
Colorist: Michael Bartolo
Kir Kanos, the last surviving member of Emperor Palpatine's Royal Guards, has been "invited" to join a cadre of Imperial officers intent on returning the Empire to its former glory. Meanwhile, the rising New Republic comes under fire when assassins put Kanos's adversary (and occasional romantic interest) Mirith Sinn in the crosshairs!
I'm sure that I'm missing some details that were covered in the previous two incarnations of the Crimson Empire saga, but I still found this to have a well-paced story that drew me in. I still have issues with the art, though; there is something about the favial features that I just can't put my finger on. – John Keegan
Also available this week:
Star Wars: Dark Times: Out of the Wilderness #3
Check in next week for another look at the exciting new releases from Dark Horse Comics!