We had the chance to preview the new releases from Dark Horse Comics for the week of 26 Oct 2011, and these were the highlights: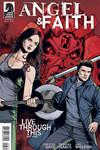 Angel and Faith #3
Writer: Christos Gage
Artist: Rebekah Issacs
Colorist: Dan Jackson
Giles' personal Watcher files lead Angel and Faith to what Angel believes will be his true redemption: at least for a portion of his unforgivable sins. In the underbelly of London, where demons are coping with the lack of magic and the resulting changes to the natural hierarchy, Angel and Faith follow the first major lead in Angel's quest…forcing him to reflect on his earliest days in Los Angeles.
I've been a devoted Buffyverse fan since the start and reader since the start of "Buffy: Season 8″, so the combination of Angel and Faith has been a dream come true. This particular story arc plays on the history of the two characters very well, and also delves deep into Angel's desperate search for redemption. The art is absolutely perfect, and this continues to be one of my favorite books currently on the shelves. – John Keegan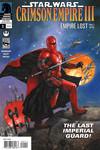 Star Wars: Crimson Empire III: Empire Lost #1
Writer: Mike Richardson
Artist: Paul Gulacy
Colorist: Michael Bartolo
"Star Wars: Crimson Empire", the story of the last Imperial Guardsman, returns after over a decade of anticipation! The reach of the New Republic is expanding, but the days of fighting for the galaxy have not ended. A threat against Princess Leia and Han Solo's family disrupts usual business on Coruscant, and Luke Skywalker's Jedi training on Yavin 4! In another part of the galaxy, a former Imperial Guardsman turned bounty hunter, Kir Kanos, is ready to settle an old score after three years in hiding…if a new adversary doesn't kill him first!
As the solicitation says, it's been a decade since the last Crimson Empire series, and it's definitely interesting to delve back into this part of the EU timeline. This opening chapter does much to set the stage, but the art, while solid on its own, does seem to miss the mark on the more recognizable characters. Still, for fans of the New Republic era, this is a treat! – John Keegan
Also available this week:
Abe Sapien: The Devil Does Not Jest #2
Usagi Yojimbo #141
Check in next week for another look at the exciting new releases from Dark Horse Comics!