We had the chance to preview the new releases from Dark Horse Comics for the week of 16 Nov 2011, and these were the highlights: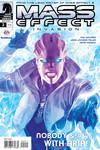 Mass Effect: Invasion #2
Writer: Mac Walters and John Jackson Miller
Artist: Omar Francia
Colorist: Massimo Carnevalo
Space station Omega is under attack by bizarre creatures from the center of the galaxy! Aria T'Loak, pirate queen of Omega, leads the charge against the grotesque invaders, but when the true threat behind them is revealed, Aria is forced to regroup and form a new strategy–or risk losing everything!
While the first issue was a solid, fairly accessible slice of space opera, this next chapter is a bit more arcane for those new to the Mass Effect universe. While that makes it a bit harder to follow, it's still enjoyable based on the detailed art, and I'm sure that Mass Effect fans will be more than intrigued. – John Keegan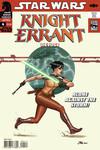 Star Wars: Knight Errant: Deluge #4
Writer: John Jackson Miller
Penciller: Iban Coello
Inker: Sergio Abad
Colorist: Michael Atiyeh
Kerra Holt has her Jedi work cut out for her! As crime lord Zodah the Hutt's massive Stormbringer vessels flood Kerra's homeworld with rain, she does her utmost to herd the listless inhabitants to the safety of higher ground. Meanwhile, Sith Lord Daiman doesn't appreciate Zodah destroying a world that belongs to him! Soon, Kerra will have two armies to fight!
Much like the previous issue, this was very accessible, and I really enjoy the character of Kerra Holt. In this issue, she is equally matched by Jenn Devaad. As massive as the Hutt-driven destruction might be, there's a real sense of thrilling adventure to it all. And the clean lines of the art really bring Kerra and Jenn to life! – John Keegan
Also available this week:
Conan: Road of Kings #10
Star Wars: Invasion: Revelations #5
Check in next week for another look at the exciting new releases from Dark Horse Comics!