We had the chance to preview the new releases from Dark Horse Comics for the week of 09 Nov 2011, and these were the highlights: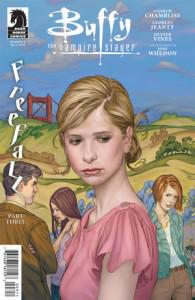 Buffy the Vampire Slayer: Season 9 #3
Writer: Andrew Chambliss
Artist: Georges Jeanty
Inker: Dexter Vines
Colorist: Michelle Madsen
Spike has heard rumblings. Someone, or something, is coming for Buffy–and now, after she recklessly slipped out of police custody, the SFPD is certainly looking. When Buffy's family and friends deny her refuge from the cops, she turns to the streets and slaying, where she discovers there's a new kind of vampire slayer in town…
Season 9 of Buffy's story continues with plenty of great plot twists and fresh consequences spinning out of the end of Season 8. The writing certainly hits all the right notes, so it's a bit disappointing that Jeanty continues to render the familiar characters a little too childishly. While I understand the loyalty to Jeanty from the fandom so far, I'd rather see art similar to "Angel & Faith" or "Dollhouse", which seems to be a better fit at this point. – John Keegan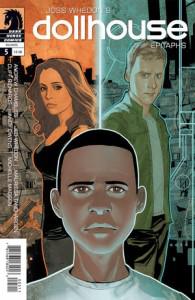 Dollhouse: Epitaphs #5
Writer: Andrew Chambliss, Maurissa Tancharoen, and Jed Whedon
Artist: Cliff Richards
Inker: Andy Owens
Colorist: Michelle Madsen
The Rossum Corporation's tech-induced apocalypse has spread worldwide. Now that the majority of the population is either a mindless killer or a mindless member of a makeshift army, Rossum is once again directing their attention to capturing Echo.
At the edge of Rossum's HQ, Alpha's small army of "dolls" are also attempting to find Echo–she's humanity's only hope for survival. Meanwhile, in Los Angeles, Mag, Griff, and Zone organize their new recruits to take down a radio tower that broadcasts Rossum's Wielder imprint.
This miniseries has gone a long way towards demonstrating that "Dollhouse" still had plenty of stories to tell, particularly in the post-apocalyptic "Epitaph" period, and things wrap up pretty well in this final issue. Beyond all the great little continuity nods throughout the story, pay attention to the letters page as well; more than a couple of nuggets find their way into the responses! – John Keegan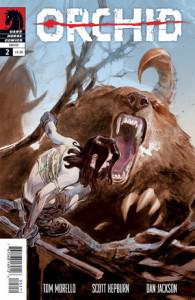 Orchid #2
Writer: Tom Morello
Artist: Scott Hepburn
Colorist: Dan Jackson
Orchid, along with her little brother and an unexpected ally named Simon, find themselves in unknown territory after they're captured and sold by slave traders. Headed toward the feared Fortress Penuel, Simon must mount an escape plan if he's going to rescue his rebel comrades and return the mysterious and powerful mask of General China to its rightful owner–a saint believed to save the oppressed from the wicked Tomo Wolfe.
Speaking of post-apocalyptic stories, I had never heard of this series before catching this issue, but despite the minor learning curve (and a bit of annoyance with the didactic beginning), I found myself looking forward to seeing where the story would go next. The art is dead-on for the subject matter, adding to the dark undertones. – John Keegan
Also available this week:
Baltimore: The Curse Bells #4
House of Night #1
Kull: The Cat and the Skull #2
Kult #4
The Occultist #1
Check in next week for another look at the exciting new releases from Dark Horse Comics!