We had the chance to preview the new releases from Dark Horse Comics for the week of 02 Nov 2011, and these were the highlights: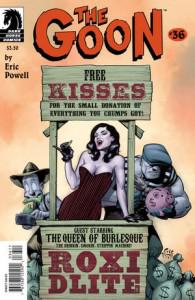 The Goon #36
Writer: Eric Powell
Artist: Eric Powell
Colorist: Dave Stewert
Zombie gangs, killer robots, beasts beyond reckoning, and stuck in the middle is Goon! But can the titular powerhouse resist the wicked allure of femme fatale guest star Roxi Dlite–the 2010 Queen of Burlesque? Will Franky be able to pick his tongue off of the ground before issue's end?! Find out the stunning and sultry answers in a new madcap issue of The Goon!
With a description like that, how could I resist? It definitely plays up the burlesque mystique to the hilt, which this particular title is pretty much designed to achieve. The art pushes to the edge of the same boundaries that the script happily leaps across, so there's a little bit of everything that one could ask for from a ribald comedy piece. – John Keegan
Also available this week:
Fear Agent #32
Check in next week for another look at the exciting new releases from Dark Horse Comics!