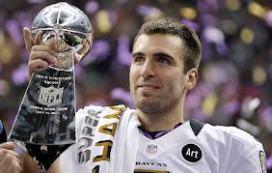 Joe Flacco after claiming his first Lombardi trophy and Super Bowl MVP award.
Standing triumphant on the field in the Mercedes-Benz Superdome in New Orleans, Joe Flacco had finally silenced the critics. Lord knows how many times the adjective "elite" had been attached to the 6'6″ University of Delaware alumni since his April 2012 proclamation that he was the best quarterback in the NFL. During this moment, however, "Joe Cool" looked as quietly confident as ever, offering up an air of "I told you so" to the nation without actually saying it.
Albeit, it was quite difficult to see this scenario coming. During the last five games of the regular season, the Ravens looked like a team headed for a lack-luster playoff performance. Not only had they lost their physical and emotional Ray Lewis to a seemingly season (if not career) ending triceps injury, as well as young stud safety Lardarius Webb to a torn ACL, they had finished these last five games with a horrific 1-4 record. Their four losses came to a Byron Leftwich-led Pittsburgh squad; blowing a 4th quarter lead against the Redskins and losing in overtime; getting obliterated by Denver 34-17, and they finished out by losing to a below-average playoff team in the Bengals. All looked lost, until Joe Flacco took the field in Baltimore for Ray Lewis' final home playoff game.
While the game itself was not truly entertaining to watch, my girlfriend's father and I calmly sipped on Coronas during the game, at times changing channels due to the game's overall lack of appeal, the emotions were high. Ray Lewis' last home game and Chuck Pagano's triumphant return to the Colts gave interesting story lines to watch throughout, and Andrew Luck's first playoff game. These story lines at times made it difficult to pick a team to root for if you weren't personally invested in either of them.
None of that mattered to Joe Flacco. He threw for 282 yards (on 12 completions ) for 2 TD's , no interceptions and a QB Rating of 125.6 en route to a 24-9 win. After the game,however, came more talk about the previously mentioned motifs that the game presented. Joe Cool went almost unnoticed, because lets be honest, there was no way that Joe Flacco was going to march onto Sports Authority Field in Denver and take down the legend that is Peyton Manning after the historic comeback that he had achieved during the regular season.
A funny thing happened in Denver. Joe Flacco threw for 331 yards, 3 Touchdowns (including the historic 70 yard bomb to Jacoby Jones courtesy of Rahim Moore), and the Ravens pulled off a double-overtime shocker that left everyone, including myself, breathless. The game was literally an epic Homer novel, taking cues from The Iliad and The Odyssey (yes, I just made a high school literature class reference). The returning hero Peyton Manning versus the man who had proclaimed himself greater than him in Flacco. During the game I had over an 105° fever, yet I stood up, cheered, and screamed my brains out at the sight of the Flacco-Jones connection to tie the game. It was without a doubt one of the best games I have ever seen, maybe ever will see (for you older readers, I am only 22, so forgive me for such a bold claim). Joe Cool had done what many thought was simply out of reach; he outplayed Peyton on the road and was destined for a rematch with the dreaded New England Patriots in the AFC title game.
Perhaps Flacco had won some people over after the events in Denver, but for most, the fun and games were over for Joe entered Gillette stadium. He was simply better than Brady, taking control in the second half en route to an astonishing 28-13 win over their playoff nemeses. Another 3 TD-0 Int performance, another win, New Orleans was beckoning, and not for a personal Mardi Gras vacation to drown the pain of a second consecutive AFC Title  loss in Jameson and Guinness, but for the Super Bowl my friends.
You all watched the Super Bowl, probably including the over 30-minute blackout that occurred after Jacoby Jones ridiculously-fabulously-insanely speedy 108 Kickoff Return that sent Ravens fans into a frenzy and 49ers fans into slight depression. Flacco withstood the 49ers rally, had another great game (66.7 completion %, 287 yards on 22 completions, a third consecutive 3TD-0 Int showing, and a 124.2 Passer Rating), won the Super Bowl and it's MVP award.
What do we make of this? Is there any point of having another "Joe Flacco is elite" debate. No, its over. Pick a synonym for elite to attach onto him (world-class, exclusive, elect, top-notch), go for it, its a pointless debate. Joe Flacco had one of the best postseasons that a quarterback has ever had, period. I read Grantland's article essentially discussing the same topic, and I agree with Bill Barnwell (one of my favorite writers on that site). His performance cannot be above Joe Montana's playoff performance during the 1989 campaign. Barnwell suggests a second place finish and i without a doubt agree.
For modern comparisons during the last couple of seasons, lets look at arguably the best quarterback in the game (as considered by many) Aaron Rodgers.
Aaron Rodger's 2010 Playoff Statistics.
Playoff Round Comp. % Yards Passer Rtg. Y/A TD-Int
Wild Card 66.7 180 122.5 6.67 3-0
Divisional 86.1 366 136.8 11.83 3-0
Conf. Title 56.7 244 55.4 5.13 0-2
Super Bowl 61.5 304 111.5 9.33 3-0
Totals/Averages 68.2 1,094 109.8 8.3 9-2
Joe Flacco's 2012 Playoff Statistics
Playoff Round Comp. % Yards Passer Rtg. Y/A TD-Int
Wild Card 52.2 282 125.6 12.26 2-0
Divisional 52.9 331 116.2 9.74 3-0
Conf. Title 58.3 240 106.3 6.67 3-0
Super Bowl 66.7 287 124.2 8.70 3-0
Totals/Averages 57.9 1,140 117.2 9.0 11-0
Joe Flacco wins in every statistical category except completion percentage. Just some food for thought. Flacco averaged 9.0 Y/A during the 2012 playoffs (his previous best was last year, with 7.65 Y/A, while averaging a slightly less completion percentage of 57.1). His passer rating was 117.2 this playoff season (his previous best was last year, with a 96.1 rating), that is a monumental increase whether you like Flacco or not. Outstanding.
Sit back and relax ladies and gentlemen, Joe Cool has arrived.