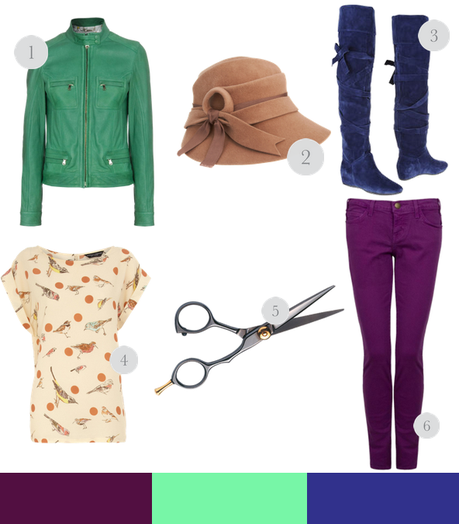 I cut six inches off my hair last night…and I'm not lying when I say I started seeing spots when that scissors skimmed the back of my neck. Here's a picture of me still looking really scared. But today I can officially report that I love it, and if you have been thinking about making a change–now is the time. Whether its taking off some length, adding some bangs, brightening up that color or maybe adding length—make the decision and go for it. You'll feel like a million bucks. Here's some other things I dare you to do this fall:
1. Colored Leather (D & G Grass Green Lambskin Jacket, $1.315.00). I already invested in brown, but as soon as I find a nicely-priced colored jacket, it's mine.
2. A new hat Style (Brenda Lynn Cloche Hat, $398.00). I enjoy tossing on one of those knit berets as much as the next girl, but this season, bust out of your comfort zone and grab a new style.
3. Put some color on your Feet (Cafe'Noir Heeled Boots in Blue , $185.00). Bold colors are popping up everywhere this fall, so why not put it on your feet as well? Even the classic Uggs are coming in brighter hues.
4. Lively Patterns (Dorothy Perkins Ivory Bird Print Tee, $25.00). Patterned always add interest to your outfit, but instead of just stripes, polka dots or plaid, we're starting to see patterns of birds, rabbits, elephants…you name it—someone has put it on a shirt just for you.
5. Snip Snip (Professional Grade Scissors, $30.00). The best way to freshen up your look this fall is to change up your overall look. Color, length or style—take a chance and add something new! Dare ya.
6. Blue  Purple Red Green Jeans (Current/Elliot Ankle Skinny Jeans, $221.00). Am I overdosing on color over here or what? I want everyone to have colored everything. But seriously, colored jeans? You haven't gotten to wear them since 2nd grade, live it up.
By the way, I announced the winner of the Sephora gift-card. Head over to the Facebook page to see if it was you!