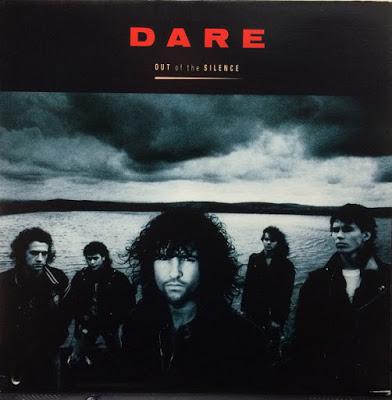 My anticipation for this release was sky high. Being a Thin Lizzy nut every time a Lizzy member unearths a new album it brings that out of me. And since 'Out Of The Silence' (1988) was the debut of Dare, Thin Lizzy's latter-day keyboardist Darren Wharton's new band, those feelings were extremely heightened. True enough, Darren had played somewhat of a peripheral part with my heroes, although his performance on especially 'Renegade' is exceptional. But now he was the bandleader and what was the music going to sound like?
Sound-wise Darren is far away from his mentor Philip Lynott guiding Dare into the realm of AOR although a strong Celtic touch does carry through. However, he did pick up on how to write melodies, harmonies and how to tell stories. And those traits are the foundation which made 'Out Of The Silence' the brilliant album it is. The excellent opener 'Abandon' sets the vibe, and the theme, for the whole album in the sense that the music is rather upbeat as if carrying hope, while the lyrics deal with relationship problems. In this song the protagonist faces the prospect of losing his girl but is still hanging on to the hope of staying together. 'Into The Fire' puts the guitar and keyboards in centre stage harmonizing perfectly with a Celtic touch in the chorus. About holding on to hope when facing adversity but together you'll make it. Slightly slower especially in the verses which fits the lyrics. Don't fight your feelings and memories, love is the key. Embrace it and everything will turn out well. Great guitar solo! 'Runaway' is one of the rockers on the album. Break free and find your way...or are you only running away to avoid facing your fears? 'Under The Sun' has a darker touch to it. Dejection, what is left to do? Bridges are burned and you're on your own.
'The Raindance' has a strong Celtic feel in structure, soul and words. Uprising and defiance, fight the oppressors and break free. The guitar solos brings out Thin Lizzy, great song! 'King Of Spades' is one of the greatest homages ever written for Philip Lynott. Again a strong Celtic touch especially in the structure of the song and nothing else would do. Heartbreaking lyrics, yet a wonderful composition with Thin Lizzy shining through in the solos. 'Heartbreaker' is another rocker about gold-diggers who stops at nothing to get what they want, leaving you broken in the dust. 'Return The Heart' is full of hope, reconciliation and of coming home. Whatever was is forgotten and life is good again. Somehow this song brings me back to Ireland. Album closer 'Don't Let Go' is another one with an upbeat touch to the music, for the most part, while the lyrics are pretty dark:....'don't let go cause I can't follow you tonight' says it all.
When I first played 'Out Of The Silence' I didn't expect to hear what I heard. Guess a big part of me wanted a new version of Thin Lizzy or an immediate extension of them. Instead I got something completely different and damn, how floored I was. Darren really stepped out on his own but used what he had learned and the outcome is fantastic. Vinny Burns, guitars, and Brian Cox, keyboards, were instrumental, no pun intended, in helping Wharton to realize his dreams. Brilliant, indeed! On a side note, after leaving Dare after their second album, Brian Cox became a professor in particle physics, an author as well as a presenter of science programmes on TV.
-Swedebeast