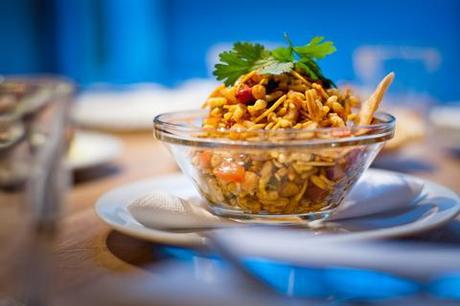 The UK's premier classical Indian music festival Darbar is running at the Southbank Centre from Thursday 27th to Sunday 30th of September.
Established stars of the Indian classical music scene and up-and coming talents will take to the stage for four-days of music and discussion for visitors to enjoy music styles and traditions from all over India.
Roti Chai, permanent purveyor of Indian street food, has been invited to help celebrate this unique musical series. Popular for their Chicken Lollipops and Bhel Puri the Roti Chai Chaat Shack and Bar will serve classic Indian street snacks and signature drinks Lychee Teapot Martini and Pushkar Pimms.
Fancy a visit? Here are neon's suggested Darbar/Chaat Shack itineraries for the festival:
Thursday 27th
6.30pm: Chaat supper of Bombay Bhel Puri, Tandoori Chicken Chaat and whatever else you fancy.
7.30pm: Catch the last 2 hours of a double-bill to see India's greatest violinist duo the Mysore Brothers.
9.30pm: Back to the Shack for their last hour of cocktails.
Friday 28th
2.30pm: Take the afternoon off and start with a Lychee Teapot Martini just because you can.
3.30pm: Settle in for a romantic 90 minutes of Pandit Prasanna playing the bansuri (flute).
5pm: Supper at the Shack and possibly some more cocktails to start your weekend.
Saturday 29th
12.30pm: Unwind and unify mind, body and spirit with an hour of Hatha Yoga to music.
1.30pm: Chaat lunch or if feeling lithe try the Keralan Banana Chips.
Sunday 30th
10am: Set your alarm early and get straight into 2 hours of flute playing. 'The flute was the art of Lord Krishna and an instrument that can transport people to a world of peace, tranquility and ecstasy' says Prasanna. The perfect Sunday mantra.
12pm: Enjoy an alternative Sunday lunch of GT Road Dhaba Chicken served with rice.
The Shack is open from midday until 10.30pm
Roti Chai Chaat Shack & Bar
Festival Village
Hayward Gallery
Southbank Centre
SE1 8XZ
Follow Chaat Shack tweets here