DAPL Protest Needs Winter Supplies
GR:  You can send supplies or cash to the DAPL protestors that will help them continue this winter.  Here's the link for the DAPL GoFundMe site.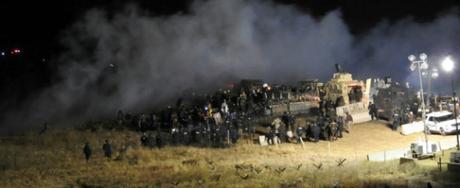 Looking for something for that hard to please relative?  Give them a card that says you have contributed to the DAPL protest.  Send supplies to:
Sacred Stone camp
P.O. Box 1011202
Main Street
Fort Yates, North Dakota  58538
"The dangers imposed by the greed of big oil on the people who live along the Missouri river is astounding. When this proposed pipeline breaks, as the majority of pipelines do, over half of the drinking water in South Dakota will be affected… It must be stopped. The people of the four bands of Cheyenne River stand with our sister nation in this fight as we are calling on all the Oceti Sakowin or Seven Council Fires to do so with our allies, both native and non native in opposing this pipeline." –Joye Braun (Cheyenne River)
Here are supplies needed by indigenous activists at the DAPL pipeline protest site, from my friend Lee Sprague, a native activist who is on site:
URGENT! WE NEED THE FOLLOWING SUPPLIES:
Waterproof Lights, Portable Lights 1000+ Lumens, and batteries. To light triage, and work areas.
20 under bumper White LED lights to light up Triage for Hypothermia, Rubber Bullet Wounds, tear gas burns on hands
Ear plugs with strings. For LRAD sound canons. It hurts.
Space blankets, hundreds.
Hand and Body Warmers
Portable Mr Buddy Heaters and green propane canisters.
Mittens, gloves, hats, blankets for hypothermia.
Ponchos, Waterproof outerwear
Gas masks, with replaceable cartridges. I went through 4 gas masks in one night.
Motorcycle helmets, full face shield for face protection
Hockey equipment
Firewood
Shin Guards
Standard R-13+ with backing. 4'x8′ 1 inch Blue or Pink Insulation panels.
Shingle nails, 1 1/2 inch, 2-5 lb boxes.
Small insulated. windows, easily framed, two square feet or less, ten of them, for our Winter shelter. New construction.
Heavy duty silver/brown tarps, 10×8 and 12×16.
2-Winter Work Trucks, with plow, 4 wheel drive, trailer hitch. Crew Cab, 4 Doors. 4 Wheel Drive passenger van.
2 Military Grade 6-10 person rubber boats, w/ 100 HP outboards.
2 -16'+ Zodiac Boats.
12 jet skis with trailers. 2 -10'x20′
Heavy duty carports, for rescue boat, and truck.
"Things will get worse, before they get better. Our people are committed to peaceful resistance. We need these items to help keep water protectors safe Winter conditions will be up to 20° below zero, with strong winds. We are not leaving. I am unable to answer all questions and comments at this time. Yes to all. We need help, we don't know we need. People have brought items for us, we did not know we needed. We are facing sever winter conditions now, and in the future. The rivers and small ponds are icing up already. Most important, we need you, here at OCETI SAKOWIN for Thankiving Dinner." –Chi miigwetch. 
Source: DAPL Protesters Digging In. Here's What they Need | Climate Denial Crock of the Week