Fowey is a quintessential Cornish town nestled along the river Fowey, with old cobbled lanes along steep hills meandering between mis-matched and colourful cottages. Fowey is famous for the home of Daphne du Maurier who wrote many of her books here. I have been commissioned to write quite a few magazines articles on Daphne du Maurier in the past, but I have never actually been to Fowey and seen where she lived so this was an exciting trip for me.
The car ferry takes you to the town of Boddinick on the opposite side of the river. The Ferryside, home of Daphne du Maurier, is to the right of the slipway in Boddinick. The locals say that her son Kitts still lives at the house. In Cornish Boddinick means 'dwelling by a Fort' Daphne du Maurier first came to Fowey at 19 and fell in love with the building in Boddinick that became her home. Her parents who lived in London were looking for a home in Cornwall. At the time Ferryside was called 'Swiss Cottage' and old pictures show that it had once been a boatyard.

The Old Ferry Inn just up from the slipway has fantastic views of the river and The Ferryside. I used the opportunity to relax have a drink and write-up my notes with an idyllic and memorable view. From here it is easy to imagine Daphne du Maurier rowing across the river to the Ferryside gardens and writing her books with the relaxing and inspirational views over Fowey.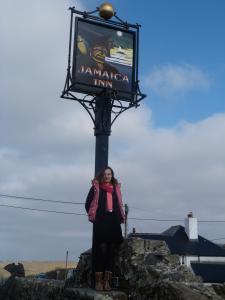 The Jamaica Inn on Bodmin Moor
Before venturing to Fowey I had lunch at the Jamaica Inn, on Bodmin Moor and setting of the famous book by Daphne du Maurier of the same name. Said to be haunted the Inn is a great place to relax and have a bite to eat. The Jamaica Inn is an atmospheric old English pub in the barren landscape of Bodmin Moor, complete with a frayed red carpet on uneven floors, an original fire-place and stuffed animals hanging on thick white washed walls and low wood beams.
Below shows an exhibit of the original bar with Mary Yellan and Francis Davey the albino vicar from Daphne du Maurier's novel. Mary comes to stay with her aunt in the Jamaica Inn and learns all about her aunt's husband, the brutish Joss Merlyn and the wreckers housing their ill-gotten gains at the Inn.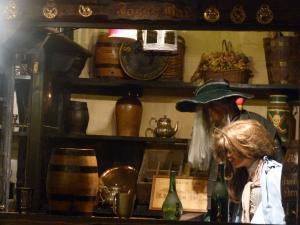 Mary Yellan & the albino Vicar