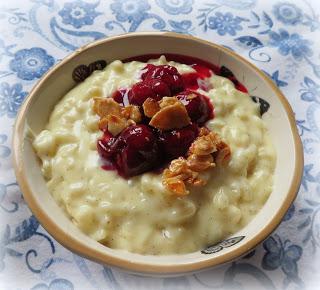 Todd has been asking me to make him a delicious rice pudding all week.  In truth he would be happy with a tinned rice pudding . . .  I wouldn't be happy feeding him that however, and so today I finally found the time to make him a rice pudding.  I had a new recipe that I wanted to try out anyways, so it was win/win!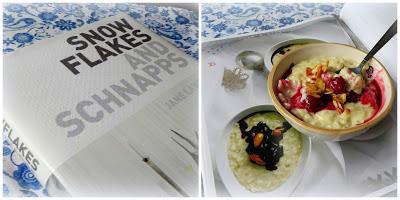 I adapted the recipe from a cookery book I have entitles Show Flakes and Schnapps by Jane Lawson.  Its a book I have had for quite a few years now and is filled with Winter types of food, comfort foods . . .  cuisine and recipes from cold-climate countries such as the Scandinavian countries, Russia, Eastern Europe, Austria, Switzerland, etc.  you can see my end result sitting on top of the photo of her pudding up there on the right!


 
There are three elements to the recipe . . .  the making of the pudding, which is rich and creamy and flavoured with vanilla, cinnamon, lemon and cardamom  . . . the making of a sweet thick cherry sauce and then finally, the making of crisp and sweet candied flaked almonds.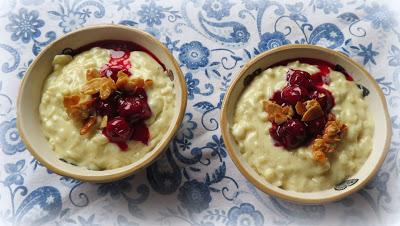 None of the elements of this recipe are on their own very difficult at all.  In fact you could make the cherry sauce and the candied almonds well ahead of time if you wanted to and then just make the rice pudding itself on the day you want to serve it.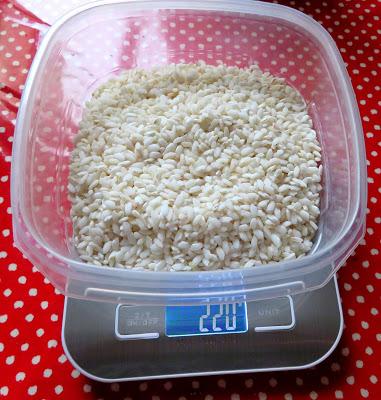 One of my favorite kitchen tools is my  Digital Led Scale.  I love this tool so much. I use it just about every day and would not be without a good Digital Scale.  this electronic digital scale with LCD screen adds a versatile touch to any kitchen. It weighs up to 11lbs of ingredients, and down to 1g/.05oz. Made out of stainless steel for durability, it is such a handy piece of kitchen kit. Precision measurements are so important when baking or making special dishes that you just can't wing it on. These scales help you to do just that!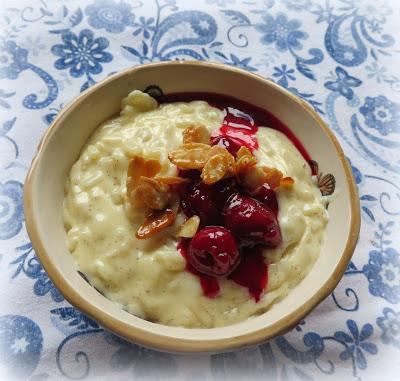 Making this rice pudding is as simple as stirring together some basic ingredients and flavor infusions  . . .  whole fat milk  . . .  double cream   . . . vanilla, cinnamon and cardamom, along with a piece of lemon zest pared from a lemon.  Make sure you have none of the pith  . . . the pith will impart a bitter flavor.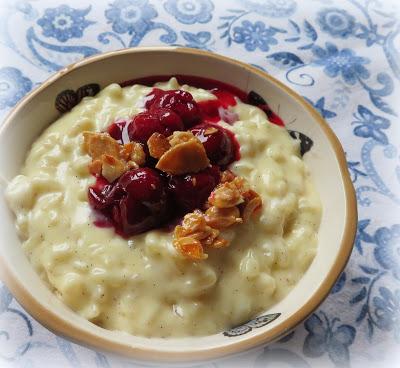 This gets heated until the milk/cream are infused with their flavours and then you stir in the pudding rice.  Any short grain white rice will work.  I used arborio, which is the type of rice generally used for Italian risotto.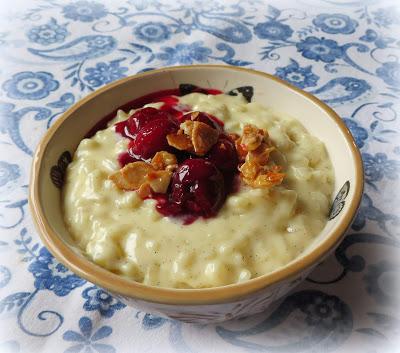 The cherry sauce is so easy to make.  I always keep a pack of frozen pitted cherries in my freezer.  A pack of those, their juices, some sugar . . .  cooked and thickened with a slurry of cornflour and water and Bob's your Uncle.   The sauce is done.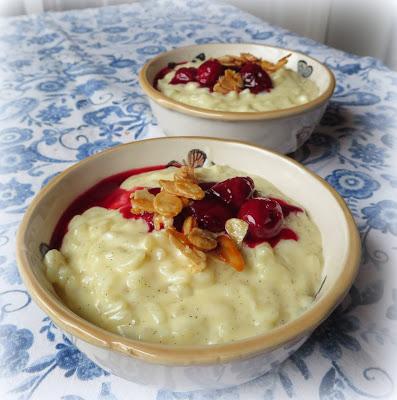 You could add a dash of cherry liqueur if you wanted to  . . .  and in all truth you could use a tin of cherry pie filling.  I liked the idea of making my own cherry sauce however, and so I did.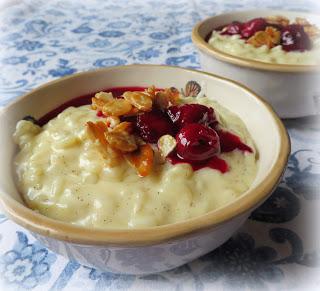 You don't need to make the candied almonds, but they add such a lovely touch.  I could eat them like candy, but  . . .  I don't.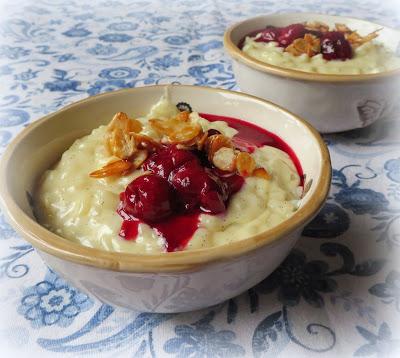 They are as easy to make as melting them together with sugar in a skillet until they turn golden brown and the sugar caramelises into a candy coating.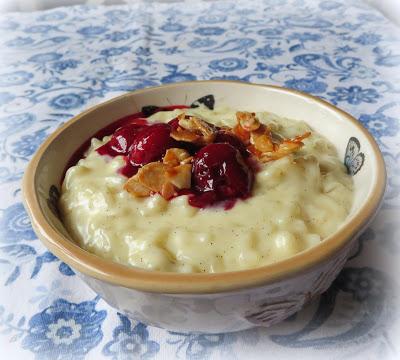 Ladle the warm pudding into a bowl and top each serving with a spoonful of the cherry sauce  . . .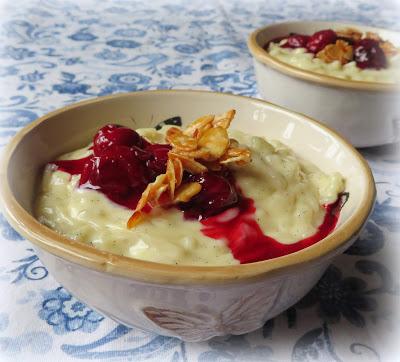 and a scattering of those sweet crunchy almonds  . . .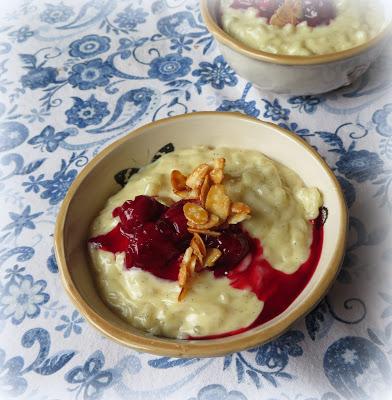 You will be in rice pudding heaven . . .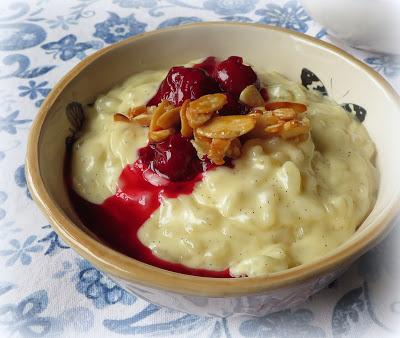 Your family will love you . . .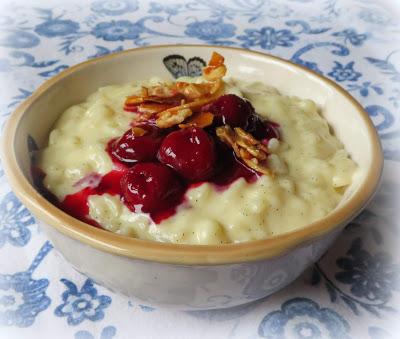 You will love you  . . .

  
And all will be right in your little corner of the world  . . .
Yield: 6 generouslyAuthor: Marie Rayner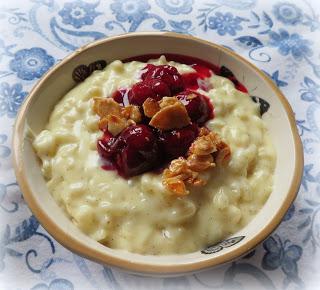 Danish Rice Pudding
This is rich and delicious.  Do make the cherry sauce and candied almonds.  The three together are a beautiful trinity of taste!
ingredients:
For the Pudding:
1 vanilla bean, split and scraped
625ml whole milk (2 1/2 cups)
625ml double cream (2 1/2 cups whipping cream)
1 cinnamon stick broken in half
1/8 tsp ground cardamom
1 strip of lemon peel, white pith removed
220g short grain white rice (1 cup)
95g white sugar (1/2 cup)
40g blanched almonds, very finely chopped (1/4 cup)
For the Cherry Sauce:
300g frozen cherries, thawed (1 1/2 cups)
65g caster sugar (1/3 cup)
1 tsp cornflour (cornstarch)
2 tsp water
For the candied almonds:
50g flaked almonds (1/2 cup)
95g caster sugar (1/2 cup)
instructions:
To make the almonds, have ready a lightly buttered baking sheet. Toast the almonds carefully in a skillet, over medium heat, stirring constantly. Tip out into a bowl. Add the sugar and let it sit, undisturbed until it begins to melt. Swirl every now and again until it is completely liquid and turns a golden caramel color. Don't be tempted to rush this process as you will end up with burnt sugar. Medium heat is sufficient. Remove from the heat. Tip in the almonds, stirring to coat. Pour onto the prepared baking sheet and tear them apart with two forks while they are still hot, breaking them up into little clumps. Allow to cool completely. Remember hot sugar is HOT. Don't touch. 
To make the cherry sauce, put the cherries and their juices into a saucepan over medium heat along with the sugar.  Cook to stir and dissolve the sugar.  Mix the cornflour with 2 tsp cold water until smooth.  Stir into the cherries.  Bring to the boil, stirring, then reduce to a simmer and cook for about 5 minutes until thickened. 
For the pudding, measure the vanilla bean and its caviar, the broken cinnamon stick, ground cardamom and lemon peel into a medium saucepan.  Add both the milk and the cream.  Stir and heat just to the boil over medium high heat.  Stir in the rice, bring back to the boil, then reduce to a slow simmer and cook over very low heat, stirring often, for about 20 to 25 minutes.  Stir in the sugar and cook for a further 15 minutes, until the rice is tender and creamy.  Remove from the heat and stir in the finely chopped almonds.  Remove and discard the vanilla bean, cinnamon stick and lemon zest. (You can wash off the vanilla bean, dry then stick in your sugar canister where it will infuse your sugar with vanilla.)
To serve spoon the warm rice pudding into bowls. Top each with a spoonful of the cherry sauce and some of the candied almonds.  Enjoy!
Created using The Recipes Generator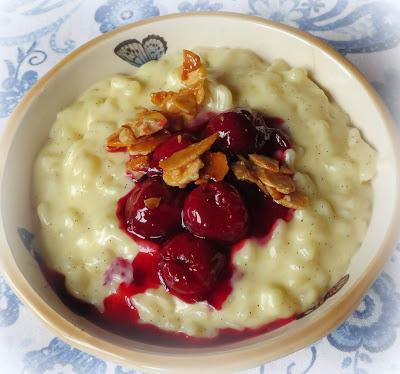 I hope you are enjoying a nice weekend wherever you are. Here in Chester its been very cold and quite damp.  (Cold and damp, that is the UK Winter!)  No real snow however, and I'm not complaining.  Bon Appetit!