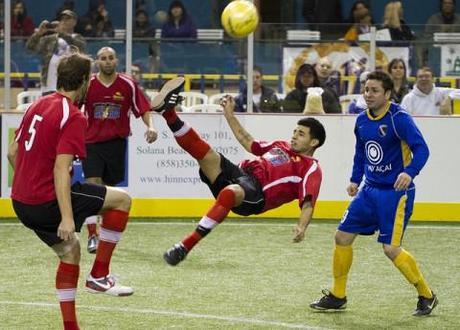 An Arizona Storm player performs a bicycle kick. Photo credit: San Diego Shooter http://flic.kr/p/bsizL8
There must be something in the water. First, Swiss amateur goalkeeper Dominique Niederhauser scored a spectacular 75-yard shot and now another goalie - Danish second division goalkeeper Jakob Kohler – has scored an absolutely amazing goal. Goalkeepers aren't meant to score and they rarely ever do. So the fact that both goals have been technically astounding efforts is all the more incredible.
Kohler's special moment came in injury time on 8 September. With his team Frem trailing 1-0 to Skjold Birkerod he went up for a corner to cause a bit of mayhem. The ball was half-cleared and then crossed back in to the penalty area at which point Kohler executed an acrobatic overhead kick that even outfield players Peter Crouch or Trevor Sinclair (see videos below) would have been proud of. Over 550,000 have already viewed Kohler's special effort on YouTube.
Seen a better goal by a 'keeper? Leave a comment and let us know.
Peter Crouch scores an overhead kick:

Trevor Sinclair scores possibly the greatest ever goal by a QPR player: