Sharpen your mental game and learn the pro level tactics and advanced theories to become a master at Poker through demos on reading opponents and spotting tells provided by the six-time World Series of Poker champion, Daniel Negreanu aka "Kid Poker"!
About Daniel Negreanu
Daniel Negreanu is a Canadian professional poker player popularly known by his nickname " Kid Poker ", who has won six World Series of Poker (WSOP) bracelets and two World Poker Tour (WPT) championship titles. Negreanu was recognized as the best poker player of the decade by the independent poker ranking service Global Poker Index (GPI) in 2014.
Early life
Born July 26, 1974, Negreanu was born in Toronto, Ontario after his parents, Annie and Constantin, emigrated from Romania. Negreanu was extremely ambitious since an early age and stated in a 2009 interview that he thought of being rich from the age of 4 and used to often tell his mom that he would build a house out of Popsicle sticks, and move to California.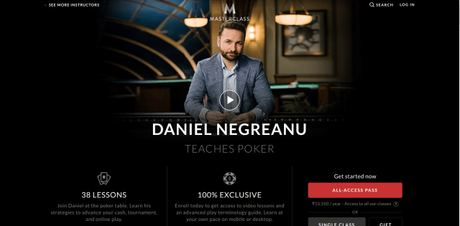 He was just 15-year-old when he learned how to play poker, while nursing dreams of a career as a professional snooker player. At the age of 16, He started spending a considerable amount of his time in pool halls, hustling, sports betting, and playing cards.
He dropped out of high school when he was several credits short of graduation and began his life as a rounder playing at local charity casinos. He would usually find himself at Casino Country and Fundtime Games, and most often looking for illegal games around the city. He left for Las Vegas at the age of 22 after building up his bankroll to pursue his dream of becoming a professional poker player.
International success
Negreanu is also keenly active in the social world where he posts his thoughts and feelings about life, politics, and the poker world at a blog at Full Contact Poker. He is very outspoken about his poker results and regularly posts updates in the forums at the Full Contact Poker website.
Today Negreanu is one of the most accomplished tournaments and cash game players in the circuit. The player has amassed six World Series of Poker bracelets (WSOP) and two World Poker Tour (WPT) championships amongst his top accomplishments. He has even reached numerous WSOP and WPT final tables and won various other tournament titles.
Here are a few facts and figures that outline the success, popularity and worldwide acclaim of Negreanu in the world of Poker.
Having accumulated over $39,500,000 in prize money, he is the 2nd biggest live tournament poker winner of all time as of 2018.
He was named the WSOP Player of the Year twice throughout his career, first in 2004 and again in 2013.
Negreanu set foot into the online poker scene when he became the professional spokesperson for an online poker site called Poker Mountain in 2005.
He is the first and only player in WSOP history to win the accolade more than once.
He was also the 2004-2005 WPT Player of the Year.
He is the first player to make a final table at each of the three WSOP bracelet-awarding locations (Las Vegas, Europe, and Asia-Pacific)
He is the first to win a bracelet at each of the three WSOP bracelet-awarding locations (Las Vegas, Europe, and Asia-Pacific)
He was also honored and inducted into the Poker Hall of Fame in 2014.
And more!
Film and television appearances
Negreanu has also made several appearances in Hollywood movies and has featured some music videos as well.
A cameo appearance as a poker player playing against the mutant Gambit in the film X-Men Origins: Wolverine
A poker player in The Grand
Played himself in the film Lucky You
Appeared as a poker player in Katy Perry's music video for "Waking Up in Vegas"
Played himself on an episode of the CBC Television program Mr. D
Appeared in a TV series called Tilt in 2005, dedicated to poker
And more!
Masterclass
Masterclass is an online education platform created in 2015 by Aaron Rasmussen and film editor and director David Rogier in 2015 that allows students and learners from across the globe to connect with leading creative professionalsEntrepreneur, top influencers and award-winning personalities from the art industry including Oscar award and Grammy award-winning filmmakers, actors, screenwriters, Multi-billion dollar grossing directors, and many more.
The masterclass is an exclusive platform from where you can learn various forms of arts like Creative Writing, Photography, Directing, Cooking Techniques, Acting, Music and much more under one platform. Daniel Negreanu is also one of the gurus at Masterclass and is ready to share and teach the Poker skills that he has mastered throughout his career.
You may also like:
Daniel Negreanu Masterclass
The biggest live tournament poker winner of all time, Daniel Negreanu is here to help sharpen your mental game through demos on reading opponents and spotting tells. Learn the tactics and advanced theories from the six-time World Series of Poker champion and practice through hand-reviews of his winning games.
Join Daniel at the table on his exclusive Masterclass lessons to get your game "In the Money" and learn how to increase your win rate, grow your ROI.
The six-time World Series of Poker bracelet-winner DanielNegreanu is here as your instructor. Watch how "Kid Poker" starts his class with an outline of what you'll learn. And if that's not enough, he even assures students that even the most complex poker concepts can be learned.
Learn from Kid Poker how to play the right cards at the right time to immediately improve your game. In this lesson, Daniel will provide tips on how to capitalize on the opportunities as he helps you evaluate early, middle, and late position strategies that each position affords.
Daniel demonstrates how to identify ranges based on board textures, betting patterns, and player tendencies as he tactfully breaks down hand range theory using specific scenarios.
Daniel walks you through his entire thought process using footage of a hand from The Big Game, as he deduces his opponent's hand range in real time.
Daniel provides tips on how to calculate pot odds and fold frequency as he discusses Game Theory Optimal poker at game speed.
Learn the best times to make a continuation bet and understand how it works as a valuable tactic under the right circumstances. Daniel will also teach you how to use this tool to maximize profits.
Learn how to open up bluffing opportunities, extract extra value by adding the check-raise to your toolkit so you can keep yourself from getting run over when you're out of position.
Three-betting is one of the most prevalent gaming tactics in modern poker and Daniel is up and ready to teach you how to defend against it. Follow this lesson carefully to learn how to use the three-betting tactic in your own game without becoming predictable.

Daniel illustrates the importance of modifying your three-betting strategy using footage of a hand from an EPT Barcelona Super High Roller event when encountering resistance.
Learn how a successful bluff requires more than a good poker face and then use board texture, capped ranges, and blockers to make your own bluffs believable and also identify an opponent's bluff.
Daniel reveals how he detects value-to-bluff ratios and exploits player tendencies using footage from three different hands. Watch how "Kid Poker" pulls off amazing triple-barrel bluffs at game speed.
Bet sizing is a subtle yet crucial art andDaniel is here to teach you how to maximize value while minimizing risk.
Learn how to use the over-bet tactic as part of your winning strategy and the ideal conditions for using an over-bet and how to price it in winning ways.
It is extremely crucial to change your strategy to keep up when the number of players at the table increases. Daniel teaches you how to adjust your play as he explains the nuances of multi-person pots and ways to tackle such unique situations.
If you are a predictable player in the game of Poker, then you will be an easy mark. Daniel shares his personal method for randomizing sub-optimal plays as he teaches the importance and tactics to keep your opponents guessing by adding layers to your game.
Daniel provides a case study to demonstrate how a mixed strategy could have saved one poker legend a lot of money as he uses footage from a hand between three-time WSOP winner Antonio Esfandiari and pro player Tony G.
Daniel teaches you how to avoid them in your own playas he breaks down the most common mistakes players make as hands progress past the flop.
Tournament Strategy: Early and Middle Stages
The final outcome of any game you play in Poker is largely affected by the way you play in a tournament early-on. Daniel Negreanu teaches the viable strategies specific to early and middle stage play. This includes essential aspects like how to be mindful of stack sizes and account for blind structure from the get-go.
Learn Daniel's strategies on how to avoid ICM suicide and get in the money by leveraging big stacks and other strategies for navigating the precarious "bubble".
Tournament Strategy: Late Stages and Final Table
Now it's time to bring home the prize once you've made it past the bubble. Daniel teaches you how to execute strategically-timed aggression to become a tournament champion by taking some calculated risks.
Regardless of the stage or the type of play, this lesson will teach you the universal tactics that will help you throughout the everchanging tournament landscape from table to table.
Learn how to avoid common mistakes in cash games by effectively playing stack sizes and maximizing value.
Masking tells is one of the crucial moves to learn in Poker and Daniel is here to walk you through his methods for masking tells. This lesson will also include how to maintain a consistent physical baseline, practice the perfect poker face, and protect your cards.
Daniel reveals the physical tells he's spotted in opponents and teaches his exact process for determining if a player is bluffing. These tactics have made him the most cash.
Daniel demonstrates how craftier opponents may try to trick you with the notorious "reverse tell" as he delves deeper into his analysis of body language.
Daniel reveals how he used the exact moments and valuable information to maximize value and mitigate loss from live reads using footage from two different hands from his opponents.
Learn the crucial steps you can take to protect yourself from prying players and sophisticated ways Daniel personally uses during his games like table talk, to get valuable information from his opponents.
Daniel believes that one of the most vital aspects while playing it not to let emotion get in the way of logic. In this lesson you will learn the checklist Daniel uses to keep a clear head and the common mental traps poker players need to avoid.
Daniel has been a master at encountering TILT just like many other established Poker players. Learn how to use TILT as a weapon against your opponents and the mantra he uses to keep his emotions in check.

Daniel teaches you how to use your table image and stay one step ahead, playing the metagame to get inside your opponent's head.
Table Image and Metagame: Hand Reviews
Daniel shows how to incorporate his table image into his four-betting range using footage from two different hands and also how to use metagame as a weapon to steal a pot from his opponent.
There are different types of players you will encounter at the tables and Daniel takes this lesson to profile the different types of players you will come across in the Poker world. Learn the quickest ways to identify them, and how to adjust your strategy to beat each type of player.
Before identifying the types of players you may encounter, it is important to identify your ideal table. You must always go for a table where you can realistically win, maximize your earnings, and have a good time.
Learn how to keep yourself in the game for the long run by picking the right stakes and prepare for losing streaks, to become a pro at good bankroll management.
Learn how practice, meditation, and a balanced lifestyle can optimize your training time away from the felt.
Daniel draws crucial similarities between being a poker player and running a business so that you can ensure that your "business" thrives through critical thinking, emotional stability, and adaptability.
Daniel shares the best piece of advice he's ever received and lessons learned from his most challenging experiences and then encourages you to start training.
DanielNegreanushares advice on how to avoid hurting your earn rate by analyzing the fundamental differences between online and live poker.
Also, check out:
How much does Daniel Negreanu Masterclass cost?
There are two ways by which you can purchase a Masterclass, a single Masterclass and an All-Access Pass for any of the gurus on the platform.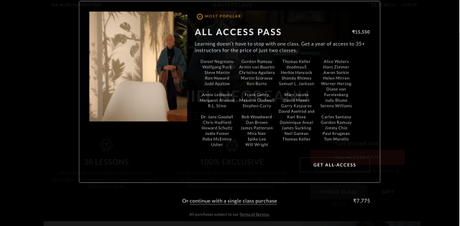 The All- Access Pass comes in real handy when you wish to take more than one Masterclass, so this means that there is no limit on the number of Masterclasses on the All Access Pass.
A 30-day money-back guarantee is also available for any of the Masterclass packages you purchase and you will get a complete refund of the amount in case you are not satisfied with their services.
Final Words: Daniel Negreanu Masterclass Review
To sum up this review, I would say becoming a pro player at Poker takes a lot of experience. But with this masterclass you can get that kind of experience with an already known expert of Poker, i.e, Daniel Negreanu.
With his knowledge, techniques, and experience learning Poker and even becoming an expert Poker player will be a lot easier and effective. This masterclass gets a huge thumbs up from me. Go for it!
Before leaving don't forget to share this article with your friends and social media, who you think might be interested in this masterclass, it could really help them. Also, leave a comment below and let me know how good are you at playing Poker.
Can you beat me?