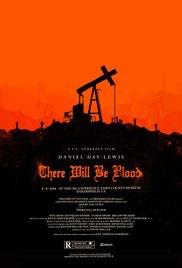 Director: Paul Thomas Anderson
Writer: Paul Thomas Anderson (Screenplay) Upton Sinclair (Novel)
Starring: Daniel Day-Lewis, Barry Del Sherman, Paul Dano, Ciaran Hinds, David Willis, Kevin J O'Connor, David Warshofsky
Plot: A story of family, religion, hatred, oil and madness, focusing on a turn-of-the-century prospector in the early days of the business.
There may be spoilers the rest of the review
Verdict: Stunning Character Driven Story
Story: There Will Be Blood starts as we witness Daniel Plainview (Day-Lewis) make the early steps to his fortune from his first pieces of silver to his first oil drilling site in 1902. With 14 minutes of just music and visuals we are drawn into this story.
We move to 1911 where Daniel has gain the reputation of success and with his associate Fetcher (Hinds) and adopted son HW he is always looking for a new opportunity. When Paul Sunday (Dano) comes to Daniel about a new oil dwelling Daniel looks into this report including purchasing the land around the settlement.
Taking advantage of the remaining Sunday family including Eli (Also played by Dano) Daniel looks to take over Little Boston building a new city that will make his fortune bigger than he could ever image.
As Daniel's greed grows as does his rivalry with Priest Eli Sunday and the two find themselves as Daniel finds himself going to extreme measures to make sure he gets all of his money and Eli starts to question his own faith.
There Will Be Blood is one of those films that tells one of the most intense stories you will ever see, sure this isn't one you can watch once a week in fact once a year is slightly difficult because it really is a hard watch. Saying it is a hard watch also means it is a must watch too because nothing will ever give you two power house performance like what Day-Lewis and Dano give. The film shows how greed makes a man desperate but also shows the struggle of the turn of the 20th Century for every person to survive.
Actor Review
Daniel Day-Lewis: Daniel Plainview is an oil tycoon who started with nothing, we follow his story from his first find to his first oil strike before he becomes one of the most powerful oil drillers in America. We learn about his methods being questionable as he believes he can just steal the money from people. Daniel is a great business man but his people skills will leave something to the imagination, he can sale anything to get the best deal though. He clashes with the local priest at his latest dig site which pushes him to the level of madness and greed. Daniel is amazing in this role where he rightfully won his Oscar.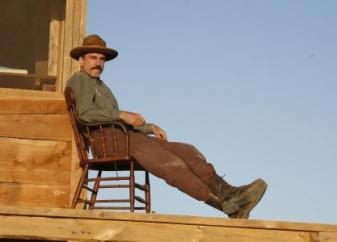 Paul Dano: Paul Sunday/Eli Sunday, Paul is the man that sends Daniel to Little Boston while Eli is the Priest of Little Boston that is willing to work with Daniel as long as he supports his church. Things don't go the way Eli had planned as the two soon find themselves in a bitter rivalry that pushes them both to the limits. Paul was somehow over looked for an Oscar in what is a brilliant performance against Daniel Day-Lewis.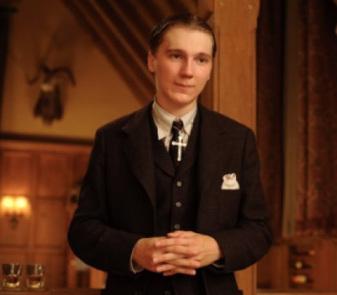 Ciaran Hinds: Fletcher is Daniel's most trusted man in business, he does all of the jobs Daniel can't bring himself to do but never seems to get involved in the actually drilling side of the enterprise. Ciaran is great in this supporting role.
Support Cast: There Will Be Blood has a massive supporting cast that all give great performance through the film.
Director Review: Paul Thomas Anderson – Paul continues to show that he is a brilliant director with this outstanding film.
Drama: There Will Be Blood gives us one of the best dramatic films you will ever see.
Settings: There Will Be Blood recreates the settings for the time period which pulls us into believing we are with the characters in the story.
Suggestion: There Will Be Blood is one that everyone should have watched at least once. (Watch)
Best Part: Performances.
Worst Part: Not the most appealing story.
Favourite Quote: Daniel 'Did you think your song and dance and your superstition would help you, Eli? I am the Third Revelation! I am who the Lord has chosen!'
Believability: Yes
Chances of Tears: No
Chances of Sequel: No
Post Credits Scene: No
Oscar Chances: Won Two Oscars and nominated for a further 6.
Box Office: $40 Million
Budget: $25 Million
Runtime: 2 Hours 38 Minutes
Tagline: When Ambition Meets Faith
Overall: Stunning drama that really is a must watch for everyone.
Rating