Dangerous Encounters: Love on the Edge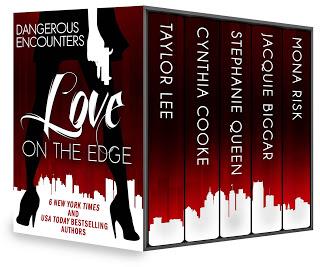 Love and Suspense, Heart-pounding romance and thrills!

5 full-length action-suspense romances from New York Times and USA Today bestselling and award-winning authors. Danger and excitement, secret agents, sexy SEALs, undercover female operatives, and heat! And a French aristocrat hiding an old secret in his chateau! What more can a woman want? Get yours today before it goes away. LIMITED TIME ONLY.

Big Girls Don't Cry by Taylor Lee

The blonde-haired beauty hits the streets to find her brother's killer. In the sleazy cesspool of drug dealers, strippers and pimps, she closes in on the killer. But he's out to get her before she gets him.

Deadly Secrets, Loving Lies by Cynthia Cooke

Sometimes the risk is worth the fall. Ex–secret agent, Genie will stop at nothing to find her father, even accepting help from the one man she let close enough to learn her family secrets, secrets that could destroy them all. But will he keep them?

The Romantics

by Stephanie Queen

Big bad bodyguard Joseph Allario keeps his biggest fear a big secret until a so-called cupcake assignment takes him to London to play undercover babysitter to Lady Veronica Douglas. Ronnie made a deathbed promise to her mother to redeem her father's reputation and prove he was murdered.

Now Joe finds himself falling for Ronnie as he tries to stop the killer before the killer stops her. Even if it means facing the one thing he fears most...

Tidal Falls

by Jacquie Biggar

When Nick Kelley loses most of his teammates in an IED explosion overseas, he shuts down. It takes meeting and falling in love with a woman in danger to make him realize life's worth living.

Her French Count by Mona Risk

What could be more exciting for a young American architect than to live in a French chateau owned by a handsome count, and to work on the restoration of a chapel in the Loire Valley? But when her professor is poisoned because he knew too much about a missing statue, Cheryl's summer job changes into a dangerous treasure hunt and Count François is faced with a difficult choice. Are the statue and his chateau worth endangering the life of the impetuous young woman who's turned his life upside down?
Purchase your copy today: 
Amazon