Despite having the biggest average home league attendance in the world, Borussia Dortmund surprisingly only generate around £25 million from matchday income each season out of a total of £189 million of total revenue, according to the most recent Football Money League report published annually by Deloitte. Whilst the lead the way in passionate home support, their approach on ticket pricing puts them firmly behind "smaller" clubs such as Arsenal and Chelsea where money is no object for the majority of their fans.
The German footballing philosophy of football for the masses is all well and good in getting ticks in the boxes for affordability, but in terms of the one true global measure of how big a club is, it is a contentious issue. Matchday revenues make up nearly a third of the income sources for Manchester United, and around 40% for Arsenal. If Borussia Dortmund wanted to be mentioned in the same breath as Real Madrid, Barcelona and dare I say it in these parts, Bayern Munich, an increase in ticket prices would need to be put in place. But that's not how clubs roll here in Germany. For those who have experienced a Bundesliga game or two will know, the fans actually mean more to a club than just a walking €50 note.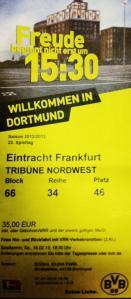 You get the feeling that even if Dortmund increased ticket prices by 20-30% then the fans would still flock to the Signal Iduna Park week in, week out. Even such a Greek Debt-busting inflation hike would still make ticket prices cheaper than all but a few Premier League sides. The demand for tickets from visitors and Dortmund virgins far outstrips supply.  However, thanks to the contacts of Danny Last, we had four tickets for the game in the bag as our train from Münster eased into the Signal Iduna Park station and a wall of yellow and black hit us as we alighted from the train.
On paper this was a banker home win, with some of the shortest odds I had seen for awhile.  Eintracht Frankfurt on the other hand were a tasty 7.25.  Similar odds would have been on offer for the visit of Hamburg last weekend but in a coupon-busting result, the 'Rothosen' ran out 4-1 winners. With joint Bundesliga top scorer Robert Lewandowski serving a suspension, surely Dortmund would have enough quality to see off the visitors – lightning wouldn't strike twice in a week, would it?
I made my debut here back in 2001 when the stadium had a capacity of JUST 65,000. It was a chilly night of UEFA Cup football against Slovan Liberec from the Czech Republic. These were dark days for the club on and off the pitch as after the glory years of the late 1990′s investments had failed to return the predicted returns. I paid just €10 for my seat among the 36,500 crowd on the gate, spending treble that on an assortment of German football fayre that included a few sausages, a beer or two and of course a pair of Dortmund socks. In between I had seen the Togo v Switzerland game in the FIFA 2006 World Cup, hot footing it across the country after being given some free tickets.
But today it was a different story. This was the team that everyone was trying to emulate. Whilst it looks like this season they will play second fiddle to Bayern Munich, the team built by Jürgen Klopp is the envy of most. A place in the knock-out stages of the Champions League against Shakhtar Donetsk, coming from a group featuring two of the richest clubs in the world, was seen as a good achievement, such has the level of expectations risen in the past few seasons.
But when is too much enough? That's a question you are left asking yourself when you finally manage to exit the Signal Iduna Park. Compared to my last visit to Borussia in 2002, this was a whole different ball game. 80,500 fans shoe-horned into an immense cauldron of noise. Thousands locked out. What's next? 90,000? 100,000? Build it and they will come was the message in Field of Dreams but what will the experience be like?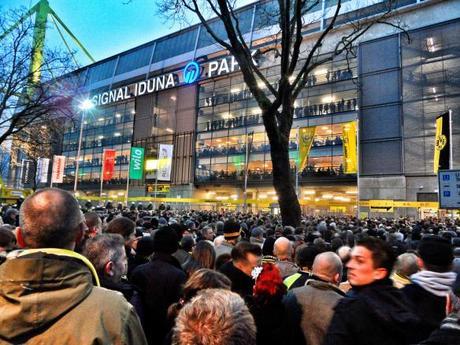 Rolling up ten minutes prior to kick off, expecting to get in the stadium is not a good idea in Dortmund. Allow at least 45 minutes and be prepared to use those elbows. Once inside if you are in the cheap seats strap in the oxygen pack and start the long climb upwards. Any expansion would have to be upwards meaning you would be closer to Mars than the pitch.
Big Deaksy and I took our places in the North West corner as the wall of noise was whipped into a crescendo. You'll Never Walk Alone was belted out for the second time in day and the team emerged from the tunnel, each holding a heart-shaped balloon to mark Valentine's Day. Show time!
Borussia Dortmund 3 Eintracht Frankfurt 0 – Signal Iduna Park – Saturday 16th February 2013
In truth this game was dead and buried before the Frankfurt fans had found their voice. After missing two golden opportunities to take the lead within the first five minutes Borussia finally opened the scoring in the 7th minute when Reus finished off a move that Klopp's team have become known for. One became two just four minutes later when Reus again finished well after the Eintracht defence had been carved open. This had the potential to be highly embarrassing for the away side.
However, the fans around us didn't seem to be that enthused. Some years ago I'd been in a guest in the 'International Lounge' at Old Trafford. It was actually the game when United keeper Taibi let THAT goal in. Half way through the first half of that game I noticed two "fans" sitting near me. One was reading a book, the other knitting. Whilst nobody was that disengaged here there was an almost uninterested feel from many of the fans. Despite the wall of noise at the far end from the Sud Tribune, the main noise at our end came from those naughty Frankfurt fans way down in the lower tier.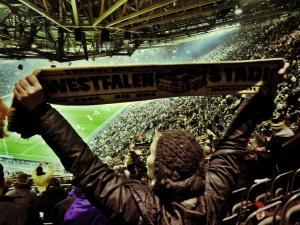 Dortmund lost Julian Schieber on the half hour mark thanks to two harsh yellow cards in just four minutes but even then Frankfurt didn't step up a gear. Perhaps they had read the Pleat philosophy about playing against ten men, although they would have also noted that 2-0 is the most dangerous scoreline in football to be defending. Dortmund continued to purr, slick quick passing although without Schieber they seemed to over complicate things.
Talking of unnecessary complication Deaksy and I headed down to get a beer as the half wound down. Dortmund use one of those card systems so we queued to get one.
"Can I have a €20 card please?"
"Sure. Here you go" says a young lady "It's got €18 on now"
"But I gave you €20?"
"You have to pay a deposit for the card. But you can top it up when you come back to visit the ground"
"I've been once in ten years"
"Oh. You can give it to a friend then"
Pointless conversation number 1. So we queued for two beers.
"That will be €10.40 please".
"But they are only €3.70 each?"
"You have to pay a deposit on your limited edition cup of €1.50 each"
"Can I have it in a non-limited edition cup for just €3.70?"
"No"
Pointless conversation number 2. With Half-time coming to an end we worked out we had enough cash left after Deaksy's large sausage for one more beer which we would share. So we returned to said girl at the beer counter.
"One beer please" I said offering her my limited edition cup.
"You do not have enough money on your card"
"I have €5 left – the beer is €3.70?"
"No, it's €5.20″
"But I have my cup here"
"You can't re-use them. You have to buy a new one."
"But you just pour the beer from bottles into them?"
"I'm sorry that's the rules. It's unhygienic to pour them into a used cup. It may have germs in"
Pointless conversation number three. So we had to go down two flights of steps to get our €1.50 put back on our card by handing in our used cups then going back upside to get another beer at €5.20. Of course by which time half time is over and we have a card that we will never use again with €4.40 on.
So the second period and we looked forward to the Eintracht manager having given his side a rocket and them racing out of the box. Errr no. Despite the passionate support from the away fans their performance was toothless, almost as if they were suffering from stage fright. Meanwhile Dortmund continued to make a mockery of having an extra man and drove forward. It was inevitable that they would get their third, and Reus completed a hatrick thanks to some unselfish work by Götze. Boom. "That shot, sponsored by Timex, was measured at 78kmph". Thanks for that. Everything is sponsored at Dortmund.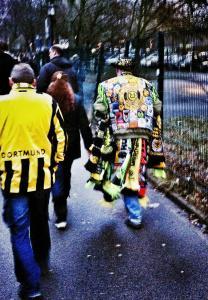 Despite a second yellow for Frankfurt's Japanese midfielder Inui there were no more goals. Somehow, despite the goal, the sending off and five substitutions, only one added minute was due to be played. With ninety minutes up the referee went to issue a yellow card, slipped on his arse and as 80,000 fans laughed in unison, he blew the final whistle, picked up the ball and walked off.
We all piled out into the Westfalon night, satisfied that the yellow and black juggernaut was back on the road again.  Bayern may be out of sight in the league, but who won bet against Dortmund as an outside bet for the Champions League.  Oh, and there is also the small matter of the DFB Pokal game at the Allianz Arena in a couple of weeks (watch this space for a report on that one readers).
We met up with Kenny's latest lady friend, affectionately known as "Dorty Slippers" (she once bought him a pair of Dortmund slippers – it really is that simple).  This young lady's Dad has his own Borussia themed bar in his basement.  Surely that is marriage material? We certainly suggested it should be as we shared a few Hövels before our train home.
Alas this was the last action I would see of the Third leg of our Bundesliga season.  However, fear not as Andy "Huddo" Hudson would be bringing me (and you dear reader) all the action from Duisburg and Speldorf.  Woof!