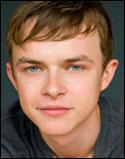 "Timbo" Dane DeHaan has landed one of the last major roles in Derek Cianfrance's multigenerational crime drama "The Place Beyond the Pines."
DeHaan will play Ryan Gosling and Eva Mendes' son, who gets caught up in a botched drug deal with the son of Bradley Cooper's character, a cop-turned-politician.
Supporting cast includes Greta Gerwig, Ben Mendelsohn, Ray Liotta, Mahershalalhasbaz Ali and Gabe Fazio. Shooting later this month in Schenectady, N.Y.
Source: Variety