The other day I got a phone call from the mother of one of Jayden's classmates. She was so excited that they had paired up for the big dance program & wanted to see if we could co-ordinate their outfits. I'm pretty impressed with my ability to hide the "What the heck are you talking about!?" in my voice. Just rolling with the "I know, I'm so excited as well!" I got as much info as I could from her then after the phone call I did the mad-dad-dash to his room to ask the questions I should have known the answer to already! "Hey Jayden…. is there something you forgot to tell me?" … "No" "Maybe something about a dance program you are going to be in?" "Oh yeah. I'm dancing in a program" It almost seemed like he knew what we were talking about so I went out on a limb & asked "When is it buddy?"… to which he replied "I don't know!" Aaaahhhh!
This happens sometimes. His school had a program one time that he was in & once we got there were astonished to see him center stage with a singing solo! These things just don't get back to us.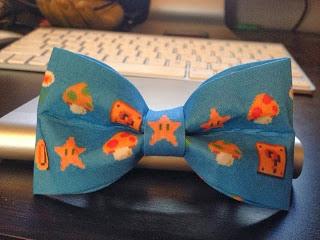 Last year he took ball room dancing & loved it. For the program he danced with a partner & then with my wife. He had such a great time! Despite the fact that we had barley even found out about the program & were shocked to see all the other kids dressed up standing beside Jayden in his bluejeans & t-shirt! NOT THIS YEAR! I have a heads up! While out looking for an outfit for him yesterday we found what may be the most epic bow tie ever! I'm a bow tie guy so I really wanted him to go that route & what better way to get him on board than an old school Mario Brothers  bow tie.  
     So, on valentines day my son will be ball room dancing with a girl from class in the school program. How did this happen! How are we dancing with girls already? I'm not ready for growing up to be here already!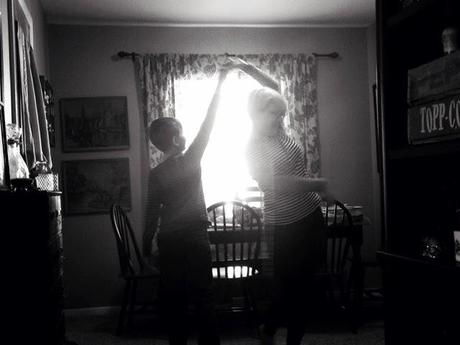 Showing mom some dance moves!