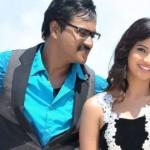 Typical Sunil mark earnest comedy
An introduction song followed by family sequences followed by comedy action sequence. Everything happening according to formula.
The film begins with an introduction song on Sunil where he showcases all his dance moves.
Very interesting titles with pics of popular married couples in titles.
Mr. Pellikoduku Liveupdates from Cinemax, Inorbit mall, Hyderabad.