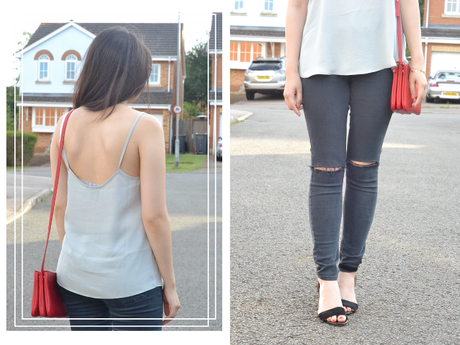 On not really fitting in but being okay with that.
The other day I was walking through LKF – as you do on a Tuesday evening… - and I caught a glimpse of my favorite thing about that infamous district. The proud neon red sign proclaiming: 'Dance to the beat of your own drum'.
For as long as I can remember, I tried my hardest to fit in. When I was 5, the kids at primary school loved to make me feel like I was different – I was the only Chinese person there until the summer. When I moved to secondary school in a different town, my new classmates told me my accent was 'too posh'. I simply didn't like much of the same things they did after school, preferring to go home, crack out a
Harry Potter
book and hang out in my garden.
But I tried. I religiously straightened my already straight hair. I broke Mum's rules and sneaked makeup on for school. I got MSN and studied then copied how everyone else laid out their usernames. (Often MiCHeLLe* rainbowemoji emolyric ♥ Randomboysname.) I tried my hardest to be just like… them.
Minds change like the weather though and once I turned 16, in Year 11, I decided enough was enough. I loved hanging out with my friends that the rest-of-the-year called losers. (Actually we were called much worse but you learn to live with these things, oddly and sadly.) Those 'loser' friends? They're my best friends and my rocks now. In University, studying fashion journalism, I started this here blog. When my coursemates found out, half of them started calling me a Z-list celeb behind my back. Lol. Blogs weren't a done thing back then, we were just starting out in pretty Blogland after all. Now? No I probably won't give you a 'shoutout' in return for two-faced behavior.
If these experiences taught me anything, they taught me that right now while I meander aimlessly through a blogging identity crisis, it's always better to be yourself and
dance to the beat of your own drum
. Honestly? I adore reading hundreds of blogs but personally I have little to no interest in that weird lattice edge flowerpot for my makeup brushes. I have like 2 makeup brushes. I don't want to know which five things every other blogger recommends. I tried them and they're crap. I don't have anything marble and frankly I have no space to pretend like I want slabs of it around. I don't have white painted floorboards because those would be a goddamn nightmare in humid Hong Kong. Honestly? I'm not a cookie-cutter blogger and I'm completely fine with that, but it feels like no-one else is.
What I do have is a notebook-ful of ideas. (More than) a smattering of blogger insecurity. I have less spare time than I can comprehend. I have to keep up without keeping up. Blogland, I love you, but right now I need to work things out.
Inspired by a post by Gem. That woman is a star.