ChristianNews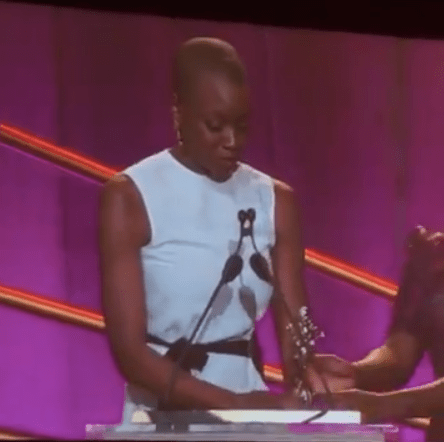 Black Panther star, Danai Gurira was honored on Thursday afternoon at the Essence Black Women in Hollywood awards luncheon.  Her acceptance speech was filled with love and honor for the iconic Susan L. Taylor, Essence magazine's former Editor in Chief.
We all grew up admiring the strength and wisdom of the "lady with the braids" who ran Essence.  Hoping to one day be in her presence, so she could give us some of that wisdom she would pour into "The Letter From The Editor" section of the magazine we would get faithfully every month.
Embed from Getty Images
Actress Danai Gurira, got that opportunity, and shared her experience during Thursday's luncheon. Check it out:
"How would I ever [have] known that day 31 years ago that one day I'd be honored by the very same magazine the stunning woman with the long braids was in charge of," Gurira said. "The time she took, to look a little African girl in the eye and dispel the lie and implant the truth. That time resulted into something that grew inside of me that kept me aware that no matter what the world threw at me, I was beautiful."
Gurira continued,
"Take that little girl's face in your hands, look her deep in the eyes with appreciation and tell her that she's beautiful. Tell her of her greatness, she needs you to. Her 40-year-old self will thank you for it as I do ESSENCE today."
Embed from Getty Images
Gurira was presented her award by Black Panther co-star and friend, Lupita Nyong'o Don't forget to tune into the OWN network on Saturday, March 3rd at 10 p.m. to watch the Essence Black Women in Hollywood awards luncheon.