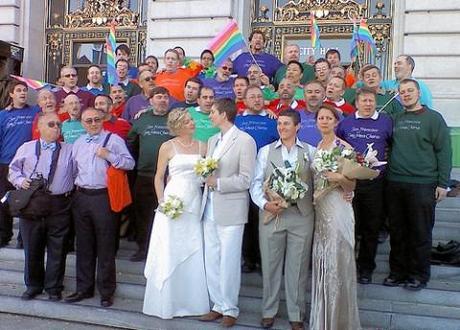 The San Francisco Gay Men's Chorus performs on the steps of San Francisco City Hall as gay couples marry inside. Photo credit: Thom Watson
The background
People on either side of the same-sex marriage debate in America rarely get to sit down, share a meal, and hash out their arguments (except at Thanksgiving) – usually, there's a protest going on. But when Dan Savage, syndicated Savage Love columnist and outspoken gay rights advocate, invited Brian Brown, head of the anti-gay National Organization for Marriage (NOM), to a sit-down dinner table debate, the latter agreed.
The debate, which took place at Savage's Seattle, Washington home on August 15, began with a handshake and a cocktail. Moderated by the New York Times' Mark Oppenheimer, it lasted for more than an hour on camera, before ending with another handshake and Brown's declaration that he still believes marriage is between one man and one woman.
What was for dinner, besides Biblical quotations? "Northwest sockeye salmon with Washington sweet corn, heirloom tomatoes and new-potato gnocchi; dessert was roasted peaches with an oat-and-almond crumble," reported Oppenheimer.
NOM put together a "Brown vs. Savage" page to promote the debate, somewhat in the style of a prizefight on HBO. In their blurb introducing the video, the group described Savage as a "bully" for a claiming in a talk to some high school students back in April that the Bible contains some "bullshit"; when several offended Christian students walked out, he reportedly called them "pansy-asses". The site does not further comment on the video.

Here's the debate; if you don't have an hour, we've got commentators on what they think were the most important pieces below.

Brown: Marriage traditionalists to be repressed
Several outlets picked up on Brown's claim that should same-sex marriage win, traditional marriage supporters would be persecuted. "If your new idea of marriage is encoded into the law, it will be used to repress, marginalize and punish those of us who believe that marriage is the union of a man and a woman. That is what will happen," he said. Zack Ford at Think Progress noted, "For Brown's point to be valid, there would have to be an actual campaign against the rights of Christians, which of course there isn't, though there is very much a fight against the rights of gays and lesbians.
What Brown didn't talk about
Ford, of Think Progress, declared that what was most interesting about the debate was what they didn't talk about: "What is most compelling about the debate is that Brown never mentions the existence of same-sex couples or their children, despite having just dined with such a family and continuing to sit in their household.
 Savage open to be proven wrong, Brown not
Oppenheimer asked both men whether there was any evidence that would change their minds about their respective positions. Notably, Conor Friedersdorf at The Atlantic said, Savage said that if a country that adopted same-sex marriage really and truly slid down the slippery slope to animal-human marriages and open paedophilia, he'd reconsider. Brown, however, said that there was nothing that would make him reconsider, not even evidence that children raised in same-sex families were happier than their straight-raised counterparts.
Did dinner make any difference?
The setting, the meal, even the drinks couldn't do much to help both parties see eye to eye, Oppenheimer later wrote: "Mr. Savage thinks religion is at best pointless, at worst malevolent. Mr. Brown believes that the truth of Catholicism should be apparent to anyone capable of reason. These are not compatible ways of seeing."
"There's this myth that folks like me, we don't know any gay people, and if we just met them, we would change our views," Brown later told Oppenheimer. "But the notion that if you have us into your house, that all that faith and reason that we have on our side, we will chuck it out and change our views — that's not the real world."
Verdict: Who won?
Same-sex marriage supporters agree that Savage came out the victor: Ford at Think Progress complained that Brown could only refute Savage's point by telling him he was wrong, not showing him how, complained, "[A]ll Brown managed to demonstrate is his ability to ignore the very existence of same-sex families while emphasizing his own self-righteousness." Unsurprisingly, marriage traditionalists think that Brown carried the day; one commenter on NOM's blog posting about the debate wrote, "I like Brian 's articulate response to what marriages will be like 40 years from now if we continue down the road of allowing same-sex marriages. I felt kind of sorry for Mr. Savage he clearly had met his match."