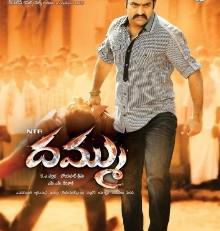 Dammu
Reviewed by Harsha on Apr 27, 2012 in Movie Reviews, Telugu | 4 comments
CriticLeo Rating Users
Direction

Story

Actors

Technical

Entertainment
As Nandamuri Balakrishna's charm was waning in Tollywood, Boyapati Srinu's Simha came to his rescue and strengthened his image overnight. Now as another Nandamuri star Jr NTR is facing a career crisis after the debacle of Shakti and an average fare of Oosaravelli, Boyapati again held the megaphone and made Dammu, promising to give the Young Tiger a super success. Can Dammu give NTR that much needed Box Office hit? Read on.
Plot:
Ramachandra (NTR), an orphan, values life a lot and detests intense violence that can claim lives. He falls for an affluent girl Sathya (Trisha). Ignorant about his orphan life, Sathya reciprocates his love in no time. But Ramachandra needs a family to get into wedlock with Sathya as he can't fool her forever and she wouldn't marry an orphan.
Then a rich landlord (Kota Srinivasa Rao) adopts Ramachandra as his grandson. Things that follow compel Ramachandra to take a violent path.
Actors:
NTR did a good job, but he couldn't shine because of poor characterization. Trisha and Karthika did their job – they came, smiled, romanced, danced, and went.
Nasser was very commendable. He shines even among the ensemble of cast. Versatile actors like Kota Srinivasa Rao and Tanikella Bharani were wasted. Suman was consistent. Venu and Rahul Dev had nothing much to do. Ali and Brahmanandam failed to bring any laughs.
Quick take
What's good:
Nasser's performance and his make up
Cinematography and locations
What's bad:
Confused Direction
Characterization
Spineless dialogues and action
Predictable and weak Story
Loud Background score
Analysis:
Director Boyapati Srinu is known for his violence centric movies. Also, faction backdrop, melodrama, and crass humor are constant in his movies and Dammu is no different. It is inevitable to expect mustache swirling, SUV blasting, and thigh thumping from the NTR-Boyapati combination, and Dammu doesn't prove us wrong.
But what I didn't expect was the weak story and a weaker direction. The first half was a below average fare with more of a mindless love story and lame comedy. Comedy seemed like a desperate attempt to please C section of audiences. Also, we were expecting an action entertainer after watching the promos but there is no hint of it. In the second half, Dammu slips into extensive melodrama and emotions that fail to make an impact, reasonless bloodshed, and it focused on portraying NTR as a demigod.
It seemed like the director himself was not clear of what he wants. Violence, love, comedy, emotions – neither of the elements were constant throughout. Everything happens abruptly. Series of twists were spineless. The so called punch dialogues were laughable. Few politically intended dialogues ridiculed the State's ruling party and also conveyed NTR's political aspirations. Action sequences were more about SUVs flying in the air, one after the other. And, guess what? Our hero can blast and throw countless baddies up in the air by using his shoulders. Just shoulders because he folds his arms back while fighting. Now don't ask me why.
Characterization was very poor. NTR first discourages violence, then goes on a killing spree because he realizes violence could only be stopped through violence. Okay, we're fine with this. But again at the end, he preaches that violence never pays. And, the main baddie who has been waiting for 25 years to kill this man, abruptly becomes a nice guy and praises the hero.
Visually the movie scores very well. Locations were apt. Sets were magnificent and nicely crafted. Scenic rural atmosphere will please your eyes. Cinematography by Arthur Wilson was beautiful at places, mostly the close up shots were good. Keeravani's music was okay. Background score and sound effects were a disaster as they dominate to an extent that it gets loud and noisy.
Inconsistency throughout, and illogical direction spoil the show. Jr NTR's diehard fans might love the movie in bits and pieces.
Final Word
Lethargic, unrefined, and senseless! Application of some thought and logic could have made this an action entertainer. I'll go with a 2 out of 5.
Find Harsha on Twitter and Facebook