Introducing one of my all time fashion icon – Damir Doma. A menswear designer staying true to his aesthetic season after season, never dictated by trends. I still remember the first time I touched his collection while on a student exchange in Amsterdam, Holland–> Facebook entry on August 26, 2010: "Had a very emotional moment instore (tears forming) as I got to touch DAMIR DOMA's summer collection…all that i'd researched and watched endlessly till early morning hours right in my hands!"
Here's an introduction to this phenomenal designer plus a video of an archival footage of the early days of Damir Doma in Paris!
"At 30 years old, he is one of the most edgy designers, saluted by the critics and loved by sophisticated buyers. It must be said that this guy is not timid – he hasn't stopped evolving the mens wardrobe since his first collection in Spring Summer 2008 – he has also shown womenswear since Autumn Winter 2010. Logically, his route has been that of a man who has travelled both geographical and intellectual frontiers. Croatian-born, brought up amidst the toiles in the manufacturing atelier of his mother in Bavaria, it's the outer-Rhine where he cut his teeth, before tapping the vein of Belgian fashion and revealing his fashion icons as diverse as Giorgio Armani and Anne-Marie Beretta. From this crossover springs a style without concession, always strong in structure – affirmed by sharp silhouette s in specific volumes, mastery of 'oversized' – and soft in materials – he loves the caresse of cashmere and it's shadow in the light." - Damir Doma interviewed in Têtu magazine (France) by Alex Drouot.
My favorites from his latest collection from Autumn/Winter 2012 collection shown at Paris Mens Fashion Week 2012 earlier this year: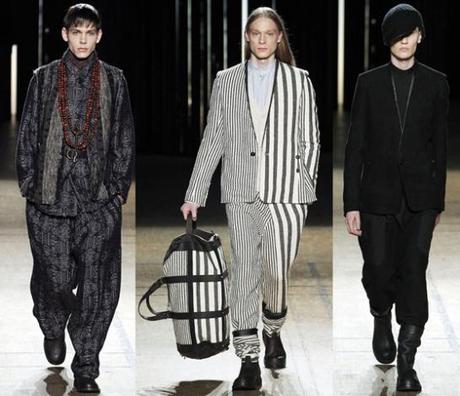 The archival footage of his early days in Paris…enjoy!