Michelle Chase lets little ones e
xperience the benefits of giving
by Alison Weinstein
Get on board!
This is the basic philosophy that attorney 
Michelle Chase
has imbibed on an honest crowd – kids. Whether it's riding in a funky bus to deliver Meals on "Big Wheels" or wiping out graffiti for the City of Dallas, Chase's
Wee Volunteer
organization has cut to the core of lifelong volunteerism by targeting children to get involved.  Wee Volunteer exists to provide age appropriate service projects for preschool and elementary school age children with local Dallas charitable organizations. The projects currently serve six areas of need: hunger, homelessness, under-privileged children, elderly, animals and the environment.
Becoming a Mother to two girls (Mae, age 7 and Mary Claire, age 5), inspired Chase to create Wee Volunteer out of a home office. "There is so much return in teaching children to give back early," says Chase. Now, with 1,200 families mobilized in the Metroplex and over 30 community partners, Chase knows her cause has resonated. "Experiencing first hand the benefits of giving - is an everlasting gift. It's a simple practice... Entrusted early, volunteerism naturally will become part of our fabric." To date, there have been few opportunities for children to be on the front lines of giving back. Wee Volunteer does this beautifully by vetting experiences and identifying engaging opportunities for kids. Each month, Chase provides 15-20 projects to choose from.
OSC Contributor Alison Weinstein caught up with the always-on-the-run Chase to ask her to share some of her favorite things about Dallas: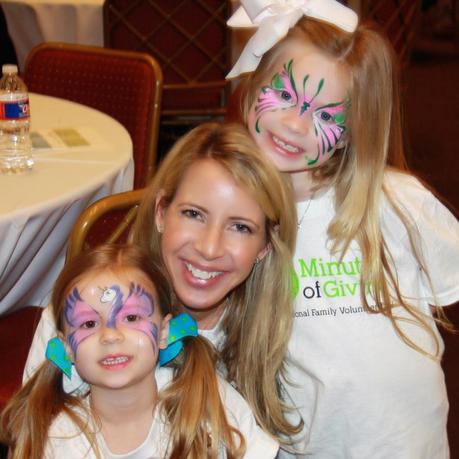 Chase with her daughters
AW: How do you beat the heat in Dallas during the Summer?
MC: A/C and travel
AW: When you need some "me" time to relax, where do you go or what do you do to relax and recharge?
MC: Most often my 'me' time involves a 3-5 mile run. For true relaxation, I like the Four Seasons Resort and Spa
AW: What are your favorite restaurants?
MC: True Foods, Neighborhood Services and Carbones
AW: What are your favorite places to shop?
MC: Neiman Marcus Cusp, Lululemon and J Crew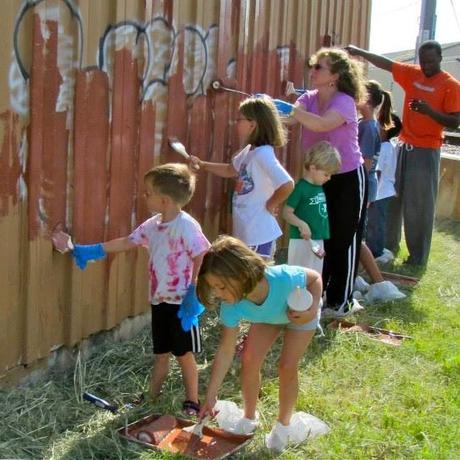 Wee Volunteer's Wipe Out Graffiti Day 
AW: What's your favorite Dallas festival or event?
MC: State Fair and of course 60 Minutes of Giving - our celebration for National Family Volunteer Day
AW: What do you think makes Dallas such a great place to live, work and raise a family?
MC: Dallas offers big city amenities with a small town closeness among the people.
AW: Tell me something about you that most people don't know.
MC: My best friend growing up was Miss Rodeo Texas Teen. She competed in rodeos often and taught me how to barrel race and goat tie. I actually won third place barrel racing at a rodeo when I was 12.
To learn more about Wee Volunteer and opportunities for your family to get involved, visit 
http://www.WeeVolunteer.org
.
About Alison Weinstein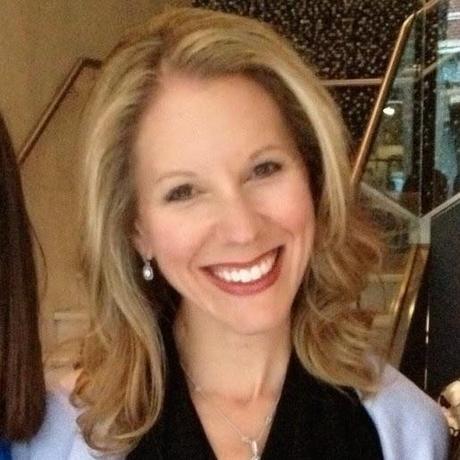 A freelance writer and TV news producer, Weinstein started her career with Condé Nast Publications and ultimately followed her passion to television news at MSNBC in New York. Now in Dallas for over ten years, Alison has worked with NBC Network's Southwest Bureau and other major network news divisions as a field producer. Making a difference in the community is also a terrific passion and Alison is honored to serve in leadership roles for Heroes for Children and The Dallas Holocaust Museum. Alison loves spending quality time with her husband, Michael and their two children, Carter & Ashley.