Dallas Buyers club is a movie from the indie cinema houses which deals with the familiar area of a regular man going up against the powerful government authorities. But this is no thriller, but a sensitive portrayal of the protagonist, Ron Woodruf, and how he lived through after the diagnosis o AIDS, while fighting with the government for the right medication.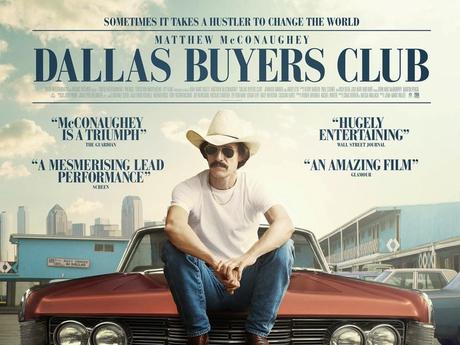 The movie is about the heart-warming struggle of an HIV patient confronting the authorities selling profitable drugs to patients, even though it is known to have adverse effects on them. Ron, smuggles better medication unapproved by the FDA, and sells to people like him, and that gets him into a lot of struggle with the FDA and the law. The movie tries to take in a large issue and sell it through the struggle of one man, and it is beautifully done.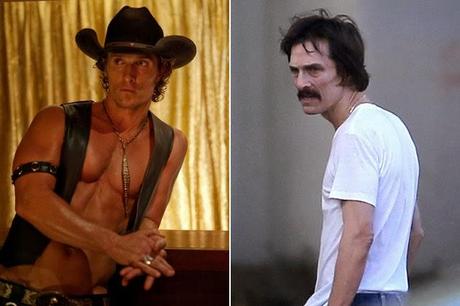 Mathew McConaughey and Jared leto's excellent transformations -  not just into the psyche of the characters but literally into their bodies too - is not justified when I say was 'amazing'. Mathew follows the notes of Christian Bale and breaks down his body into one weightless mass, with nothing but bones tearing out of it. Added to that his charm and emotional range, and his performance skyrockets to incredible levels. A good few years for you now, huh, Mathew?? If i had any doubts on the best supporting actor this year - thats vanished after watching an astonishingly easy work of Jared Leto as a transgender. He lives the role without letting one moment pass by where you can see anybody else but a transgender. Both of them had won a Golden globe in their categories, and no doubt are the front runners for this years Oscars. If anybody else can be as proud as them, it would be only Christian Bale for his transformation as a fat fraudster in 'American Hustle', or the frail brother in 'Out of the Furnace'.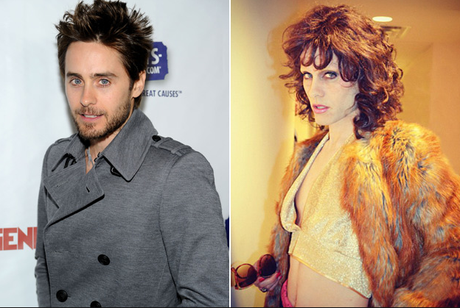 Music was scantily put, but helped the movie in its treatment. Jenifer Garner looked ever so beautiful in her role as a doctor who can't stand the authorities and their bullying.
The movie might not stand out as an 'issue' movie, but can be proud of being a performance powerhouse, and does have a decent script to go about. Selected in the category of Best Film too, this year, 'Dallas Buyers club' deserves the attention it gets.