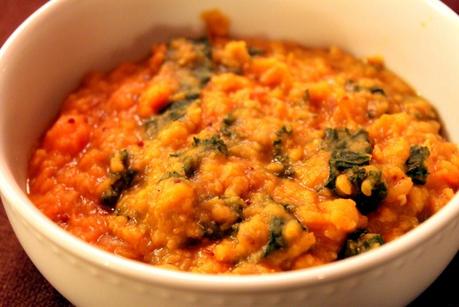 Dal is pretty much a staple in Indian cuisine.
What is Dal? It's basically stewed/cooked lentils or split peas, but there are so many different kinds of Indian lentils & beans: Moong, Toor, Green Lentils, Chana, etc. that you can get pretty creative with your Dal recipes.
I literally ate dal (lentils) & sabji (vegetables cooked with Indian spices) for dinner almost every single day when I was growing up.
Somehow I didn't get tired of it – I think there's something about the warmth and spice of Indian cuisine that's comforting to me – something familiar that I can always come back to.
But, I do like mixing things up once in a while, so when I saw this recipe on Fat Free Vegan, I was inspired. Usually, dal is just lentils cooked with spices. You don't add things to it (like sweet potatoes or kale) – that'll seem odd to most traditional Indian cooks. But I have to tell you, this recipe is delicious. And it's a one-pot meal.
I made quite a few modifications to the spice level because I think the original recipe is a little bland – so my modified version is below, with notes on where you can cut back on the spice if you need to.
The Ingredients
Makes 8 servings – so if you want a smaller portion, just cut everything in half!
2 red onions, chopped
1 1/2 teaspoons whole cumin
1 tsp ground cumin
1 teaspoon black mustard seeds
2 tsp canola oil
1-2 Tbsp finely minced fresh ginger
5 cloves finely minced garlic
2 medium sweet potatoes, peeled and cut into 1-inch cubes
8 cups water
3 cups dried yellow split peas, picked over and rinsed (this is chana dal in the Indian store)
3-4 Tbsp curry powder (or less/more to taste)
Salt to taste: I used about 2-3 tsp for this huge portion, but if you're just making 1/2 or 1/3 of this recipe – use about 1 tsp
1/4 tsp cayenne pepper (optional)
1 bunch kale
Here's a picture of the dal I used – you can get this at any health food store (like Whole Foods) or Indian Store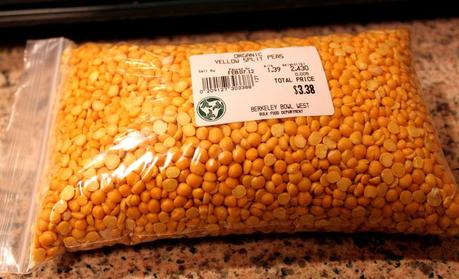 The Directions
Step 1: Wash the yellow split peas thoroughly, and chop up the onions and sweet potatoes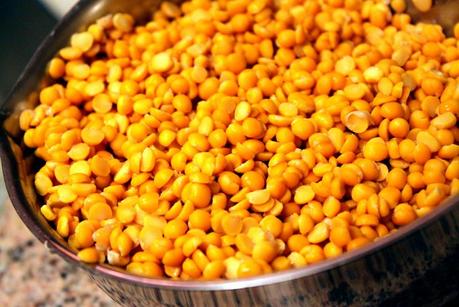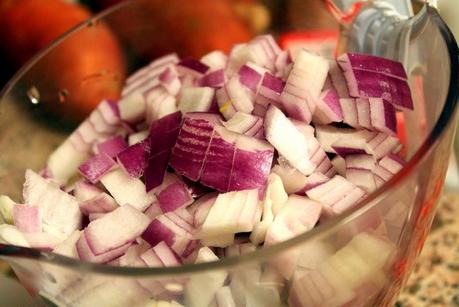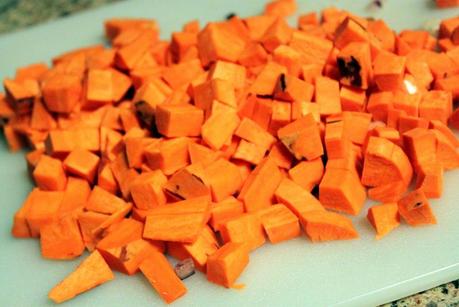 Step 2: Heat a large pot over medium high heat and add in the canola oil. Pour the cumin seeds and mustard seeds into the oil, let them cook for a few seconds until they start to pop. As soon as they begin to pop, add the onions, ginger, garlic and cumin powder, cook for a few minutes.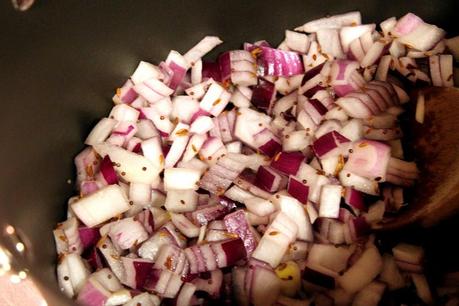 Step 3: Add the sweet potatoes, water, split peas, and 2 Tbsp curry powder. Stir well.
If using a pressure cooker, seal the cooker and bring it up to high pressure. Cook at high pressure for 8 minutes; then remove from the heat and allow the pressure to come down naturally.
If you're cooking it in a regular pot, cover the pot and simmer until the split peas are tender and beginning to break down, about an hour. Stir regularly to make sure that the split peas don't stick to the bottom of the pan, and add water if necessary.
I did the latter (cooked it in a regular pot) – because I don't have a pressure cooker and I'm a little intimidated by them! But obviously a pressure cooker is much faster, so I should probably get over my fear of them soon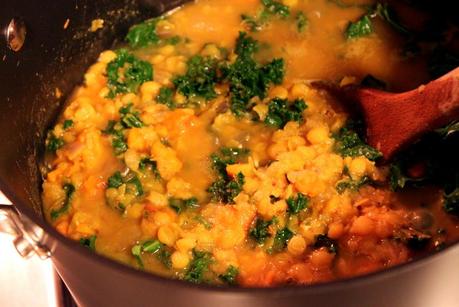 Step 4: While the soup is cooking, wash the kale and remove and discard the tough central rib. Chop the leaves coarsely.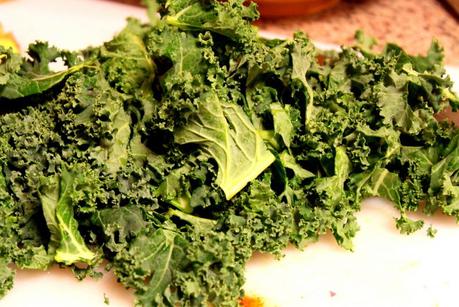 Step 5: When the split peas are cooked, add the kale to the pot. Season with salt, cayenne pepper, and additional 2 Tbsp curry powder (use less spice if you don't like things too spicy) and add additional water if the soup is too thick. Cover the pot. For kale that retains some crunch, simply leave the pot covered for 5 or 10 minutes without heating, allowing the kale to cook in the heat of the soup. For kale that is more tender, you may return the pot to low heat for 10 minutes.
And dinner is served.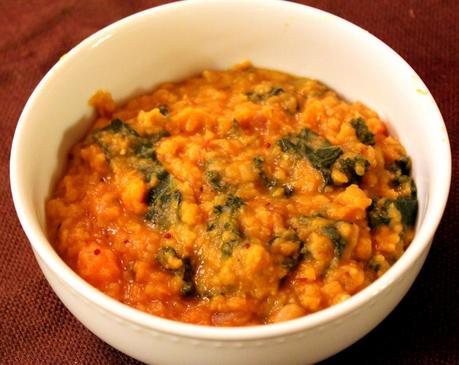 The husband ate this with some Naan, I ate it with a whole wheat flour tortilla, but you can also eat it by itself – like a thick stew or soup. We both loved this meal – it was hearty, satisfying, super filling, and so balanced with the protein from the split peas, and the fiber from the sweet potatoes and kale. The dal also had a great sweet & spicy flavor to it, since the potatoes end up cooking down to make the dal creamy and slightly sweet.
One HUGE serving has about 300 calories, 20g protein, and 21g fiber. If you eat it with a standard sized whole wheat tortilla, that's about 100-150 calories and 5g fiber more – so only 450 calories for an amazingly filling and delicious meal.
It tastes so great, you won't believe how good it is for you!