This post may contain affiliate links. Please read my disclosure.
Incredible Dal Makhani that has been prepared in the Instant Pot gives you sensational flavors in every bite. Hearty lentils, kidney beans, fresh spinach, and spices summon you to eat more and more of this healthy and decadent dish.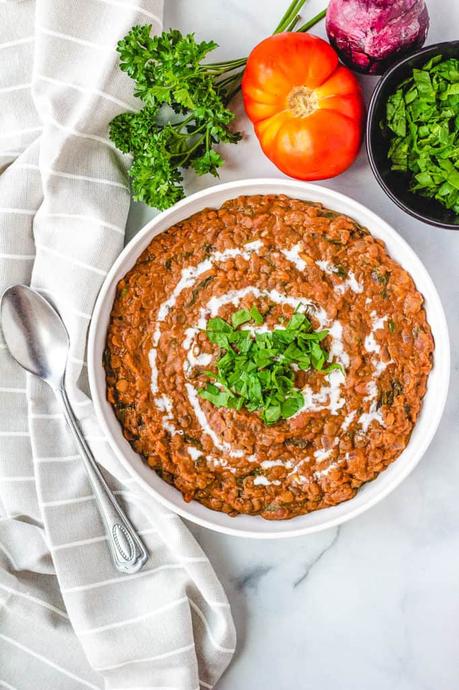 Skip the restaurant and make this flavorful Dal Makhani at home instead. You can get even better flavors because cooking it in a pressure cooker allows all the seasonings and spices to marry together, and it speeds up the cooking time for those dry beans & lentils!
I love the flavors and textures of homemade Dal Makhani. The key is to use lots of warm spices and full-fat coconut milk. It will result in a creamy dish that you just can't beat with anything else.
Tools and Equipment You'll Need
Ingredients You'll Need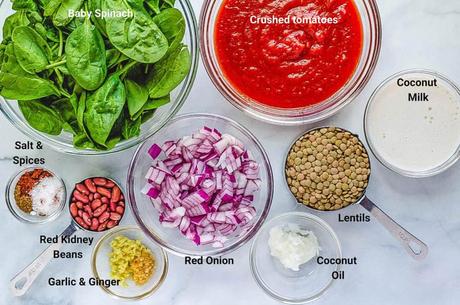 Step by Step Instructions
Step 1: Cook the lentils, kidney beans + water in the instant pot (you can also do this in a slow cooker or on the stovetop, the cook time will just be longer). In the Instant Pot, cook on high pressure for 30 minutes, natural release.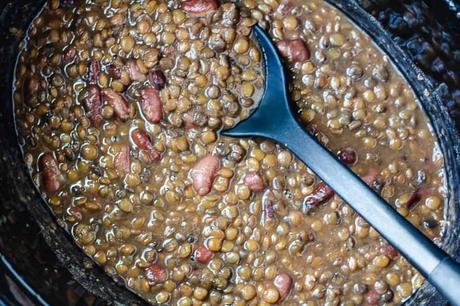 Step 2: Mash some of the lentils + beans using a potato masher. Add in the baby spinach and let the dal simmer on "keep warm" setting while you make the spice mixture.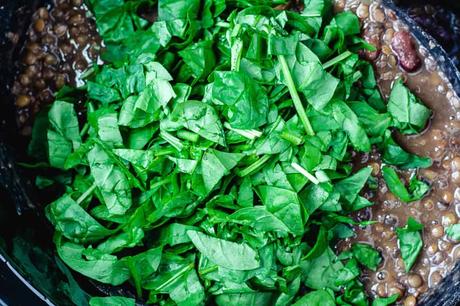 Step 3: To make the spice mixture (masala), heat a medium pot over medium heat. Add the coconut oil, onions, garlic ginger paste (or minced garlic/ginger), and cook until the onions are translucent.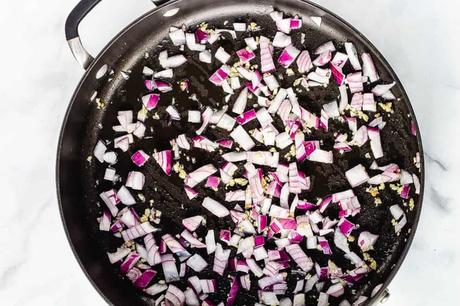 Step 4: Add the crushed tomatoes and cook through - about 5 minutes. Add the spices and salt. Cook about 3 minutes more.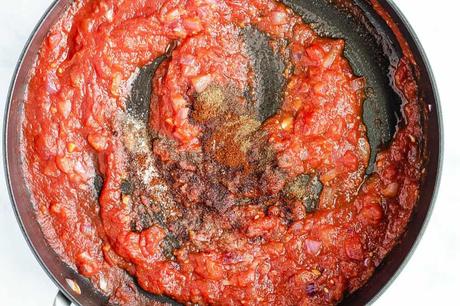 Step 5: Add in the lentils/kidney beans/spinach mixture into the large pot. Stir to combine and simmer for 20 minutes, uncovered, on medium low heat. Add water if the dal is getting too thick.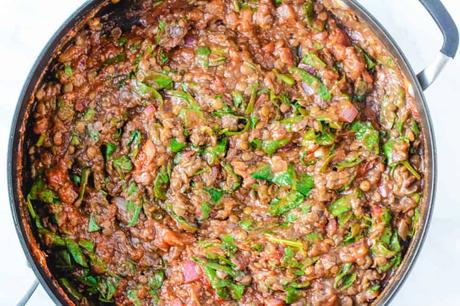 Step 6: Add the coconut milk and let it simmer for another 10 minutes until combined.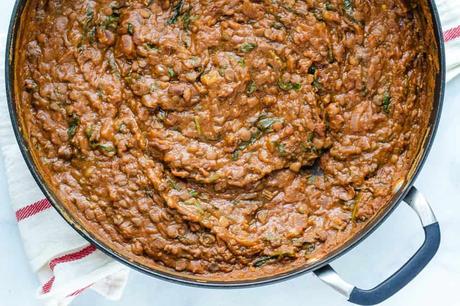 What Makes This Dal Makhani Healthy?
Protein and Fiber: You will get plenty of fiber and protein in every bite of this homemade Dal Makhani, thanks to the lentils and kidney beans. Each serving of this recipe has almost 12 grams of protein and 14 grams of fiber.
Healthy Fats: You will get lots of healthy fat from the full-fat coconut milk and coconut oil. It's always a good idea to include healthy fats in your diet.
Vitamins and Minerals: As you can imagine, this Dal Makhani is PACKED with lots of great-tasting vitamins and minerals. Iron, Vitamin K, Folate, Copper, Vitamin B6, Vitamin E, Calcium, and more in each helping.
Will Kids Enjoy This Recipe?
This mellow dal is a great introduction to Indian spices for kids of all ages. If your kids enjoy lentils and beans, then most likely they will love this Dal Makhani. It's so creamy, rich, and has tons of flavor in every bite. It's not spicy, so you don't have to worry about that, but you can always adjust the spices if your child is more sensitive to spice. If your kiddo isn't sure about trying it, then give them a small amount along with a healthy salad or something they like too.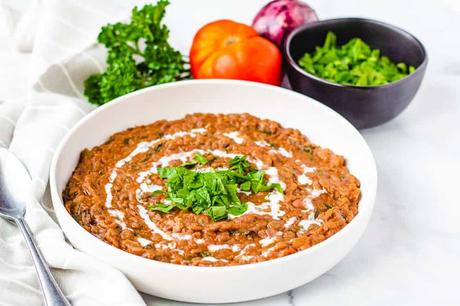 Recipe FAQs
What is Dal Makhani?
Dal makhani is a traditional Indian dish originating from the Punjab region (in North India). It is a hearty dish made from lentils and kidney beans. Traditionally it is made with butter and cream, but to make this dish vegan these ingredients are substituted with coconut milk and coconut oil.
What Do I Serve with Dal Makhani?
Dal Makhani goes really well with some brown rice, quinoa, or whole wheat naan/whole wheat tortillas on the side. Some people like to add a little bit of sour cream, Greek yogurt, or cilantro on top as a garnish. You can even serve it with a fresh garden salad and warm bread to complete the meal. There are no wrong answers when it comes to finishing your menu when serving this dish.
How Do You Store and Freeze This Recipe?
To Store: Make sure the Dal Makhani has cooled down all the way before storing it. Once it's cooled, then you can pour it into an airtight container and keep it in the fridge. It will last up to 4 days in the fridge.
To Reheat: Reheat the Dal Makhani in the microwave for the quickest method. Just heat it until it's hot all the way through and enjoy. You could also slowly warm it in a small saucepan, but be sure to stir it frequently, so it doesn't burn.
To Freeze: This recipe freezes really well! Make sure the Dal Makhani has cooled down all the way, and then transfer to an airtight container. Place in the freezer for up to 4-6 months. Thaw in the fridge before reheating and eating.
Top Tips for Making Dal Makhani
Do not use a milk substitute for the coconut milk unless it is full fat. This will affect the way the dish turns out.
Feel free to swap the spinach for kale if you want to try a different leafy green in this recipe.
Garnish with your favorite toppings such as fresh tomato slices or cilantro.
Do not add the coconut milk until the last 10 minutes, or it will not turn out properly in the Instant Pot.
You can make this ahead of time and serve it the next day - the flavors will just blend together even better as it sits overnight in the fridge!
Serve with whole wheat naan, sprouted wheat tortillas, brown rice or quinoa.
If you don't have an Instant Pot, you can cook the lentils & beans in a slow cooker or even on the stovetop - the cook time will just vary as both will take longer than the Instant Pot!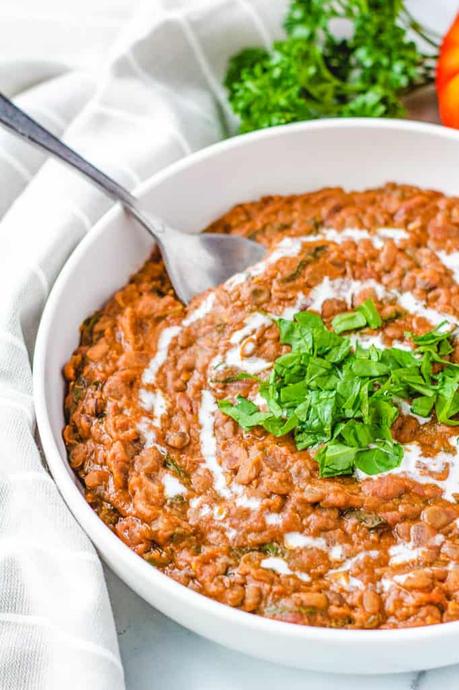 If you have tried this Dal Makhani recipe or any other recipe on my blog, then please rate it and let me know how it turned out in the comments below! You can also FOLLOW ME on
FACEBOOK
,
TWITTER
, INSTAGRAM and
PINTEREST
to see more delicious, healthy, family friendly food!
Check Out These Other Indian Recipes!
Dal Makhani Recipe (Healthy, Vegan)