This post may contain affiliate links. As an Amazon Associate, I earn from qualifying purchases. Please read my disclosure.
In just 35 minutes with just 8 ingredients, you'll have delicious dairy free blueberry muffins that are perfectly fluffy, moist, and flavorful! These easy to make healthy blueberry muffins are the perfect grab-and-go breakfast recipe for busy mornings. Includes a tried and tested vegan and gluten free option too!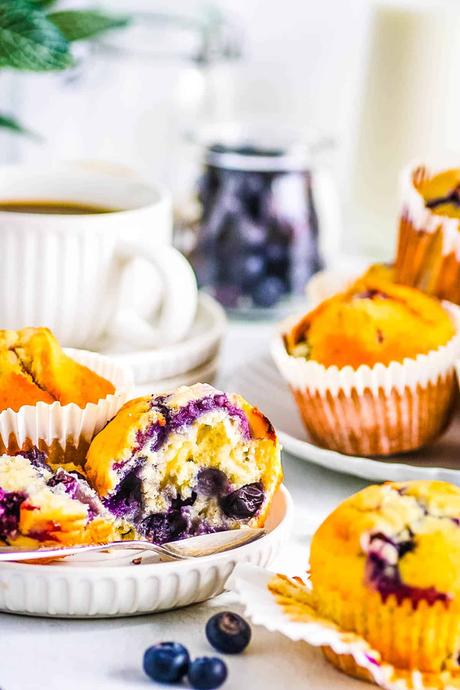 I love grab and go breakfasts - and muffins are one of my go-to recipes for packing a bunch of healthy ingredients into a filling, easy breakfast!
My only issue with this favorite bakery classic is that the traditional recipe for muffins is often packed with sugar - making it more like a dessert than a breakfast food!
Which is why I created this easy blueberry muffin recipe without milk. Try it once and you will be hooked! If you're avoiding dairy products but still craving the best blueberry muffins, this easy recipe is for you!
You don't need dairy to create a moist and fluffy muffin! The coconut oil plus almond milk in this recipe creates the best texture in these non dairy blueberry muffins.
This recipe is super easy, and can easily be made into gluten-free blueberry muffins or even egg-free blueberry muffins that are totally vegan with just a few simple swaps.
These dairy-free blueberry muffins are so good, you'll never miss that classic blueberry muffin recipe again!
👩🏽‍🍳 Why This Recipe Works
Great recipe for meal prep
Dairy-free
Can easily be made vegan
Tons of variation options
Grab and go breakfast
Kid friendly
Quick and easy to make
Can be made gluten-free
The best easy dairy free blueberry muffins recipe ever!
Latest Recipe Video!
🥘 Ingredients
Non dairy muffins are so easy to make! You can find all of the ingredients needed for this simple recipe at any grocery store. For detailed instructions and nutritional information, see the recipe card at the bottom of this post.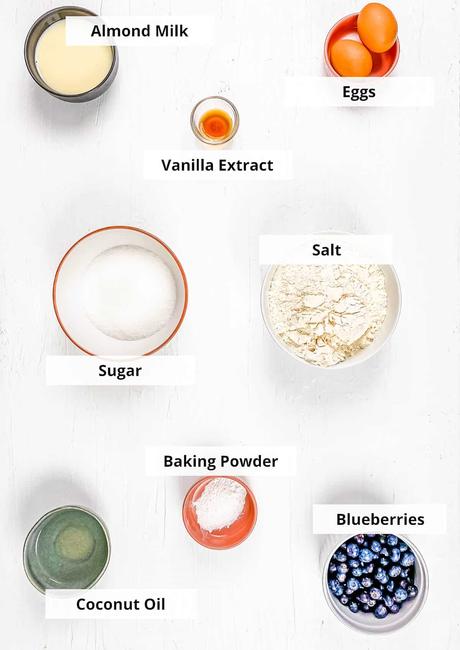 All Purpose Flour: Flour is the base for this dairy free blueberry muffin recipe. You can use any type of flour you want for this recipe, including whole wheat flour or oat flour for more fiber, and gluten free flour.
Baking Powder: Baking powder adds volume and helps them rise while they're cooking.
Sugar: Sugar gives these delicious muffins a perfectly sweet flavor that compliments the natural sweetness of blueberries without an overpoweringly sweet taste. Use whichever sugar you prefer for this recipe - raw sugar, brown sugar, coconut sugar, regular granulated white sugar, or even monk fruit. If you use a sugar substitute, you may want to use less because it tends to be sweeter.
Eggs: Eggs act as an emulsifying agent. They help hold everything together and give the muffins a more rich flavor. Swap the eggs for two flax eggs if you would like to make these no milk blueberry muffins vegan.
Coconut Oil: Your muffins need oil to retain moisture and a nice tender and fluffy texture. Olive oil would be a great option too. You can use vegetable oil, but I like coconut oil or olive oil because of the healthy fats.
Almond Milk: Milk adds more moisture and flavor, and helps prevent them from drying out. This recipe calls for unsweetened almond milk, but any plant milk will work.
Vanilla Extract: A small amount of vanilla extract brings out the sweetness of the other ingredients and goes a long way flavor wise.
Fresh Blueberries: Juicy blueberries are the key ingredient in this recipe. You can use frozen instead of fresh, just make sure not to defrost them first. Wild blueberries are also an excellent choice for this recipe if they are in season in your area.
📖 Variations
This dairy free muffin recipe is great to use as a base and then add and swap ingredients as you come up with different ideas. Below are a few of my favorite variations for this dairy-free blueberry muffin recipe.
Egg Free Blueberry Muffins: Make vegan blueberry muffins by ditching the eggs along with the dairy. You'll still need that binding agent so swap the egg for what's commonly called a flax egg. Just mix 1 tablespoon of ground flaxseed + 3 tablespoon of water for each egg. Dairy and egg free muffins are super simple to make and taste just as delicious!
Gluten Free Dairy Free Blueberry Muffins: For gluten and dairy free blueberry muffins, just follow the recipe as stated here but replace the all-purpose flour for an all purpose gluten-free flour blend (that contains xanthan gum).
Blueberry Chocolate Muffins: Simply add chocolate chips to the batter or even just sprinkle a few on top of each muffin in the muffin pan before they go in the oven. If you are making vegan muffins, be sure you choose vegan chocolate chips.
Blueberry Walnut Muffins: Chopped walnuts would be a great addition to this recipe. Same as with the chocolate chips, depending on how much walnut flavor you want, sprinkle on top or add to the muffin batter. If you don't like walnuts, any kind of nut you like will work.
Lemon Blueberry Muffins: Give your muffins a citrusy twist with a zing of lemon. All you need is a little lemon zest mixed in the batter or sprinkled on top. You can also add 2 tablespoons of lemon juice.
Banana Blueberry Muffins: Before you pop that blueberry muffin batter in the oven, add a with a slice or two of banana to each of the muffin tops. Make sure you use ripe bananas so they are sweet and not bitter.
Mixed Berry Muffins: Simply swap out the blueberries for mixed berries like blueberries, raspberries, and blackberries. Whatever your favorite combination is, it's sure to be delicious in these healthy dairy free muffins.
🔪 Instructions
Preheat Oven, Mix Dry Ingredients: Preheat the oven to 350 degrees F / 180 C. Line a 12 cup muffin tin with cupcake liners or muffin liners, set aside. Whisk together the flour, baking powder and sugar in a large bowl.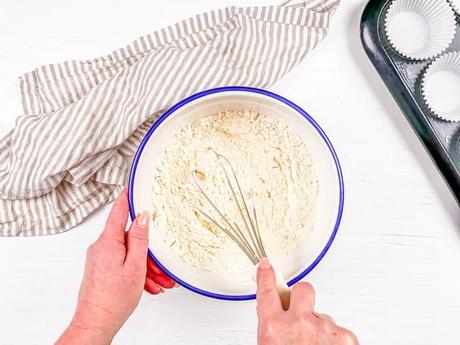 Mix Wet Ingredients: In a separate bowl whisk together the eggs, oil, almond milk and vanilla extract.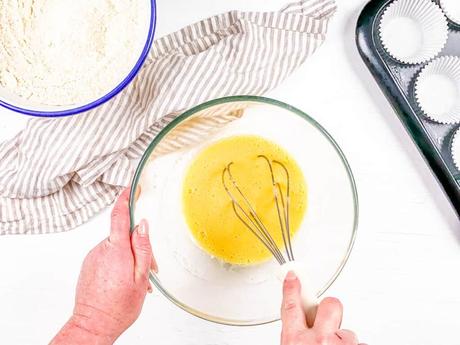 Combine All Ingredients: Pour the wet ingredients into the dry, along with the blueberries.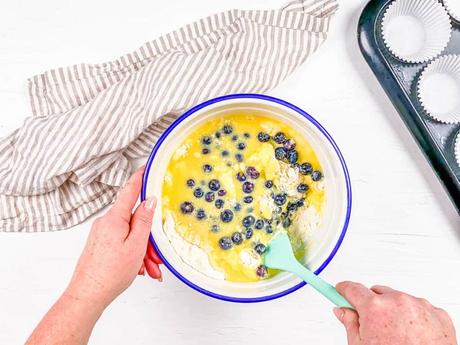 Gently Mix: Gently stir the mixture until combined, do not over mix the batter.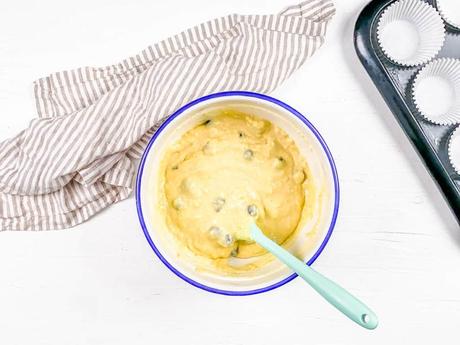 Divide Batter: Divide the batter evenly between the prepared muffin liners. You can use an ice cream scoop to make it easier to transfer the batter.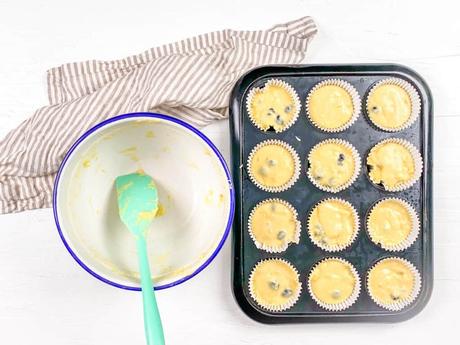 Bake & Cool: Bake muffins for 20-30 minutes or until an inserted skewer comes out clean and the tops are lightly golden brown. Let the muffins cool completely on a cooling rack.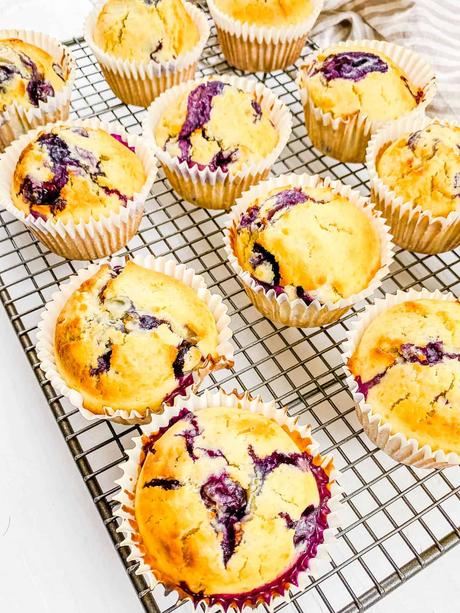 ❓Recipe FAQs
WHAT CAN I SUBSTITUTE FOR MILK IN BLUEBERRY MUFFINS?
Any kind of unsweetened plant milk can be used to make blueberry muffins. Soy milk, oat, almond, cashew, and rice milk are all options that would work well. You can also use lactose-free milk if you're just looking to make lactose free muffins (vs. milk free muffins).
CAN I MAKE MUFFINS WITH WATER INSTEAD OF MILK?
Technically yes, water will help the ingredients mix together and can be used in muffin batter. However, I don't recommend using water, as muffins made with water instead of milk will not be as moist, the texture will likely be off, and the flavor will be more bland.
How many calories are in an average blueberry muffin?
The average blueberry muffin that you might find at your local bakery or coffee shop will run anywhere from 450-500 calories, and over 20 grams of sugar.
This homemade dairy free muffins recipe is a much healthier alternative, as they come in at just about 200 calories and 12 grams of added sugar per muffin!
HOW TO STORE BLUEBERRY MUFFINS?
Once cooled, muffins should be stored in an airtight container or wrapped well with plastic wrap and stored in your refrigerator. They will keep for 4-5 days in the fridge.
You can also freeze these milk free blueberry muffins. Just let them cool completely, wrap each one in plastic wrap, and transfer to an airtight freezer safe container or freezer bag. Thaw in the fridge overnight, then warm in the microwave to room temperature before serving.
HOW TO SERVE BLUEBERRY MUFFINS?
Blueberry muffins are great for a grab and go meal just as they are. If you have more time, heat them up for a few seconds in the microwave. You may also choose to add a bit of butter to your heated muffin. Use vegan butter to keep it dairy free.
💭 Expert Tips
Toss blueberries in flour before folding them in the batter. This helps them stay put a little better instead of sinking to the bottom of the muffin cup. You just need a teaspoon or so of flour for this thin coat.
For best results, do not overmix! You want to mix the batter just until the flour has combined with the rest of the ingredients. Overmixing will result in dry / less moist muffins.
Let the batter rest for a few minutes before cooking to give it a thicker, more robust consistency.
You can use frozen or fresh berries. Frozen blueberries do not need to be thawed before being added to this recipe.
Use a butter knife to check the muffins before removing them from the oven. This is like the toothpick test but easier to see if any batter comes out of the knife.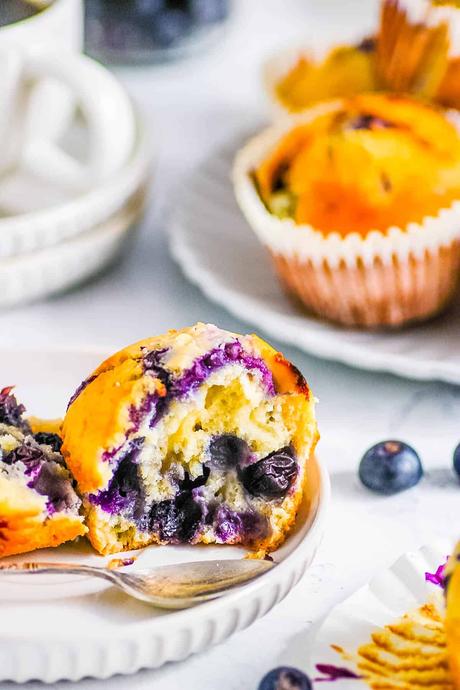 🧁 More Tasty Muffin Recipes!
📋 Recipe Card