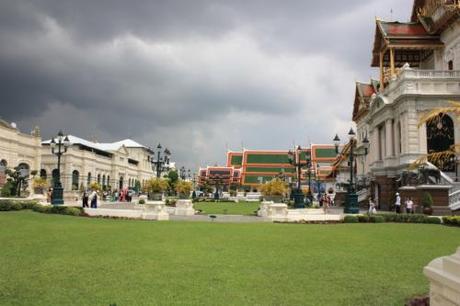 On the grounds of the Grand Palace
This was taken at the Grand Palace in October 2012 as some foul weather was arriving.
A few things to keep in mind:
1.) The Palace is open all day almost everyday but tuk-tuk drivers tell bald-faced lies,  saying that it's closed for an hour or two. They do this so they can get a fare. The loudspeakers blaring an announcement to not listen to anyone who attempts to divert you, doesn't dissuade them. They will say that there is some special event involving the King or Queen that has shut the complex down. Don't believe it.
2.) Cover your thighs. While there are lots of places (temples and so forth) that say they require such modesty, this is one of the few places that seems to strictly enforce it. If you don't want to end up wearing a communal sarong, leave the daisy dukes in your hotel room and wear some bigboy/biggirl pants (or at least long shorts.) I wore walking shorts that went to the top of my knee, and was fine.