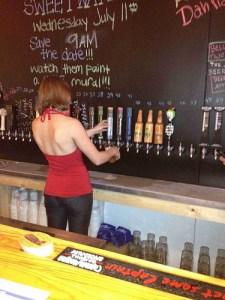 It seems like just yesterday that my friend Andrea told me about her desire to open a beer bar of her own in Riverside. After much hard work and more than one setback, her dream came to fruition nearly two years ago in the form of Dahlia's Pour House in the King Street Beer District.
To celebrate the momentous occasion of two years in business, Andrea and the entire staff of the Pour House are throwing a day-long bash on Saturday, July 12. For the celebration, a line-up of activities has been released including:
• First 50 guests will receive a free Dahlia's coozie. After those are gone, guests can purchase a coozie for just $1.
• Each hour a different Florida Brewery will be featured with $4 drafts.
• For every two (2) Dogfish Head beers purchased, guests will receive one (1) raffle ticket for a chance to win one of 12 Dogfish Head 120-minute IPA bottles. Loyalty club members get a free raffle entry.
• Free beer swag throughout the night.
• Free Champagne toast for everyone with staff and the owner at 5:00 p.m.
• Coaster Flip Contest at 6:00 p.m. — House cash to top two finishers.
• Connect Four tournament at 7:00 p.m. — House cash to top two finishers.
• Corn Hole Tournament at 4:00 p.m. (Pre-sign up at the bar, $10 per team, house cash, as well as cash prizes awarded).
The Jax Beer Guy has partnered with the UBER car service in Jacksonville. Because of this partnership, you can receive a $20 credit for your first ride by simply using the promo code "JaxBeerGuy" when you register for UBER on your smartphone.
Click HERE to sign up now!