Blogging Marathon# 30: Week 1/ Day 2
Theme: Cooking with Curd
Dish: Dahi Bhindi
For some reason the first dish that came to mind when I was thinking of dishes for 'Cooking with Curd' is this Dahi Bhindi. I don't remember tasting this dish, so I went with my instinct and made it based on what I think dahi bhindi should taste like. I liked the final dish, it was simple and quite tasty.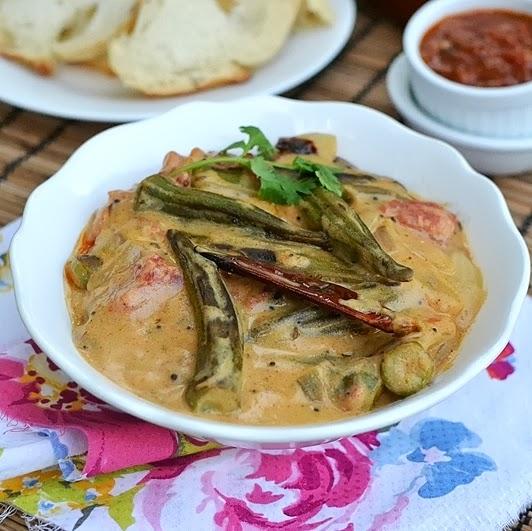 I didn't have fresh okra (ladies finger), so I used frozen baby okra. I sauteed them in little oil along with some vinegar to remove the sliminess and then added them to the yogurt sauce. Frozen okra is very convenient to use but can be a little tricky to cook with. If not handled properly entire dish can turn slimy and inedible. I do not thaw frozen okra and add them directly into the hot pan, this way the water starts to evaporate as soon as it hits the pan. Also I don't stir it too often.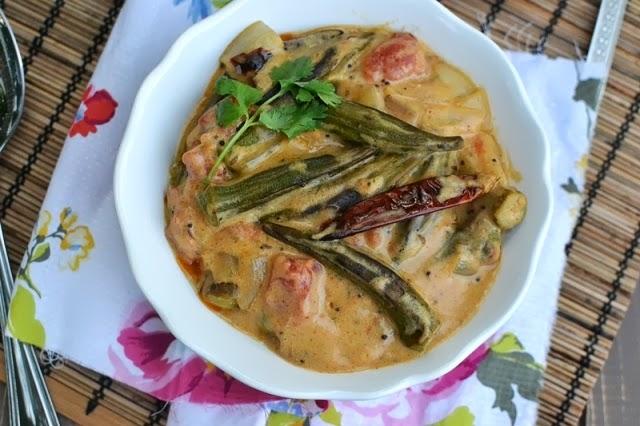 I didn't add too many spices and kept in simple, so that I can enjoy the taste of the yogurt and okra. I added some besan/ chickpea flour to yogurt, so that it doesn't curdle when added to the okra mixture.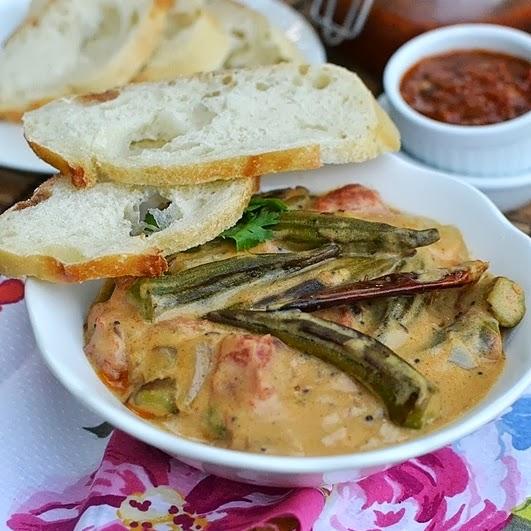 Ingredients
: Baby Okra - 8-10 (I used frozen baby okra without thawing)
White distilled vinegar - 2tsp Onion - 1 medium, chopped Tomato - 1 medium, chopped Yogurt - 1cup Besan/ Chickpea flour - 2tbsp Red chili powder - ½tsp
Garam Masala - ½tsp  Mustard seeds - 1tsp Cumin seeds - 1tsp Dry Red chili - 2 Salt - to taste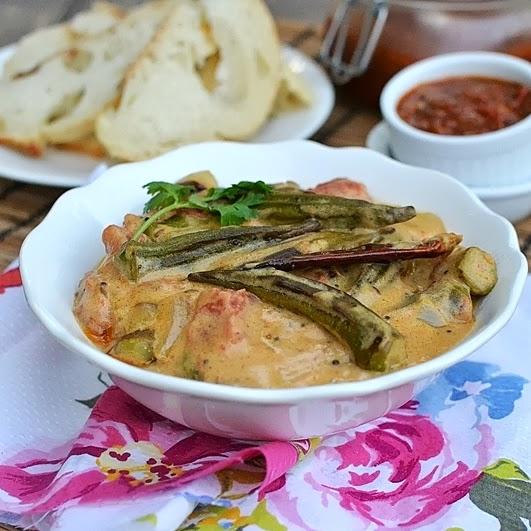 Method
:
Heat 2tsp oil to a saute pan, add the frozen baby okra and cook on medium flame until okra is thawed and starts to get brown in spots, about 6-7 minutes. Add the vinegar and mix well. Cook for 2-3 minutes. Remove from the pan and set aside until ready to use.
Clean the pan with a paper towel and return to heat. Add 1tbsp oil and once the oil is hot enough, add mustard and cumin seeds. Once the seeds start to splutter, add dry red chilies and chopped onions. Cook until onions start to brown around the edges, takes about 4-5 minutes.
Next add chopped tomatoes and cook until they are soft, about 2-3 minutes.
Add red chili powder, garam masala and salt. Mix well and cook for another 2 minutes.
In a small bowl, whisk yogurt until smooth. Sprinkle besan and whisk until there are no lumps.
Add the yogurt-besan mixture to the pan and bring to a bowl. Lower the heat and simmer until the gravy starts to thicken, about 2-3 minutes. 
Serve hot with rice or roti.
I served with some crusty French bread and tomato chutney for a filling meal.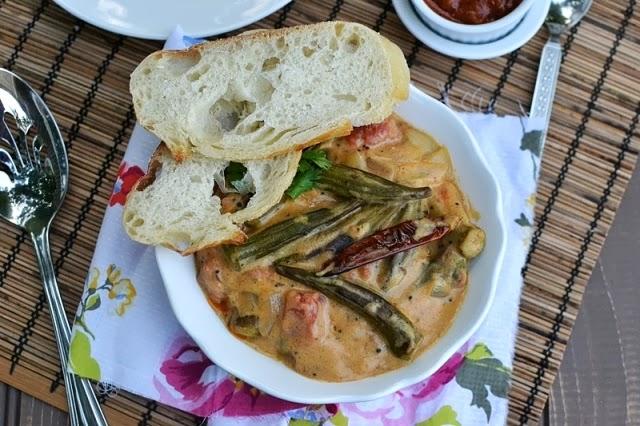 Lets check out what my
fellow marathoners
have cooked today for
BM# 30