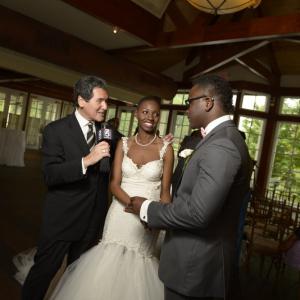 Dahcia is from Yonkers, New York, and her new husband is Jacques and he is from Brooklyn, New York. They met at the University at Albany where they became friends instantly. They were friends for a while before deciding to get more serious and start dating, so they had known each other for around five years before getting married. They run a social media business together called We Are Boogie, they are partners in both life and business.
Jacques found a hugely original and tech-savvy way to propose on Valentine's Day 2014 . He created a video to tell the story.
I asked then why getting married was important to them and Dahcia said "it is the ultimate commitment that we could make to one another. It's a different feeling being married to someone as opposed to just being boyfriend and girlfriend."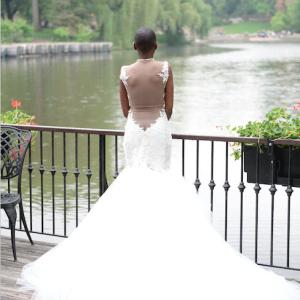 Their plan was to get married on a beach somewhere next summer. But, their proposal video went viral and FOX News NY wanted to sponsor their wedding. FOX suggested the Loeb Central Park Boathouse as a wedding venue and Dahcia and Jacques agreed.
They were really excited to get married in NYC. Though the couple currently live in Albany, they have family members and friends living in Brooklyn, Queens, lower Westchester, and Manhattan. They stayed all over New York City at family's and friend's houses for about a week and stayed in the Sheraton Hotel in Tarrytown, New York for a few days. They had a few weather concerns, because leading up to the wedding the forecast was predicting thunderstorms and really bad rain showers. It rained earlier in the morning before the ceremony, then at the end of the ceremony when they took a family photo the rain started again, but they had good weather for the most part.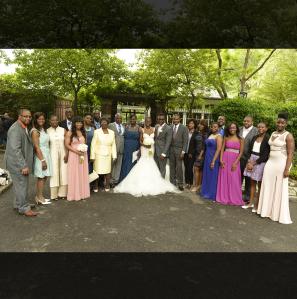 Dahcia wore a gorgeous Galia Lahav haute couture gown for the wedding and she carried a bouquet of dahlia flowers, her favorite, given to her by her big brother and the company he works for, Blondie's Treehouse. Dahcia's makeup along with her sisters', her mom's and her maid of honor's was professionally done by Suzana Hallili.
They had a very small ceremony with only immediate family and a few friends. "They all said that they were so amazed by the beauty of Central Park. They loved it!" said Dahcia.
There has been a Boathouse right here in Central Park since the Park was built in 1872, but that was replaced in the 1920s, and then it needed further repair. Eventually the structure that we now know was reopened in the 1950s and it remains a hugely popular spot to have a wedding ceremony, or to go to for celebrations following an outdoor ceremony in Central Park.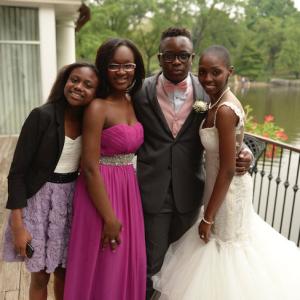 After the morning ceremony and cocktail hour, Dahcia, Jacques and their guests got Thai food in Manhattan. After that they spent some more time with family and friends in Brooklyn then traveled on to Westchester.
When I asked if they had any other thoughts on marrying in Central Park that they would like to share Dahcia said "Yes, if you're thinking about it… do it! The scenery is beautiful!" She also gave the helpful advice to plan ahead with parking if you and your guests are planning to drive, and to give good directions to your guests on how to get to your ceremony location.
Thanks for sharing your story with us, Dahcia and Jacques. You can find more information on their story on their website here. For more information on planning your own outdoor Central Park wedding, visit our website, or "like" us on Facebook for photos and more inspiring stories.