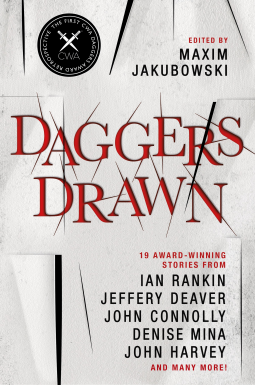 The first Crime Writers' Association Daggers Award retrospective, featuring 19 award-winning stories from bestselling authors Ian Rankin, Jeffery Deaver, John Connolly, Denise Mina, John Harvey and many more!
NINETEEN CWA DAGGER AWARD-WINNING SHORT STORIES FROM THE BEST OF THE BEST IN CRIME FICTION
Maxim Jakubowski has edited all the great names in crime fiction and stories from his anthologies have won the CWA Dagger six times. Now he has collected 19 Dagger award-winning stories in one volume, making it the first retrospective deep dive into the CWA's archive of Dagger Award winners. Bringing together the greatest crime fictions authors such as Ian Rankin, Jeffery Deaver, John Connolly, Denise Mina, John Harvey and many more.
Edgy, twisted and disturbing, Daggers Drawn is a visceral and thrilling collection showcasing the very best modern crime fiction has to offer.
Contributors include:
Ian Rankin
Jeffery Deaver
John Connolly
John Harvey
Denise Mina
Julian Rathbone
Martin Edwards
Peter Lovesey
Lauren Henderson
Stella Duffy
Peter O'Donnell (writing as Madeleine Brent)
Danuta Reah
Cath Staincliffe
Margaret Murphy
L.C. Tyler
Phil Lovesey
Larry Beinhart
Richard Lange Jerry Sykes
***
'And we're not television policemen' said Inspector Lestrade to his new Detective Sargent, 'so make sure you never call me Guv. Right?' SWIFTWING 98 BY PETER O'DONNELL
***
(@TitanBooks, 21 September 2021, ebook, 363 pages, copy from the publisher via @NetGalley and voluntarily reviewed)
***
***
I'm a lover of crime fiction and anthologies because you find new author to love and obsess over. Daggers Drawn sounded like just the thing for me. I enjoyed all of the stories, some a bit more than others. Some of my favourite writers had stories including John Connolly. I liked the diversity in the stories in that no two were alike.