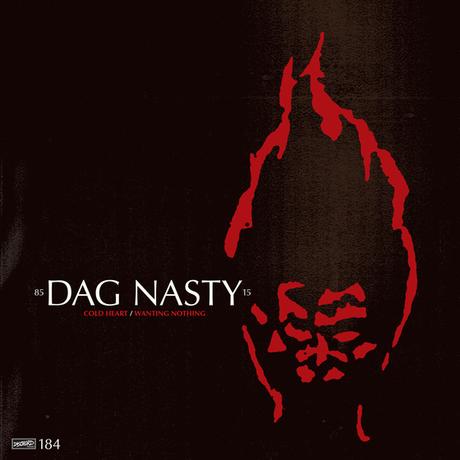 This single includes two new songs by Washington, DC's Dag Nasty. For this session, the band returned to its original lineup: guitarist Brian Baker, singer Shawn Brown, bassist Roger Marbury, and drummer Colin Sears. The songs were recorded in December of 2015 at Inner Ear Studios with Don Zientara and Ian MacKaye.
Formed in 1985, Dag Nasty put out two albums on Dischord (Can I Say and Wig Out At Denko's) as well as subsequent full-lengths on Giant, Epitaph, and Revelation. Though Brown was the band's original vocalist, he left the group shortly after its first recording session and was replaced by singer Dave Smalley, who appeared on their debut album. Long shelved, Brown's recordings with Dag Nasty were officially released by Dischord in 2010 as Dag With Shawn. 
These two songs mark the first time that this lineup has been in the studio together since October 1985, almost exactly 30 years ago.
PREVIEW CLIPS OF "COLD HEART" AND "WANTING NOTHING" HERE
Tracklist:
1) Cold Heart

2) Wanting Nothing
The band will dsbe touring Europe throughout April. Find the dates below and complete venue and ticket information here. 
4.21.16 - Washington, DC @ Black Cat
4.23.16 - Mezzago, IT @ Bloom
4.24.16 - Ljubljana, Slovenia @ Orto Bar
4.26.16 - Vienna, AT @ Arena Wien
4.27.16 - Munich, DE @ Backstage
4.28.16 - Berlin, DE @ SO36
4.29.16 - Hanover, DE @ Kurturzentrum Faust
4.30.16 - Meerhout, BE @ Groezrock
5.26.16 - Las Vegas, NV @ Punk Rock Bowling