According to this article in The Mirror (as well as, I assume, hundreds of other publications worldwide), Katy Perry's Super Bowl halftime show will make "faces melt".
My kids have seen "Raiders of the Lost Ark", therefore they have already seen melting faces. No problem there. However, I am not sure my fatherhood sensibilities are prepared for my 8-year-old daughter to witness on-stage acts which may cause her face to melt.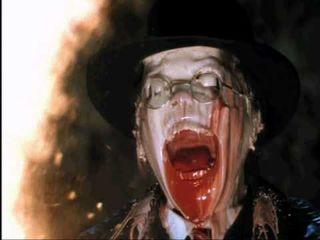 Perry provides some inspirational backbeats for our living room dance parties, as well as many motivational melodies during road trip sing-alongs.
As much as Katy's audio may be the voice of my kid's generation, I'm not sure how video-Katy's onstage cabaret will be perceived.
I'm not sure that after explaining words such as "alibi", "veterinarian", and "gazelle" gleaned from this week's Thea Stilton novella, that I am quite prepared to define words such as "gyration", "wardrobe", and "malfunction".
I worry turning the television off prior to halftime due to the possibility of sexual innuendo smacks of over-protectiveness and  helicopter parenting. However, my little 8-year-old girl has so far shown every sign of eventually becoming a self-assured, confident young adult with just the right amount of "My Way." I see no need to potentially derail that with thirteen minutes of "cleavage sells records."
Katy may stick to script and deliver no more and no less that she promises: a fantastic show, supported by Lenny Kravitz; a fantastic light show; and maybe the onstage appearance of an (endangered?) jungle cat.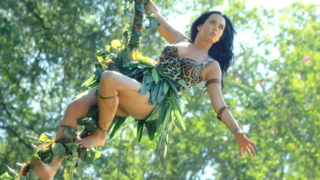 But, she also may not. 
So, thanks in no small way to Janet Jackson and Justin Timberlake, I'm leaning towards relying on my PVR to screen tonight's halftime show, and, if it proves worthy, turn it into tomorrow's after school special.
I believe in free-market enterprise. The NFL owes my family nothing. If I want to be assured of appropriate family viewing, I can tune in to Treehouse, or the Disney Channel, or that dolphin documentary I recorded two days ago. I don't have to tune into a sporting event watched by billions which will be the main talking point among anyone I come across over the next forty-eight hours (as it is, if the game is a blowout, there is a fair chance I will switch to Downton Abbey at 9pm).
However, it would be nice to share this thing; this thing which has the potential to have the rare qualities of appealing to all age groups in my home; of providing talking points along with a sense of competition and history; of exposing my kids to one heck of a thirteen-minute blowout concert.
But, just in case...because of what maybe an exaggerated sense of parental duty...because the NFL's track record is somewhat concussed, my PVR will do the heavy lifting tonight. I'm not ready for my 8-year-old's sexuality to kickoff just yet.