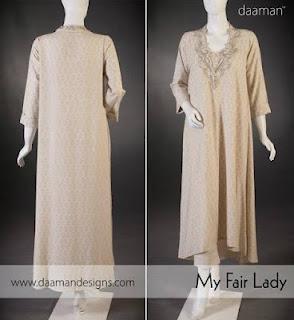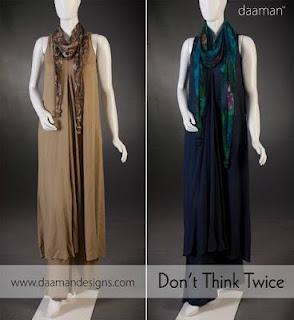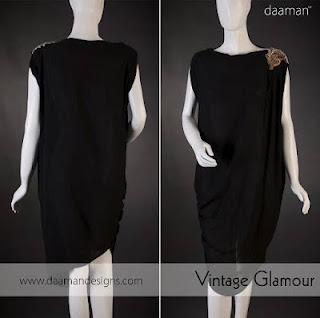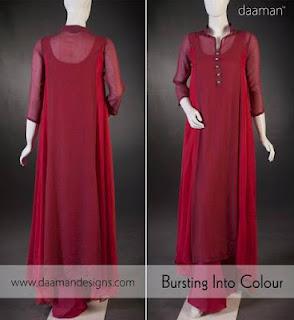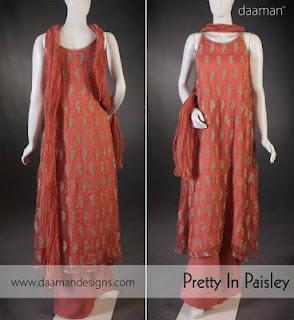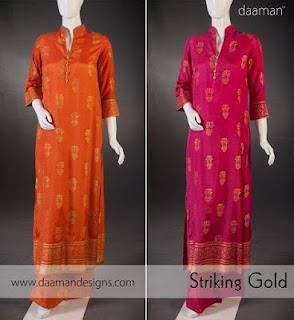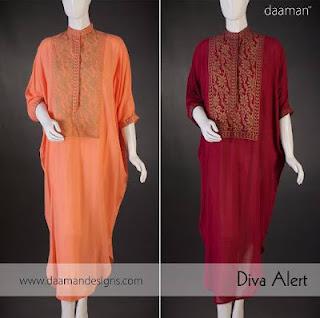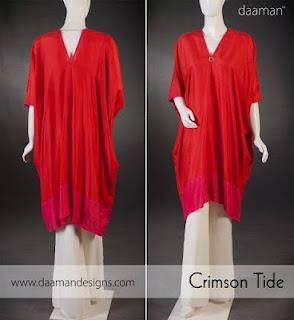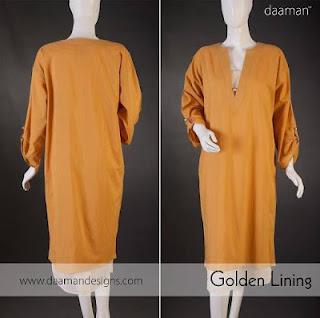 This year they have seen lots of top fashion brands of Pakistani coming up with their own ingenious designs & color combinations to set the trends for fashion 2012. Eid ul Fitar is knocking at the door steps & all the fashion brands are showcasing their Eid Collection 2012. Daaman which is of the leading fashion brands of Pakistan has launched Eid Dresses 2012 for ladies which includes stylish yet graceful prepared to wear fashion dresses.
Eid Dresses 2012 by Daaman includes a variety of long shirts & short shirts, paired with trousers. All these stylish long & shorts are adorned with graceful embroidery, stylish tussels & brooches & to add a touch of modern cuts, Daaman has also introduced some new stitching trends these Eid Dresses 2012. Daaman is widely known for providing innovative designs to its customer & its Latest Eid Dresses 2012 is yet another example of brands innovative designs & sophisticated combination of vibrant hues.
Daaman Eid Dresses 2012 are looking brilliant with a stylish combination of eastern & western cuts; all these voguish long shirts are made up of lawn, raw silk, chiffon & karandi fabrics. Daaman has also introduced some new stitching trends which include cuff style sleeves & story style shirts which are expected to set the new trends for fashion 2012 & mark my words, these stylish fashion dresses will be ranked among the top collections of 2012.
Ladies & Girls who were in search of, graceful yet modish Eid Dresses will certainly be admiring these creative designs by put forward by Daaman. Let창??s have a glance at these marvelous Eid new dresses from Eid Dresses 2012 for ladies by Daaman & I bet that you cannot resist the temptation of these latest stitching patterns.