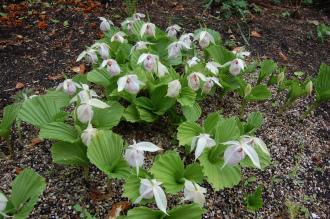 Cypripedium formosanum (23/04/2016, Kew Gardens, London)
Position: Part shade to shade
Flowering period: Spring
Soil: Moist, well drained
Eventual Height: 25cm
Eventual Spread: 30cm
Hardiness: 8a, 8b, 9a, 9b
Family: Orchidaceae
Subfamily: Cypripedioideae
Cypripedium formosanum is a deciduous bulbous orchid with a spreading habit. Its mid green leaves are flabellate, pleated with entire margins, up to 13cm long and 11cm across. Its white flowers have pink spots, are pendulous, appear terminally and up to 5cm long. Its roots contain stoloniferous rhizomes which aids its slow spread.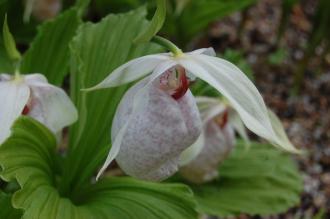 Cypripedium formosanum Flower (23/04/2016, Kew Gardens, London)
Cypripedium formosanum, commonly known as Formosan Lady's Slippers or Beautiful Cypripedium, is native to Taiwan. In its native habitat it grows in mountain forests and bogs. Cypripedium formosanum is classified as Endangered according to The IUCN Red List of Threatened Species.
The etymological root of the binomial name Cypripedium is derived from the Greek Kypris, a name for Aphrodite and podilon meaning 'slipper'.  Formosanum is derived from the former name of Taiwan, Formosa.
The landscape architect may find Cypripedium formosanum useful as a low growing perennial bulb with attractive flowers and leaves.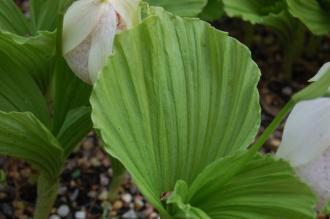 Cypripedium formosanum Leaf (23/04/2016, Kew Gardens, London)
Ecologically,  Cypripedium formosanum flowers are attractive to pollinating insects.
The Royal Horticultural Society have given  Cypripedium formosanum their prestigious Award of Garden Merit in 2012.
Cypripedium formosanum prefers moist, humus rich, fertile, well-drained soils. It tolerates most pH of soil.
Cypripedium formosanum requires little maintenance. Large clumps may be divided during its dormant period.


Landscape Architecture