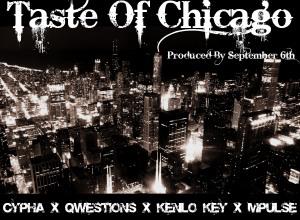 The Flight Club's Own Cypha Is back with his new single "Taste Of Chicago"
featuring An All-Star lineup of Chicago MC's. Cypha teams up with Qwestions,
Kenlo Key And MPulse to as they go in over a beat produced by Chicago's own
September 6th! This track is off Cypha's Upcoming EP "M.A.D.E. Man" set to drop
in late October.
Download It Here: http://limelinx.com/files/f29ac2e2ac0a714967d2d068ebfe1880
Follow
Them On Twitter: Cypha: @YoungCypha, Qwestions: @Qwestions, Kenlo Key:
@KenloKey123, MPulse: @RRMpulse