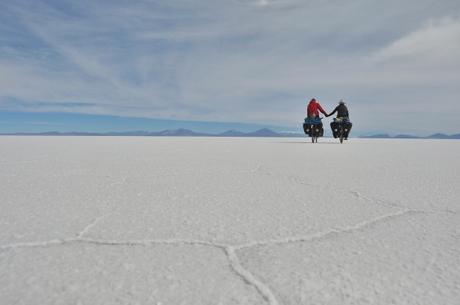 Though we only spent six weeks in Bolivia, it has easily become one of our favorite countries as the people are friendly, the food is cheap, and the cycling is absolutely spectacular. We cycled up a dozen or so 4,000-5,000m passes, camped in the -20C chilly high altiplano, and passed through and stayed in a multitude of small villages. We struggled across frozen streams, survived steep climbs in the humid and hot Yungas region, and ate the typical "lunch," and "dinner," of soup plus a plate of potatoes, rice, and meat whenever we passed through towns. We also got to do a little mountaineering when we climbed Huyana Potosi (6,000m). Without further ado, here it is; Bolivia through the lens.
A friend who once said that "it doesn't have to be fun, to be fun," and I couldn't help but think that his quote fit our first 500km in Bolivia perfectly. Though I've always preached that cycle touring is a lifestyle, this first section was definitely more of an expedition than anything else. We carried eight days of food and a fare amount of water which made our bikes heavy as we struggled to climb a 4,800m+ pass (or two) a day. That being said, this alternative lagunas route was definitely the highlight of Bolivia for us as well for the sheer isolated beauty of the high Andes.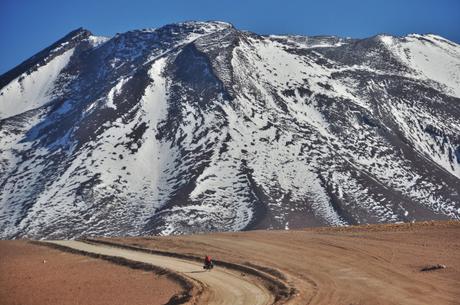 Headed into Bolivia, it's just around this corner!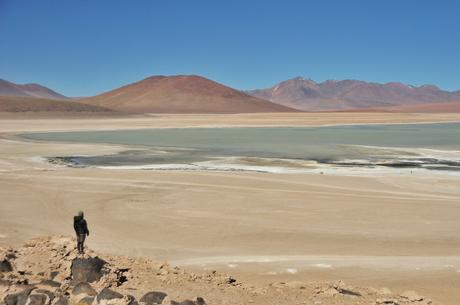 Admiring one of the funny colored lakes: colored due to the minerals.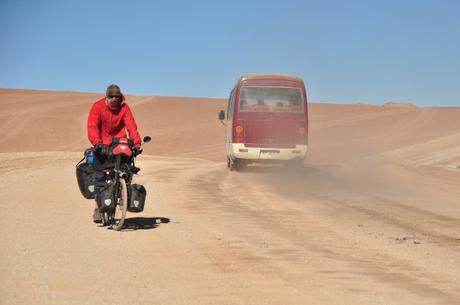 We got dust thrown on us during the first 100km as cars (tourist jeeps) past. Thankfully after that we were all alone!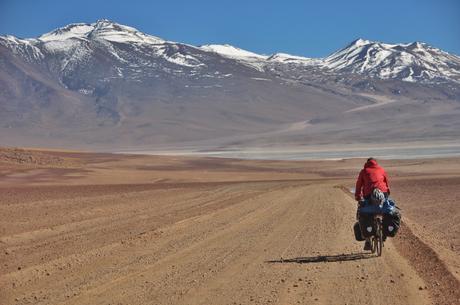 Cycling into the Andes!!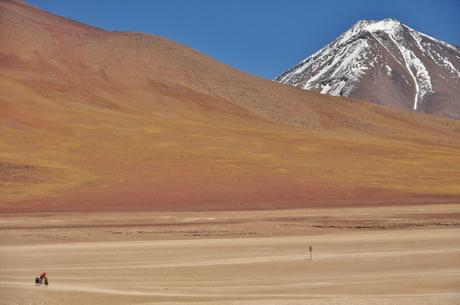 The mountains certainly made us feel small.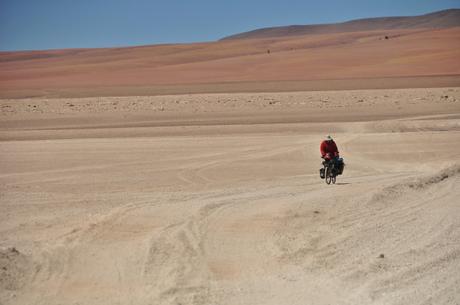 All around was sand upon sand, though thankfully, the route wasn't all that bad.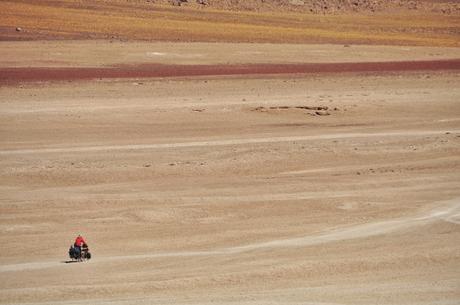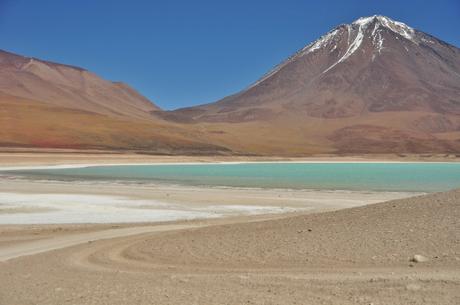 Laguna verde (green).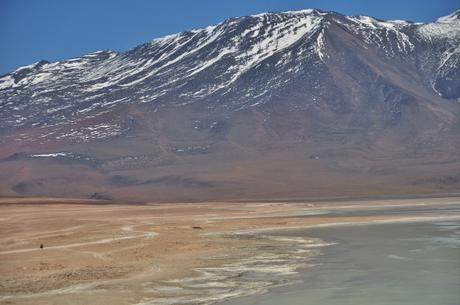 You can see Kevin to the left, a tiny blob cycling in a vast landscape.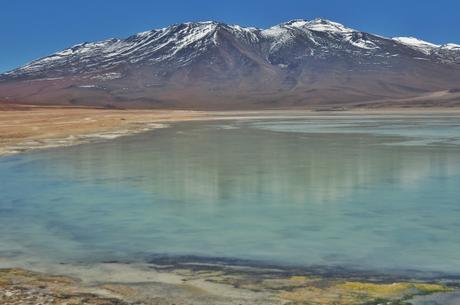 Another lake along the route.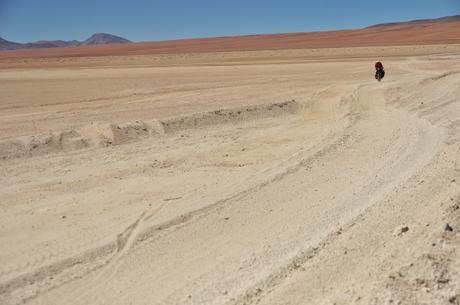 More sand!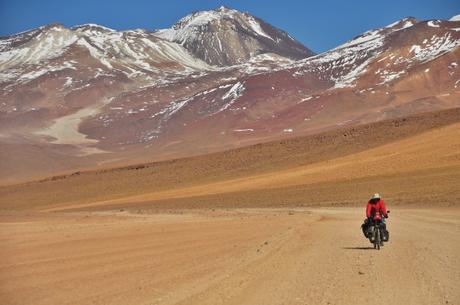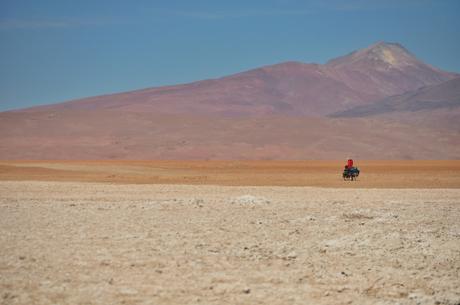 There was a whole lot of salt due to the mineral deposits throughout this region.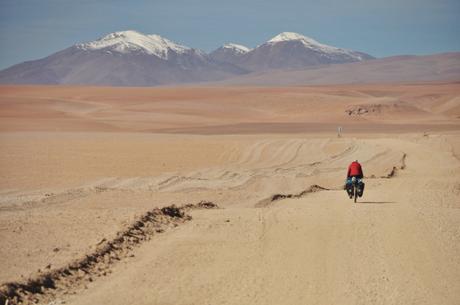 These were some of the weirdest roads we have ever been on!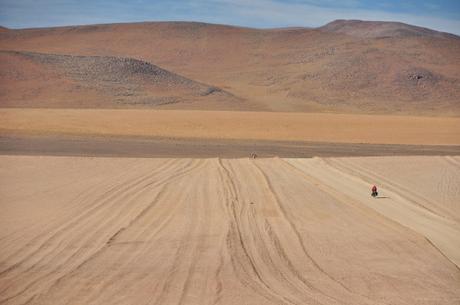 Kevin far ahead.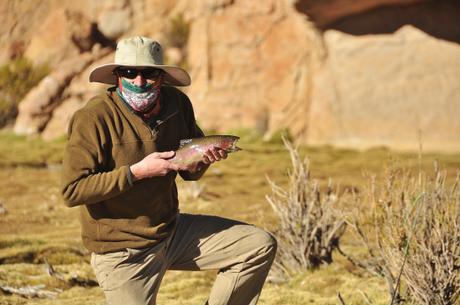 Kevin in his "I'm going to rob a bank" outfit, which also doubles as great skin protection from the wind and sun. He caught this fish in a small stream at 4,300m making it by far his most unique catch!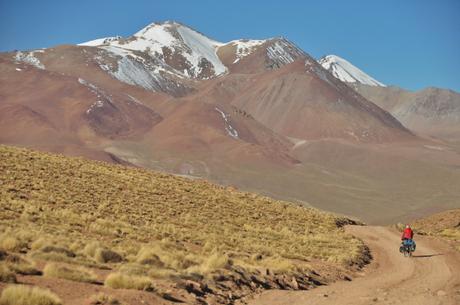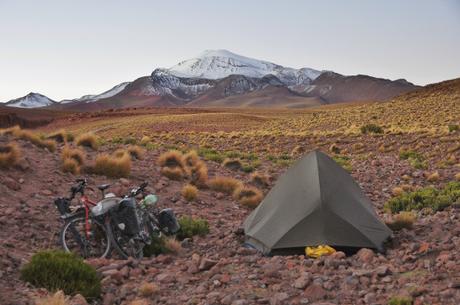 Beautiful camping!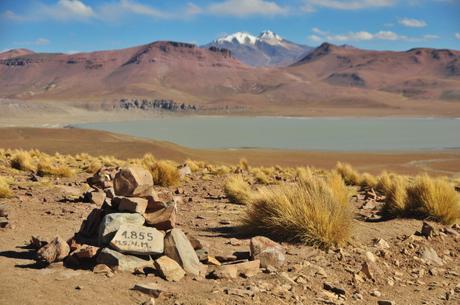 A false summit. Still a few meters to go!
This is what makes all the hard climbs worth it!!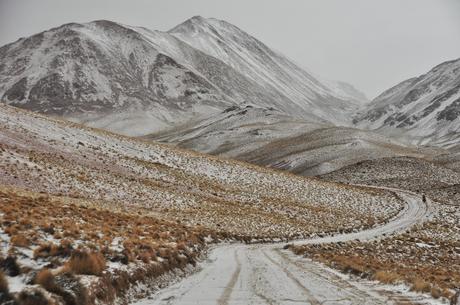 We got snowed on during one of our climbs which made the world even more beautiful!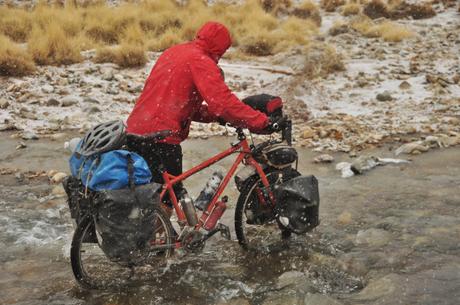 Kevin crossing a half frozen stream barefoot as its snowing. Miserable!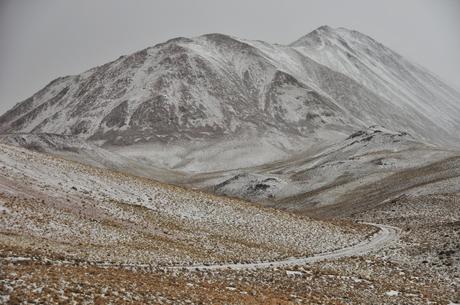 Contemplating the ride.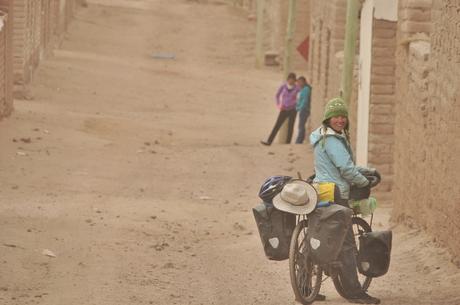 Riding through a small altiplano village.
After a few days off in the extremely touristic down of Uyuni we then headed out and across the jeep tour heaven of the Salar de Uyuni (largest salt flat in the world) before crossing a desolate forty kilomter sandy "road" which led us to the start of another slightly smaller salt flat where we didn't see a soul the whole time. Sleeping on the salar, completely alone amongst the millions upon millions of bright stars, was definitely the best part about this 300km section.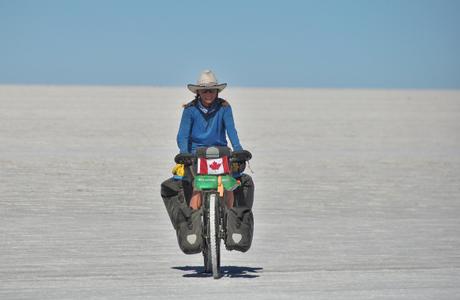 My four dollar Chilean cowboy hat has been a savior out here! The sun reflected off the salt and burned any exposed skin.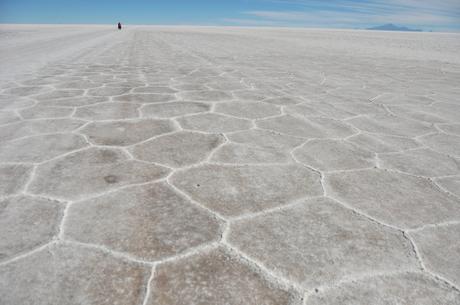 Kevin far off in the distance. The Salar de Uyuni (though not the smaller one I'll talk about next time) has this hexagon shaped natural marks all over the whole thing.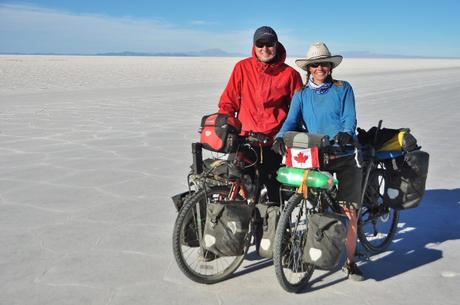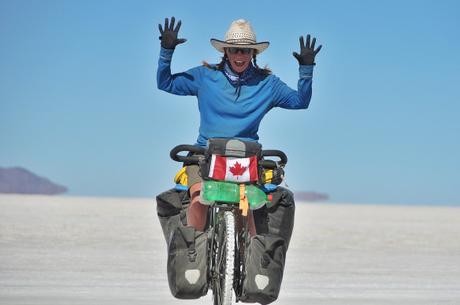 No hands!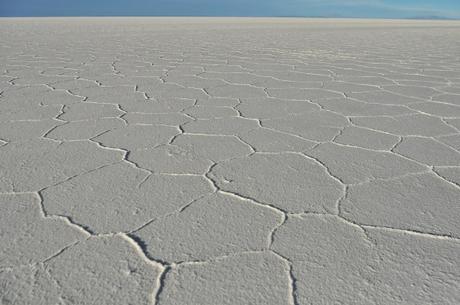 The hexagons of salt were so defined, we assume it has something to do with how the water evaporates because every rainy season the salt flats turn into a lake.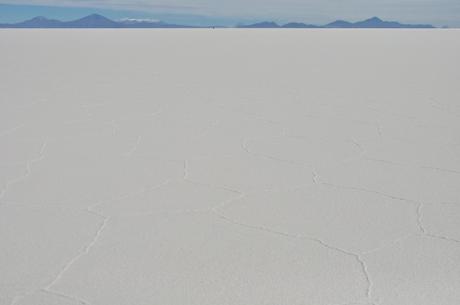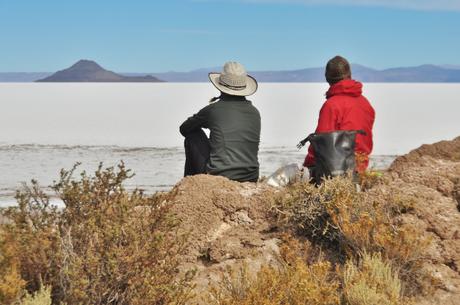 We ate lunch on the island on our second day.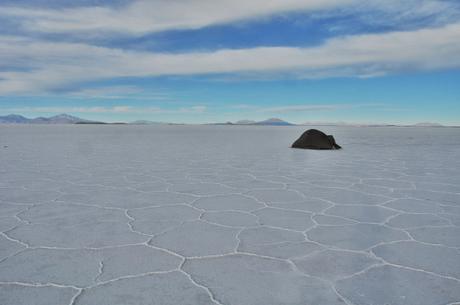 Some of the best camping ever!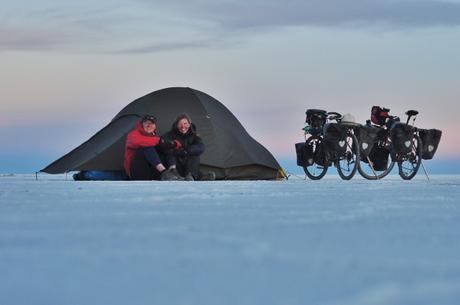 Us, our bikes, and our home!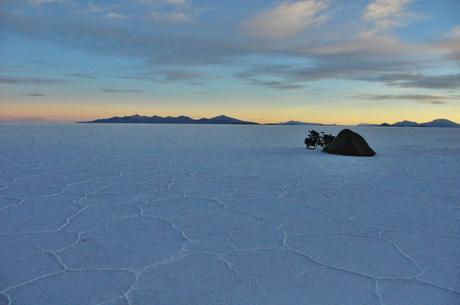 Beautiful sunset in solitude.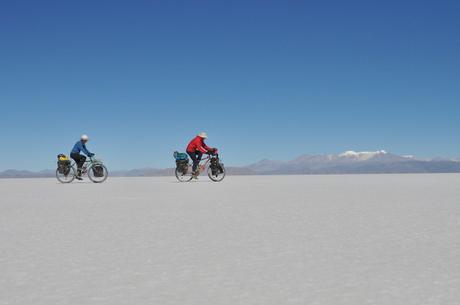 Finally a cycling photo of both of us!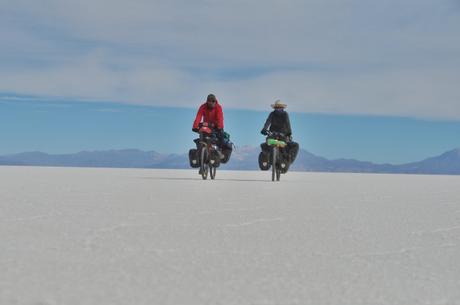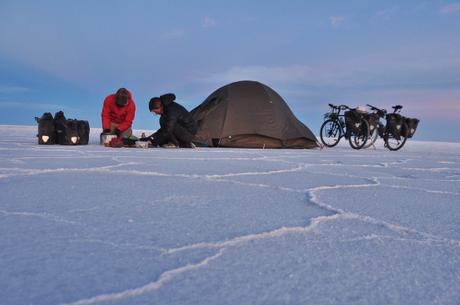 Typically when we stop cycling for the day I start cooking as Kevin sets up the tent.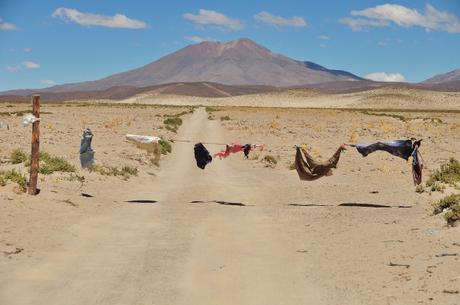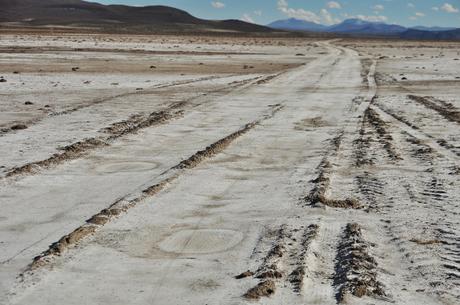 This, for us, is a road. Little jeep paths such as these are what makes Bolivia so fun!
After an easy 200km on the paved highway, we came to Oruro where we spent a few days wandering around the hundreds of vendors and markets which sprawled through dozens of streets, before heading through a 400km, 10,000m altitude gain section through the hot and humid South Yungas. This jungle-like terrain showed us a different side of Bolivia where villages and towns are perched atop the huge green hills amongst fields of cocoa leaves and bananas. We spent days climbing up and down through the low altitude valleys before climbing all the way back up to the altiplano with a 4,800m pass which led us straight to La Paz.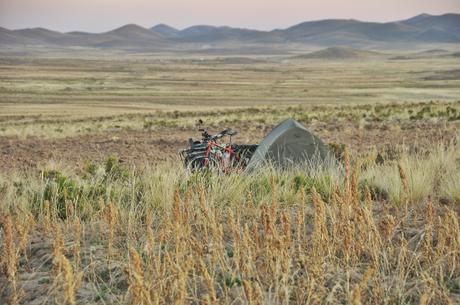 Sleeping in a field of quinoa.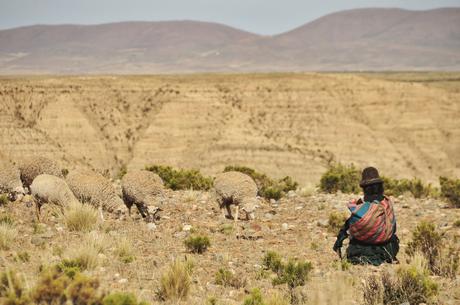 A lady watching her sheep.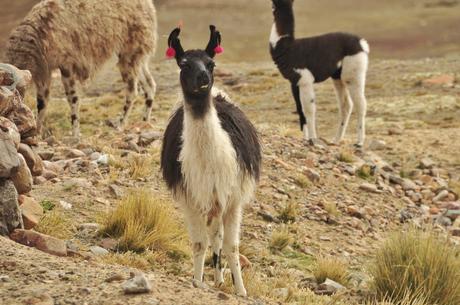 Llama llama showering off her earrings!!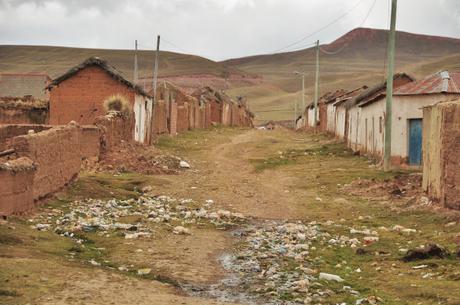 Some of the towns throughout this area were deserted as many people are headed to the cities.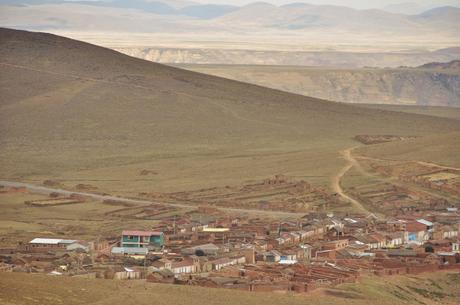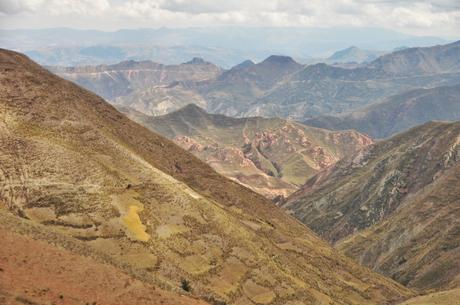 These patchwork hills were stunning!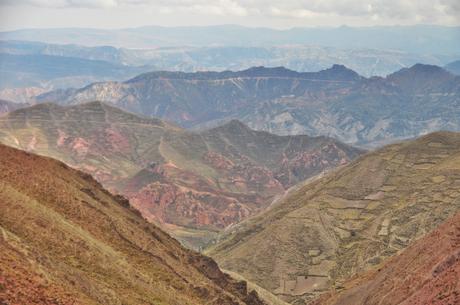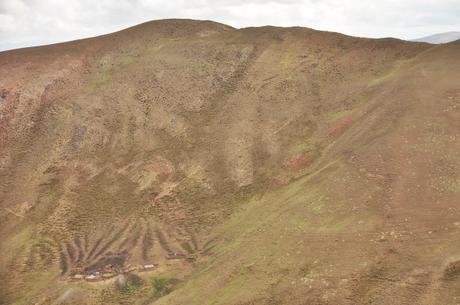 Little villages in the middle of nowhere!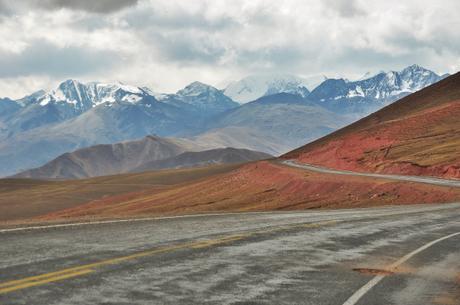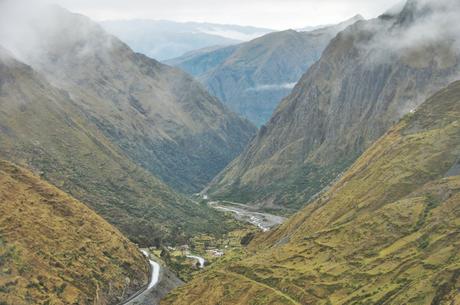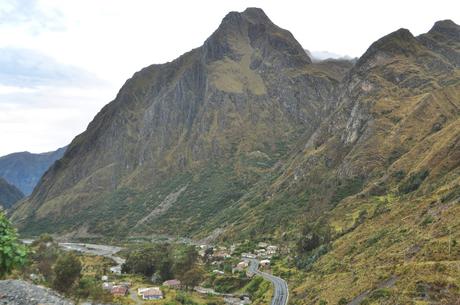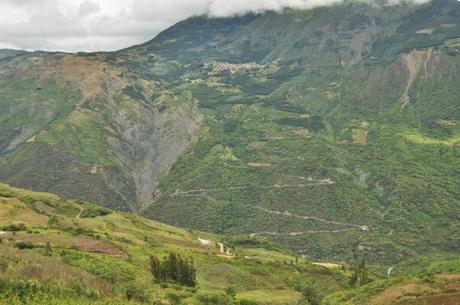 Switchbacks anyone!?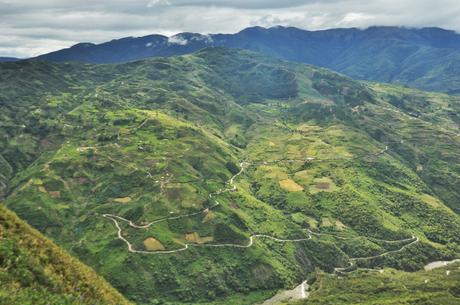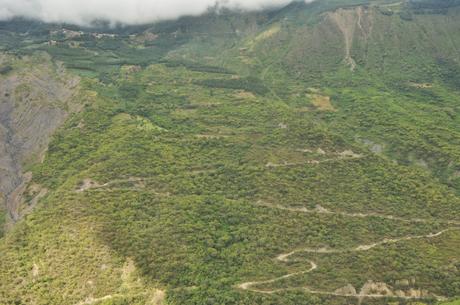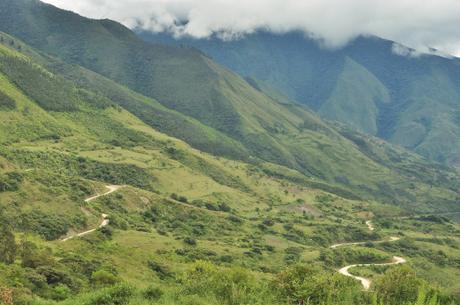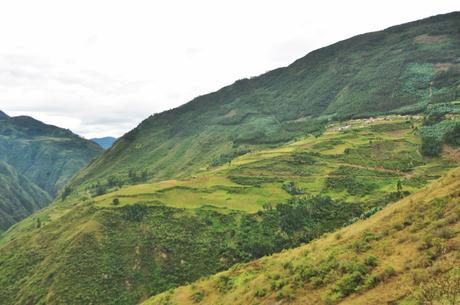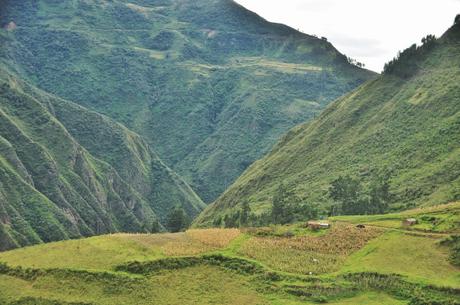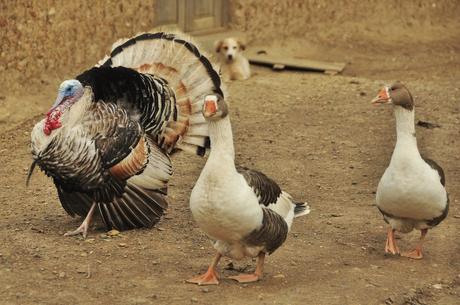 These guys were not happy to see us on their road! Most aggressive Turkey we have ever met.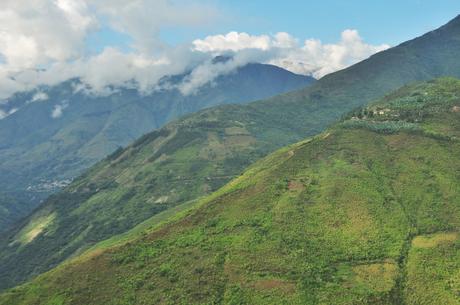 This is where we slept the night before, the soccer field belonged to these few houses hidden in the hillside.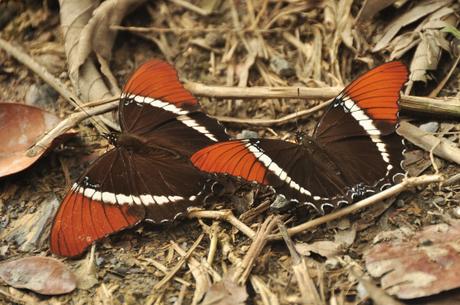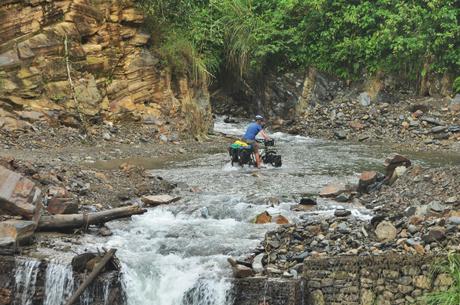 Cycling through a stream, great way to cool down!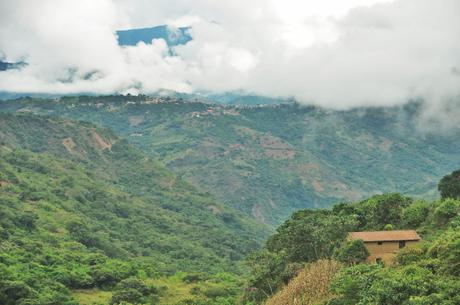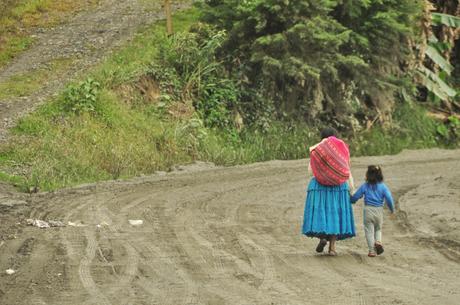 A lady and her son walking down the road.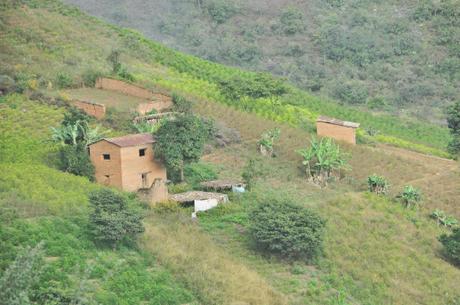 Typical farming house.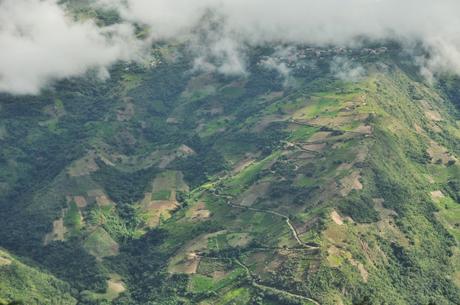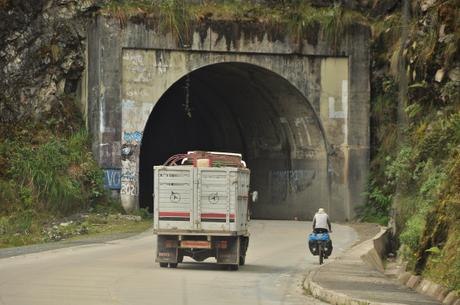 A cyclists nightmare; tunnels.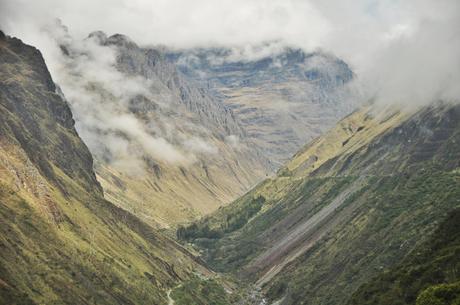 After a few days of rest and socializing in the Casa de Cyclista of La Paz, we set out to climb Huyana Potosi – a 6,088m/20,000ft mountain I climbed four years ago as well – with another America cyclist we befriended in the city. After "sleeping" at a 5,300m base camp, we reached the summit right before sunrise and watched as the sky and surrounding mountains turned brilliant colors.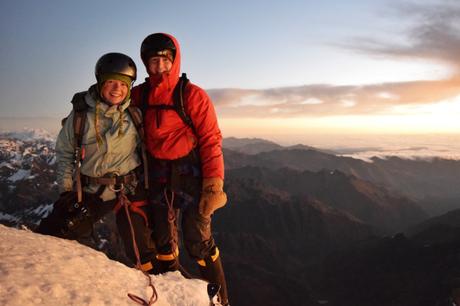 On the summit! Thanks John for the photo!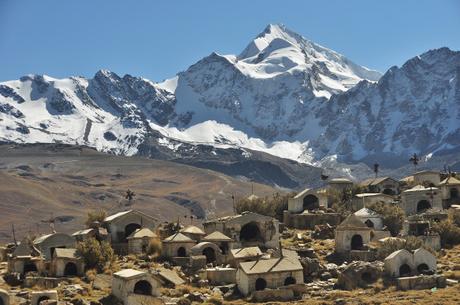 Huyana Potosi with miners graves in front.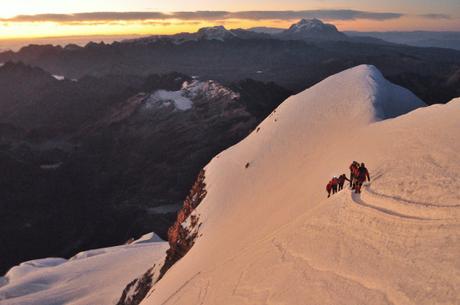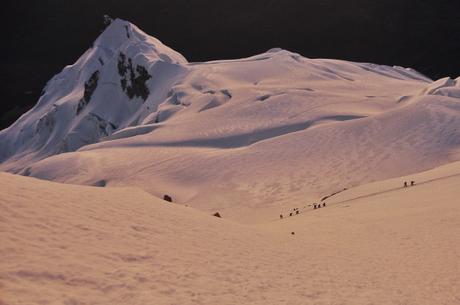 Climbers coming up the last section before the summit.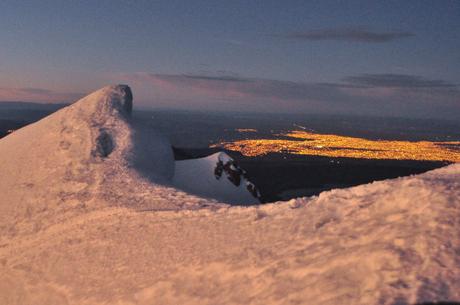 El Alto (sort of like the upper part of La Paz) in the early morning.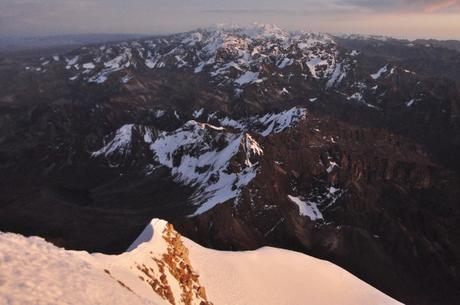 Mountains, mountains, everywhere!!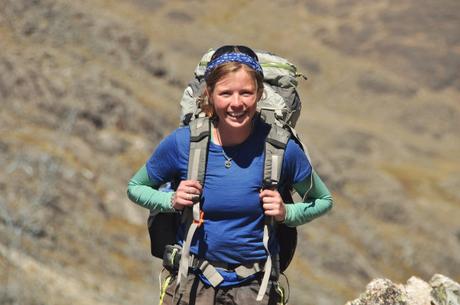 Happy to have exchanged my bike for a backpack for the weekend!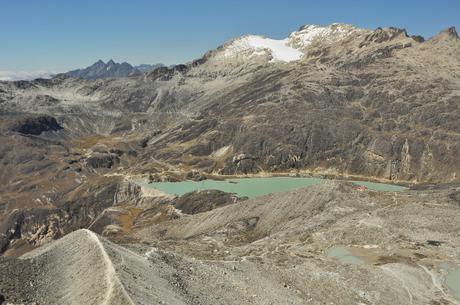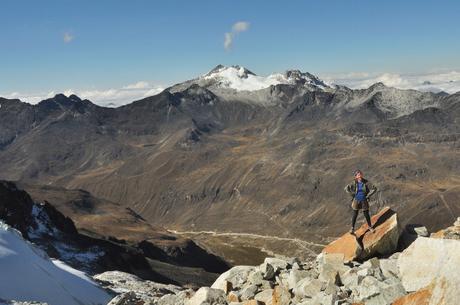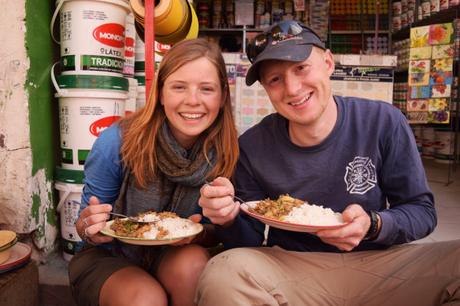 Only one dollar for this delicious street meal of potatoes, rice, and meat!
For those of you who are interested in cycling through Bolivia, I would highly suggest checking out the Pikes on Bikes as they have written extensively about these amazing routes.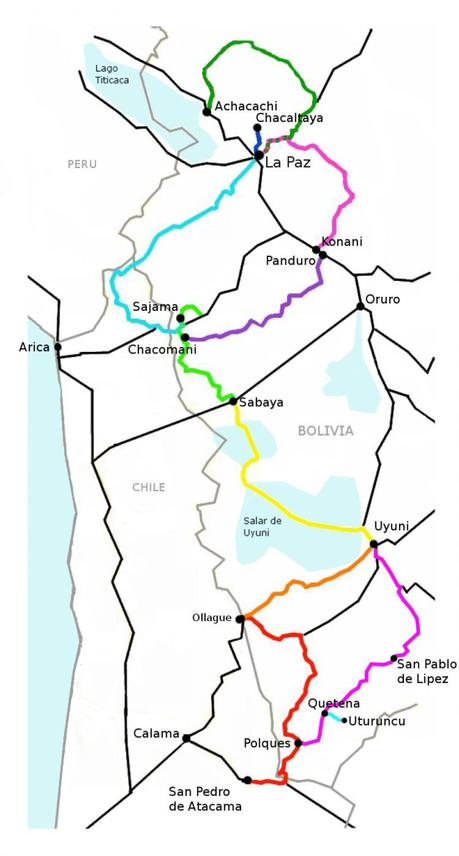 Make sure to check back next week to begin following our adventures through Peru which should take us through our highest, most difficult, and most impressive routes yet! The Peruvian Great Divide, here we come.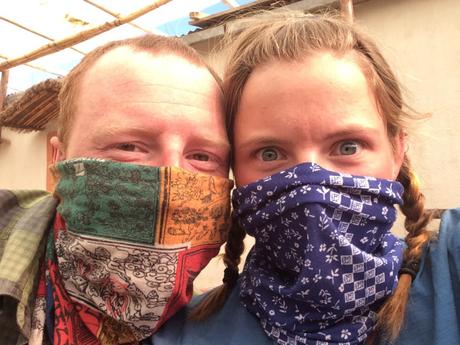 Facemasks ready for the wind and dust!
For a photo of the day and other updates follow me on facebook here, and for some awkwardly cropped photos from our journey, follow us on Instagram @awanderingphoto!