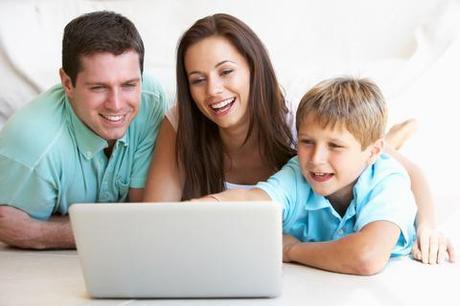 Cyberparenting commonly refers to parental controls over the internet to protect your child.  But the manner I am going to refer to it for the purposes of this article is the way in which the internet has helped us be better parents, supported us in our endeavors and even given us better work life balance by allowing us to become virtual if we choose.
When you have your first child so many different questions arise.  And with no two infants being alike, sometimes the textbook way to address things doesn't apply.   That puts parents in a dilemma: what to do if their child doesn't fit the mold?
The beauty of parenting is in discovering your child.  However when no amount of trouble shooting works, this is where the internet comes in.  It allows us to use the combined pool of other parent's past experiences as well as gives us access to experts instantaneously.  This becomes ever more important for the first time mom who is nowhere near family or friends as is the case with most expats.
When our son was born, he was severely irritable from reflux— for a year.  It was a viscous cycle of eat, vomit, cry. The doctor's were great in evaluating him and prescribing medications to ease the discomfort.  His GI specialist even warned us how taxing this diagnosis was on parents and to utilize all of our resources when we simply became worn out.  However, no one could answer my question:  What will my son's demeanor be like after the reflux subsides?  Will he always be this irritable?   We needed some hope to hang on to.  I happened upon an infant reflux forum and found the information I needed: No, he will not always be this irritable.
With our daughter, she loved being swaddle even after 6 months of age.  But at over 100 percentile for height none of the swaddling cloths were large enough. This time, I happened upon a thread on babycenter that offered invaluable information.  Some parents weaned their infants from the swaddle using a variety of methods and some had larger cloths made.  All of them had a success story to report which provided me a plethora of options; we had larger cloths made.
USEFUL PARENTING WEBSITES
USEFUL MEDICAL WEBSITES
ON BECOMING VIRTUAL
But gaining insight into challenges with your infant or child is not the only way that we have benefited as a cyber society.  It has allowed some parents to strike a better balance between work and life by becoming virtual or mostly virtual.  When I first looked for virtual work as a medical doctor at the beginning of 2010, I found 1 position.  Now just a year later, there are dozens of opportunities available.  If you do any sort of work that is amenable to freelancing: web design, copy writing, editing etc, you can post your services on such sites as elance, or odesk.
Another local mum reported going back to school to get her master's degree online.  It helped to prevent what she called "baby brain"! I cannot even imagine where we will be in 10 years time as mothers.  I envision a whole lot of balance.
Q & A
1.  How much video game playing is safe for my child?
Most child development experts recommend that children's "total screen time" — which includes watching television and videos, surfing the Internet, and playing computer or video games — be limited to one to two hours a day.  The ill effects of too much screen time are social isolation, physical inactivity, and potential for increased aggressive behavior if they are playing too many violent games.  Electromagnetic fields (EMF's) are electrical fields that radiate from all electronics – power lines, modems, and appliances, and have been linked to cancer. This is another reason to limit computer time.
2.  How do I keep my child safe on the internet?
Safe-search filters are perhaps the easiest and the most effective method: CyberPatrol,CyberSitter ,SentryPC are some examples.  Stick to search engines that are kid friendly like Yahoo! Kids, or Kids Click. Keep your computer in an open place.  COMMONSENSE.ORG is specifically about safety.  And IKEEPSAFE.ORG contains a lot of material that I use about internet safety and balancing online/offline time.
Talk to your child about the perils of giving out any sort of personal information online.  Keep your computer and online connection password protected. This way, if you are preoccupied or not home, online access is not possible
3.  What are good educational websites?
Here is a list of some teacher recommended sites: Studyladder (math and literacy), Carrotsticks (math), Khan Academy (math and science videos), Gamequarium (activities), BrainPop –(science cartoons) and Tumblebooks(reading).  Some of the sites are free and some are subscription based.  Check with your school as some schools have education subscriptions that allow all the students in a class/school to participate at lower rates or for free.  Poll your child's teachers as they will always know the best sites.
PARENTING TIPS
1. Tips for your child's internet usage: choose the games that your child plays, and then play them with them.  If you are unable to play with them then set a timer or use an online timer
2. During the "tween" (aka pre-teen) years, introduce a joint journal you can keep with your child specifically so that your child has an avenue to bring up sensitive subjections and questions.  Your tween writes down a question, or whatever is on her mind and then you respond back in the journal. It takes the pressure off your tween when you go on to discuss the issue in person.
3. During dinner add telling about the worst part of your day in addition to the best part of your day.  This allows for children to know that there are daily challenges in life and that sometimes we all have bad days.  It also allows for discussion of issues that might otherwise not be brought up.
DISCUSSION
How has the internet helped you as a parent? With work/life balance?  What are your favorite medical and parenting websites?
This article first appeared in the May issue of Woman Today Magazine