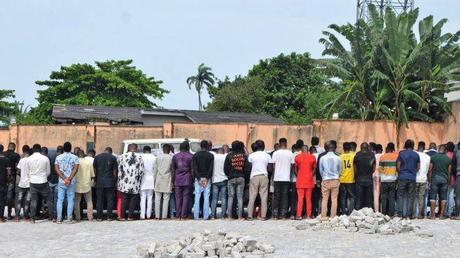 The youth are usually described as leaders of tomorrow. Many agree that the youth themselves are a reflection of the society . The nature of the socio - political and economic environment which prevails in the country has imposed constraints in terms of meeting the needs and aspirations of the youth .
It is very glaring that no country aspiring to greatness can afford to ignore the contributions of its youth or allow them to constitute a major threat to the realisation of its policies and programmes . Unfortunately, the current social , economic and political trends have left a sour taste in the mouth of the youth; particularly, those from poor social and economic backgrounds.
Cyber crime can broadly be defined as criminal activity involving an information technology infrastructure, including illegal access (unauthorized access), illegal interception (by technical means of non-public transmissions of computer data to, from or within a computer system), data interference (unauthorized damaging, deletion, deterioration, alteration or suppression of computer data), systems interference (interfering with the functioning of a computer system by inputting, transmitting, damaging, deleting, deteriorating, altering or suppressing computer data), misuse of devices, forgery (ID theft), and electronic fraud.
In Nigeria, the three - pronged advent of the Internet, computers and the mobile phones gave rise to massive outbreak of cybercrimes . It is very glaring that criminals and fraudsters leverage the anonymity provided by the Internet to defraud unsuspecting victims . The fraudsters are fond of impersonating others and stealing their identities to perpetrate their acts , and do take undue advantage of a family member in distress to swindle their victims.
These fraudsters try to put on a charade of living the 'La Vida Loca' lifestyle but truth is, there's a plethora of discomfort that they aren't telling you about. Beneath the camouflage and the 'fake-life', here's a handful of some of the sad realities that they won't tell you;
No joy:
Have you ever asked yourself why cyber criminals are very loquacious, profligate and always spending money on any thing in sight? After studying the lives of several Yahoo Boys I realized that they dole out these cash just to give themselves a 'sense of gratification' that their conscience should have provided. They no longer rest both at night and in the day (for a starter) simply because they want to catch a 'prey' that you will scam. They become unnecessarily afraid and always go into hiding (especially at the sight of any law enforment agency). Forget the Benz and all the faux that they make you believe. It always comes with lots of pains and sorrow not only against them but also against their family members.
They feel guilty for their impatience:
This is the tendency to be restless. No foresight. The crave for rocket science and the wanting of magical effects in all situations.
Humans should understand that if life was so easy and if goodies came in a rush, there would be no need to do the things we do on daily basis. We need to take it as it comes, doing the right thing the right way, it might take time, but the right time will always be the right time.
The inability to calm down and wait for results subsequent to a positive action often lead to wrong actions, 'Yahoo-Yahoo' (Internet Fraud), in this case.
If you are into this heinous crime, I suggest you stop now and look for a legitimate alternative. One of my favorite quotes goes thus - 'If you cut corners to the top, it might take you there but it won't keep you there'.