My Cutting Garden is starting to feel like my own little piece of heaven. Peonies are being joined daily by roses, perennials and annuals in abundance. I have started to wander down after supper with my basket and scissors to see what is ready for cutting. In between snipping flowers I am snacking on strawberries, raspberries and the first podded peas.
Last night I took my camera with me so that I could share the bounty in my basket with you.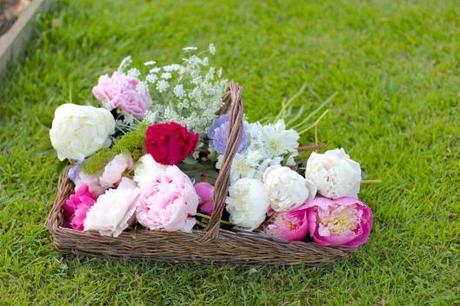 In amongst the peonies I have dill, ammi majus and both blue and white scabious. I am also picking a small bunch of sweet peas daily from the greenhouse and my outdoor sweet peas look ready to start flowering any day now. After all the information about varieties and sowing, I should be sharing actual sweet peas with you very soon.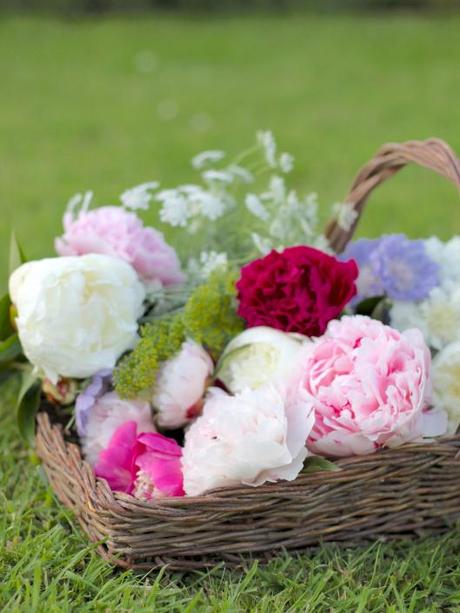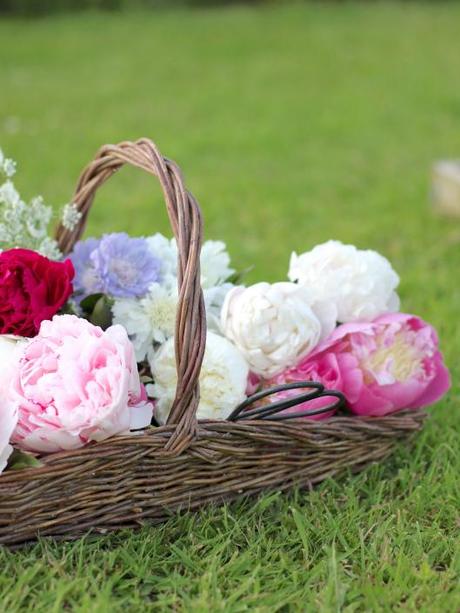 Despite all these new arrivals for now I am still making the most of my peonies. The vases I made for my Sunday lunch party have been replaced with three new jugs of peonies and in the kitchen I have made a mixed bouquet. My plan to extend the peony season by planting early, mid and late flowering varieties seems to have succeeded. I showed you my first peony on Monday 19th May – nearly a full month ago and I still have buds waiting to bloom.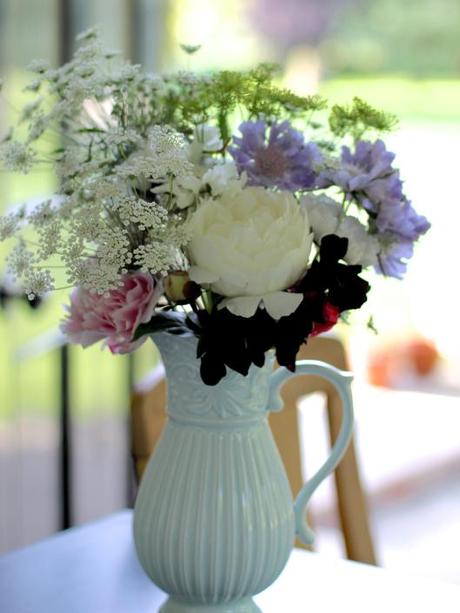 In my jug in the kitchen I have the white Duchess de Nemours and pink Sarah Bernhardt peony flowers combined with the ammi, dill and scabious I picked from my cutting beds. I have also added a few Nearly Black sweet peas for contrast.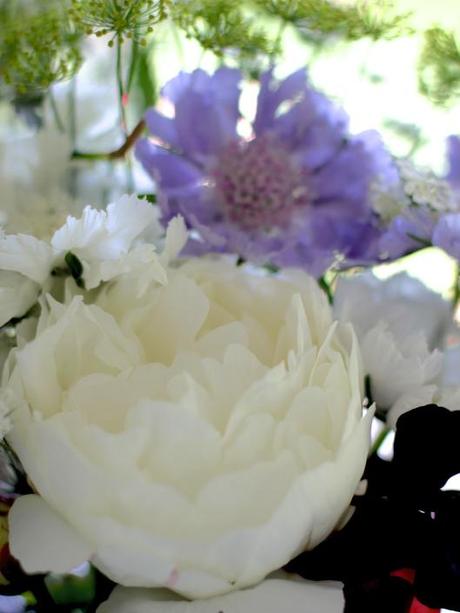 The ammi majus was given to me as plugs by a friend in the winter. She had sown them in the autumn and grown them on in her greenhouse. Comparing these to the ammi that I grew from seed in February (which are very small plants just starting to flower), I would certainly recommend the earlier sowing date. The autumn sown ammi has made enormous plants dripping with large flowers. As a result I am now planning to sow a lot of my hardy annuals in September this year and overwinter them in the cold frames. I might also try direct sowing a few in September, although it is hard to overwinter much in my Cutting Garden as the ground is so waterlogged in winter.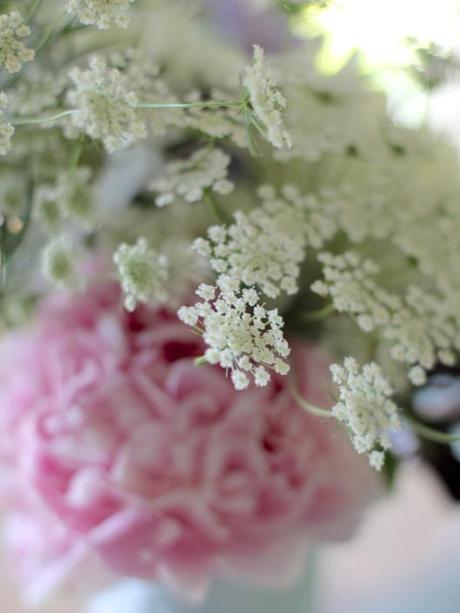 This week I have almost finished planting out my dahlias and hope to start moving the half hardy annuals into the garden at the weekend. In my cold frames I have cosmos, zinnias and sunflowers ready to plant out. I have also direct sown a row of sunflower seeds amongst the asparagus and will direct sow some zinnias when I plant out the plugs. As the greenhouse gradually empties I am looking forward to giving it a much needed spring clean.  I have so many pots of bulbs and trays of seeds on the go through the winter that I find it makes more sense to tackle cleaning the greenhouse in the summer (it is also a much more pleasant job on a warm day!).
The other urgent job is to finish planting the gladioli bulbs. I am going to put these into the peony beds this year – hopefully the peony plants and their supports will keep the top heavy gladioli flowers upright without any additional support and they will provide another season of interest to the peony beds. I also have a few bags of acidanthera bulbs in the greenhouse. I am planning to plant these 5 to a black plastic pot and keep them well watered. They should be ready by September and their graceful fragrant white flowers can then be added to borders or fading summer pots for a fresh crisp look.
Once these jobs are out of the way I will feel confident that the Cutting Garden will stay productive until the first frosts.