As another growing season draws to a close I thought it would be useful to have a look back at what I have grown in my Cutting Garden, before starting to plan my growing for next year. This has been my first full year with a dedicated Cutting Garden – last year I shared the space with my vegetables. It has been a lovely year for gardening and in the Cutting Garden there has always been something to cut. Some things went very well, some failed and there will be a lot of tweaking for next season whilst I search for that perfect combination of variety and continuity of flowers and foliage.
Starting back in January, throughout the winter and early spring I used flowers from the main garden and my greenhouse for my vases. The Winter Walk is at its best at this time with hellebores, snowdrops, iris, crocus and anemones in flower and there are plenty of narcissi to chose from naturalising under the trees around the garden.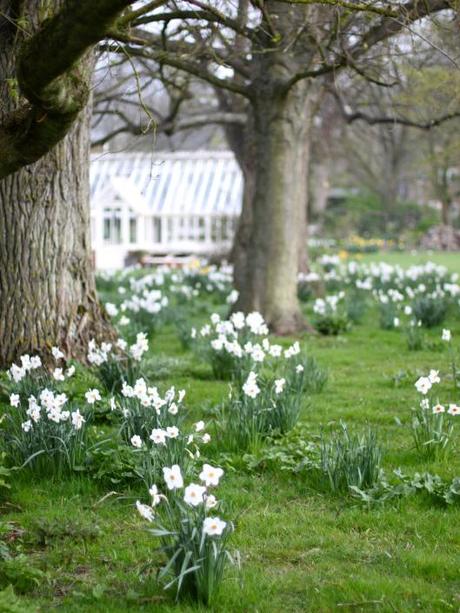 Naturalised Narcissus
The Cutting Garden started to produce flowers back at the end of March with the first tulip Cilesta starting off the tulip season, which carried on throughout April and into early May. You can read all about my tulips in my review here, so I will not say much more about them. Next years tulips are in the process of being planted – I have added lots to my containers around the house for a beautiful spring display and a few to bulk up the borders close to the house. The remainder are being planted in the Cutting Garden, where I can enjoy their beauty safe from rabbits, chickens and trampling dogs. This year I have concentrated on adding lots of whites and pinks as I felt the balance was too much towards the oranges and darks last year. I am hoping that the bulbs I left in last spring will flower well again – if not I may find that it is the oranges and darks I am short of next year!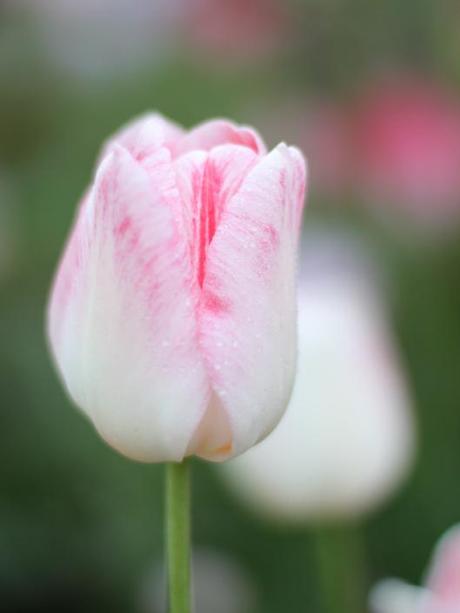 Tulip Gander's Rhapsody
May was a problem in the Cutting Garden, as after the tulips ended in early May I had a bit of a gap. I had failed to sow any biennials the previous year or any annuals to overwinter. As the tulips died back the beds were largely empty of flowers – the Cutting Garden was full of seedlings sown in the greenhouse in February and planted out in April, but these did not flower until June. Once again I was forced to look to my main borders for roses and perennials to fill my vases. I also had the first ranunculus of the year flowering in the greenhouse.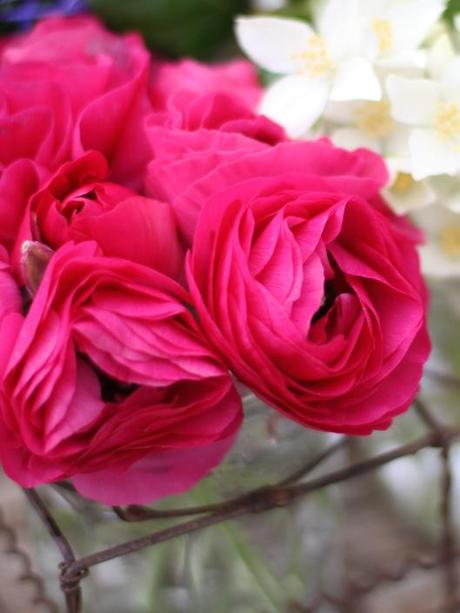 Pink Ranunculus
In June things really started to improve. The peonies were in full flow and the hardy annuals sown in the greenhouse in February started to flower. I had ammi majus, dill, borage, cornflowers, gypsophila, scabious and nigella to choose from. I also had buckets of sweet peas flowering both in the greenhouse from early June and from the garden later in June. Sadly my garden sweet peas were infested with pollen beetles this year, so were unusable as a cut flower. They were the best sweet peas I have ever grown with very long stems and scented blooms, so that was quite a disappointment. The greenhouse sweet peas remained clean though and the outdoor ones did look beautiful in the garden, so all was not lost.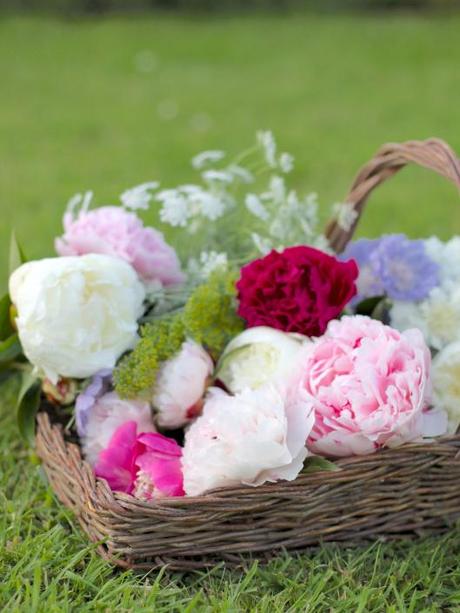 Cutting Garden Peonies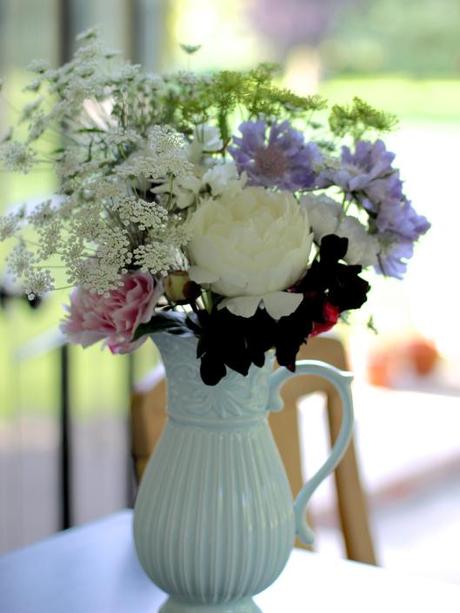 Flowers From The Cutting Garden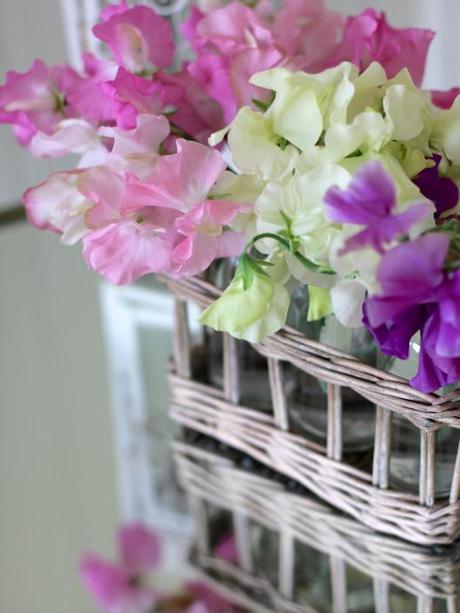 Sweetpeas
July saw the first of my snapdragons joining the hardy annuals, which were still flowering prolifically. I was about to hit a bit of a lean patch again though – I should have direct sown a batch of hardy annuals when I planted out the seedlings in April. Even with regular cutting I find it hard to keep hardy annuals flowering well for longer than eight weeks, so successional sowing is a must. I did direct sow a second batch in early June, which have provided flowers throughout September and October, but next year I will try 3 small sowings to keep the flowers coming all season.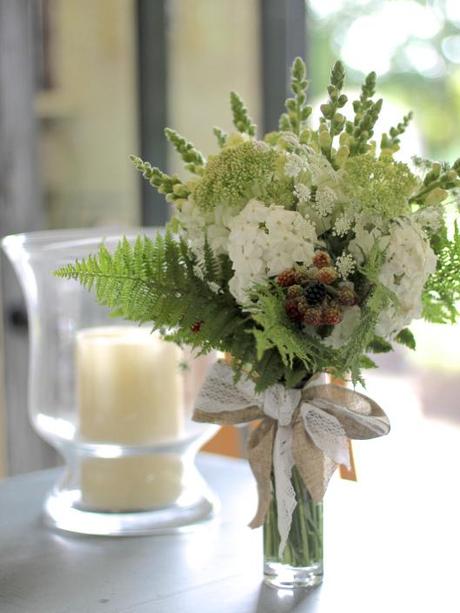 Snapdragons, Phlox & Ammi Majus with Ferns & Blackberries
August was the family holiday season, so the garden took a back seat whilst we enjoyed our trip to Florida and spent some downtime together. Whilst I was taking a break however the Cutting Garden was really ramping up the action with dahlias, half hardy annuals and hydrangeas all getting into their stride.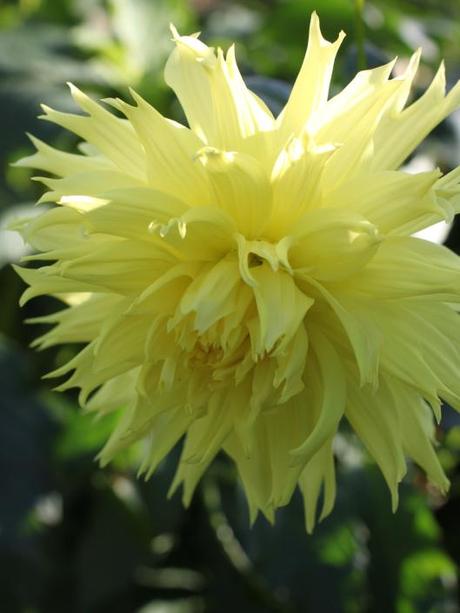 Dahlia Promise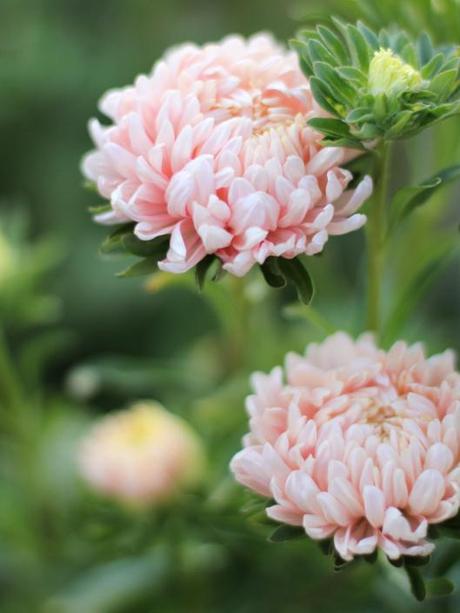 Aster Chrysanthemum Flowered Apricot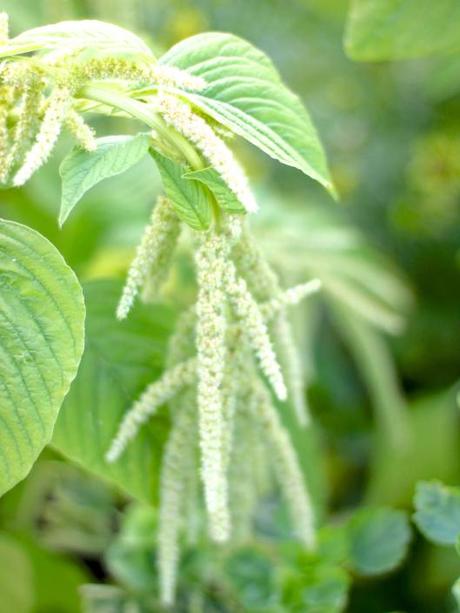 Amaranthus Viridis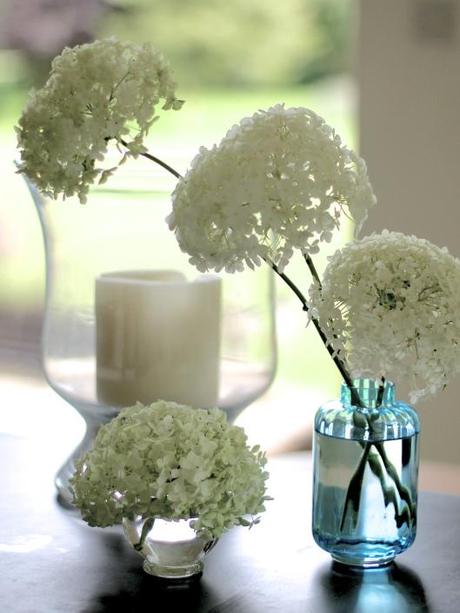 Hydrangea Annabelle
September was all about the wedding. I had been planning a profusion of dahlias and sunflowers to work with and the Cutting Garden was heaving!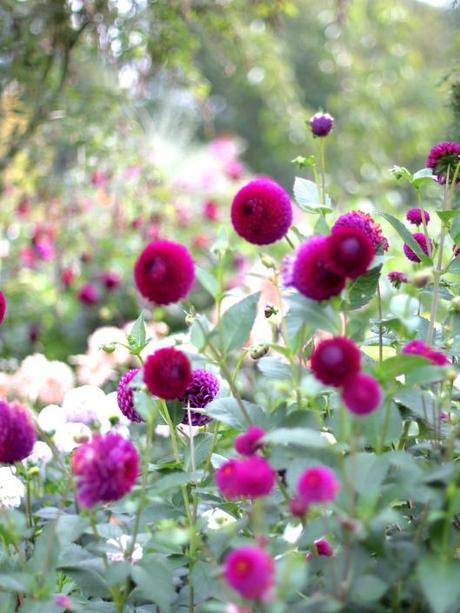 Dahlia Rocco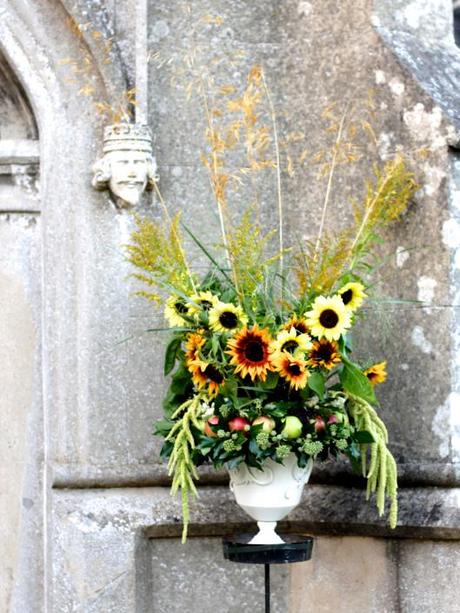 Sunflowers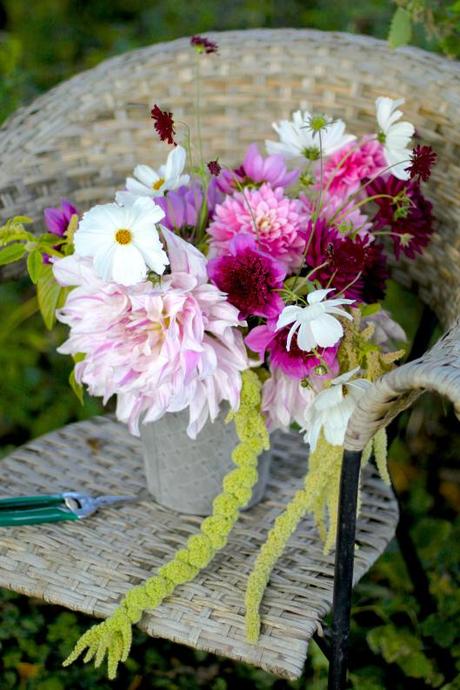 Dahlia Bouquet
So here we are at the end of October and the dahlias are still providing an abundance of blooms. They have been joined by the chrysanthemums in the greenhouse and main borders. Most of the hardy and half hardy annuals have been dug up now to make room for planting tulips and biennials and the cycle for the next year has commenced.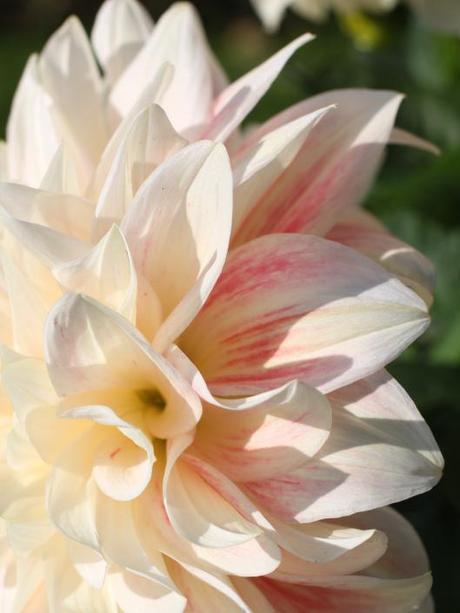 Dahlia Ice Cube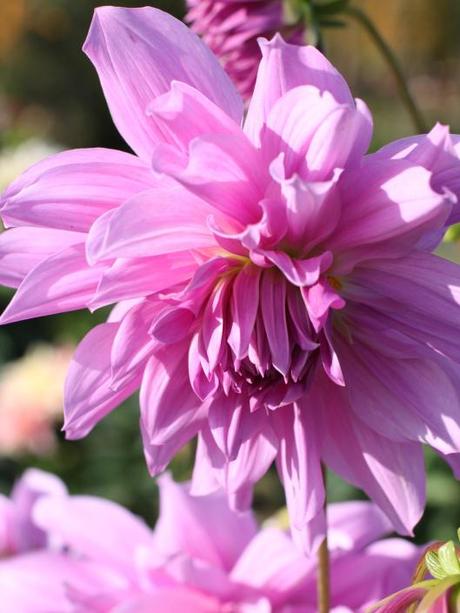 Dahlia Lilac Time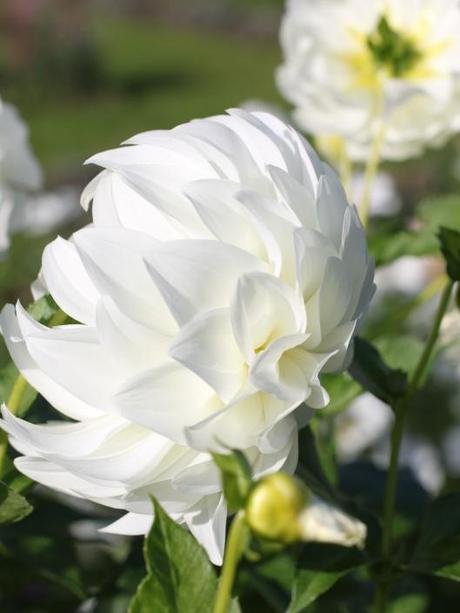 Dahlia Lady Liberty
My main lessons this year have been:
To make sure to sow biennials in June for flowering the following spring. Without these there will be a gap in flowering between the tulips and annuals.
To sow hardy annuals in September/October to overwinter and plant out in early spring for flowers in May and early June. Annuals sown in February will not flower until mid to late June.
To direct sow a batch of annuals in April when planting out the seedlings raised in the greenhouse to ensure continuity throughout the summer.
To make a second sowing of hardy annuals direct in late June or early July for autumn blooms.
In terms of plans for next year I will broadly follow the same plan as last year, but will be sowing more snapdragons, asters and cosmos. I am going to choose more whites, purples and peach shades for my seeds as these are the flowers that I am most drawn to when making arrangements for the house or as gifts. I will not be growing cleome again – I found the spikes to difficult to deal with. I will be sowing extra annual clary, annual lavender Spanish Eyes and cosmos to fill gaps in my main borders after the early summer perennials have finished. All three are still bringing color to my garden, even this late in the season and look lovely with the late flowering roses.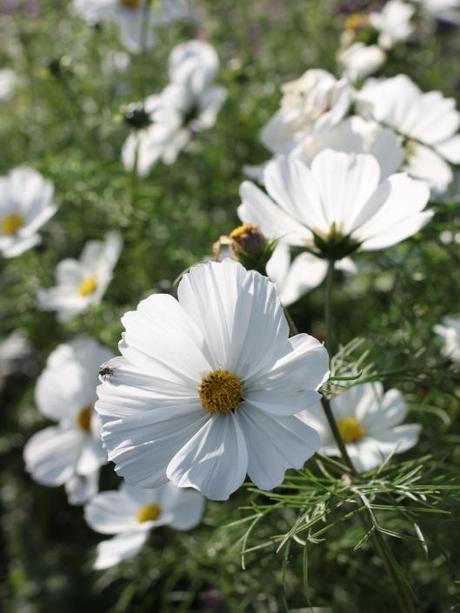 Cosmos Purity
Every year in a garden is different, so what worked well last year may well fail next. As my experience in growing cut flowers increases I am learning the importance of planning, record keeping and regular sowing to maintain a succession of flowers – little but often is the best way for me to grow the flowers that I want. Also I have learnt that I like my Cut Flower Garden to look like a garden, with roses and perennials mixed in with my annuals and bulbs. Growing in a farming style in long rows is certainly the best way to grow cut flowers if you are selling your produce, but for me too many blooms just means a lot of untidy flowers going over well before their time. I need to grow small quantities of my favorite flowers to keep my patch manageable and attractive, whilst providing the beautiful seasonal blooms that I crave.
At the same time as starting to plan my garden for next year, I am also thinking about the best things to focus on going forward when writing Peonies & Posies. As my Cutting Garden has generated such a lot of interest over the last year, I am planning to start a monthly focus on cut flowers, detailing what I am sowing, planting and cutting. I will call it 'The Cutting Garden Diary' and the first post will be in November.
I am also considering a similar monthly post to focus on my greenhouse. I grow so many cut flowers in my greenhouse, as well as sowing seed for vegetables and growing tender summer crops and year round salad. I have sadly managed to fail to write about my greenhouse for a whole season, so a monthly diary date would provide a good discipline.
Do let me know what you think about these ideas and if anyone is interested in joining in and linking up on a monthly basis with either or both of these plans I would be delighted – it would be a great way for us all to share our collective knowledge.