The original can be found here: Cute Monkey at the Swayambhunath Temple, Nepal. Please read the original.
Special thank you to Stephanie Walsh from Discovering Ice Travel and Lifestyle Blog for sharing this photo of this adorable monkey with us. I think you'll agree, he's adorable!:
If there's one place I knew I had to visit while in Kathmandu, Nepal, it was the famous 'Monkey Temple', formally known as Swayambhunath Temple.
As a big fan of monkeys, just like Laurel, I was excited to see if the Monkey Temple would live up to its name.
Sure enough, when I got there, I was overwhelmed and excited to see dozens of monkeys running around outside the entrance to the beautiful temple site.
Situated high up above the Kathmandu Valley, the Swayambhunath Temple is a stunning and serene structure that casts a watchful eye over the city (quite literally), as the main stupa of the temple is painted with the famous Buddha's eyes, carefully watching over pilgrims and visitors as they climb all 365 steps to the top.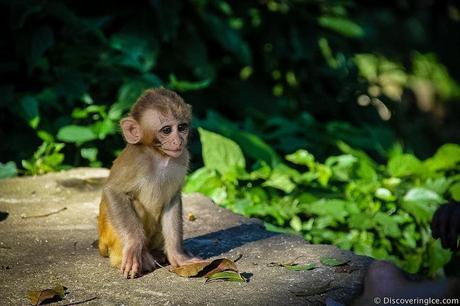 Photo courtesy of Discovering Ice.
The Swayambhunath Temple is nicknamed the 'Monkey Temple' as it is supposed to be home to some holy monkeys. The site is really beautiful, looking out over the vast Kathmandu Valley below, while Buddhist prayer wheels, statues and smaller temples decorate the grounds.
Local pilgrims, young Buddhist monks in training, tourists from around the world and even some Sadhu's can be found visiting the site at any time. The temple is one of the most important religious sites in Kathmandu, especially for Buddhists, although Hindu's also hold it in high regard.
During the steep climb, I spotted lots of adorable monkeys scuttling around and lounging in the sun, including this cute baby, who insisted on munching on the Tibetan Buddhist prayer flags around him.
It was so exciting to be able to get up so close to all of the adorable monkeys running around the site. At one point, a stampede of them rocketed past me, causing quite a fuss among tourists. The locals seemed to ignore them, unsurprisingly.
This little monkey was definitely my favourite, however, and I stayed photographing him for a long time before finally heading back to the city.
Stephanie Walsh from Discovering Ice was started by Steph and Andres, a couple in their twenties who both gave up their jobs to travel the world and find a way to make full-time travel a lifestyle choice funded through online entrepreneurship. You can also follow their adventures on Twitter@DiscoveringIce.
Monkeys and Mountains | Adventure Travel Blog - Travel adventures from Germany and around the globe from a female travel blogger.