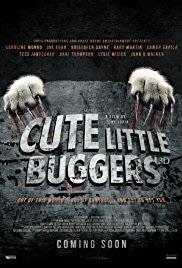 Director: Tony Jopia
Writer: Garry Charles, Andy Davie (Screenplay) Kristofer Dayne, Tony Jopia (Creators)
Starring: Caroline Munro, Honey Holmes, Dani Thompson, Gary Martin, Kumud Pant, Sara Dee, John R Walker, Steve Aaron-Sipple
Plot: When hostile aliens crash land on local farmland the villagers at the summer ball get suspicious when young women start going missing. The villagers soon band together around our hero Melchoir to fend off the invaders and bring back peace to the sleepy English countryside!
Runtime: 1 Hour 47 Minutes
There may be spoilers the rest of the review
Verdict: Micro Budget Horror Fun
Story: Cute Little Buggers starts as an alien race look to use Earth to repopulate their species, by taking women but using rabbits as they can breed quicker to capture the women. We move to a small English countryside village which is preparing for their summer ball.
When Melchior Haslam (Dayne) returns to the village he must look to build the burnt bridges but when the women start going missing and the men turn up dead the rabbits are becoming deadly hunters.
Thoughts on Cute Little Buggers
Characters – Mystic Mary sense the evil heading towards the people in the village, we only have scene with this character in. Randy Rocksoff is the cowardly celebrity hired for the event who shows his true colours when the rabbits attack. Melchior is the returning local that learns the changes in the village, so we as the audience get an excuse to meet all the characters. He steps up when the attack happens to be the hero the village needs.
Performances – The performances do all work for the film, moments in the performances are overacted but that helps the comedy, while most of the women show just how this village seems to have the most beautiful women around in.

Story – The story uses the idea of alien kidnapping women to have their babies and using rabbits as their defence and capture devices. This does sound ridiculous for sure but for a horror comedy it works, we get plenty of innuendos and bad puns, but again that works for the comedy for the film. This is a watchable story as long as you go in looking to watching something that is crazy and over the top.  
Horror/Comedy – The horror comes from the crazy blood splattered deaths going on with the comedy coming from the idea of the film and just how farfetched it sounds.
Settings – The settings keep us in a small village where everybody knows each other secrets, so the true colours come out when things get out of hand.
Special Effects – The film has a budget of £25,000, for the budget that size the effects are high standard when it comes to the rabbits.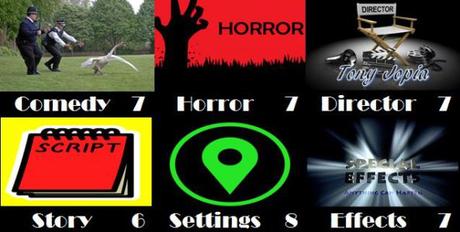 Scene of the Movie – Panic at the Summer Ball
That Moment That Annoyed Me – We have too many characters introduced just to be an extra kill.
Final Thoughts – If you want to see a micro budget horror with a good couple of laughs but not one to be taken too seriously, you will get a kick out of this one.
Overall: Great fun for the right audience.
Rating

Advertisements