Generally, I love customised items for myself. But I haven't quite gotten any for the kiddo yet because a) we wanted to hand some of his stuff down to his younger sibling in future b) we might want to hand down to his cousins or even mommy and daddy friends kiddos who might not want to see his name on the baby items.
But after thinking long and hard about it, I think for the smaller items, it still made some sense to customise it. Cos as a sentimental mother, I might end up keeping a few of his items. (It seems a bit crazy but baby's grandmothers on both side have been digging out Hubs and my baby stuff which are kept in pristine condition for baby.) In fact, for my side, we can probably do a whole photoshoot of past and present.


I thought a customised pacifier clip was the most appropriate because it was small and can be stored away easily. We got 2 teethers from Happy Baby. Like clothes, boys have very limited choice in teether. And it doesn't help that Baby's mommy is a huge fan of certain hues. So he always pretty much end up with bluish, green, tiffany coloured stuff. 
Some of my favorite teethers designs include the llama, rainbow, kitten, unicorn, fox and ice-cream. Somehow the Hubs did not share the same fascination as I had for them. He deemed them as too girly. His favorite was the dinosaur and the cactus. But I really wanted a good one cos it makes such a good prop for a shoot.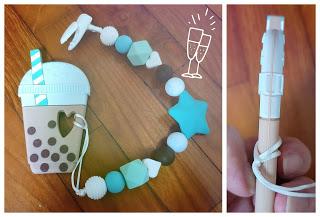 Bubble Tea Teether ($17)
If you are also into this design, you will be happy to know that it comes in a few colours. I just picked something more boyish and realistic for my kiddo. The teether is made of 100% food grade silicon material and BPA free with no phthalates, lead or PVC. So it is absolutely safe for your little one. It is also quite big for a baby so it is quite easy to grip!
Each teether comes with a pacifier clip (without customisation of name). You can also choose the colours of your pacifier. If you are having a baby girl, you can go for brigher combinations such as rainbow, pinkish or purplish. My only grouse with this design was only the joints in the middle, otherwise I can't wait for baby to start practicing his grip on this. :D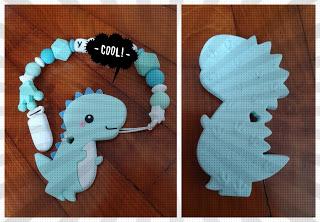 Dinosaur ($16)
By the way, the pacifier clips are interchangeable. You also have the choice of choosing a rose color clip or plastic coloured clip with no extra cost. We are using the normal plastic clip because it seems to go better and we already have rose color clip ones for his pacifier. You can even add feathers at an additional $1. 
For customisation, it is 80 cents per letter, which I thought was quite reasonably priced. Thank God for us, my baby's name isn't very long. Unlike the bubbletea design, the back of the dinosaur is of a different texture - tiny footprints. My husband really like this piece so I guess the name one will be stuck to this. Personally, I think customising one piece will do because with the clip, the baby is quite unlikely to lose it and secondly we can't just keep too many things of baby cos what if you have 4 children eventually, haha!
While everyone around my delivery is waiting for the baby's arrival, I am just waiting for him to grow up...because I really got him a lot of fun things which I can't wait to play with him :P