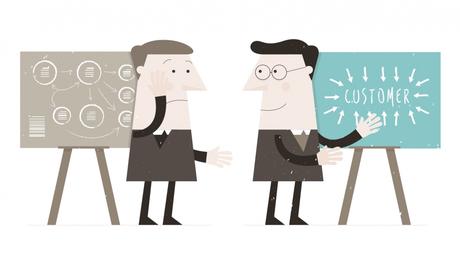 Customers are human. They are complex and changeable and yearn to feel valued and understood. As marketers, we tend to focus exclusively on demographic characteristics to lump them into groups to target. But the wants, needs, interests and values of a customer cannot be determined from this simple means of segmentation. Customer-first marketing uses a customer-centric approach and goes much deeper than traditional methods to glean a clearer understanding of what consumers care about and feel strongly connected to.
Customer-first marketing focuses more on customer behaviors than on business goals and desires. It's not an easy shift to make but certainly a necessary one. To increase brand loyalty and relevance in this competitive digital era, you have to show customers that you "get" them. They crave this empathy and want to align themselves with brands who value them. And that calls for engagement beyond simply what your company has to offer them. It means understanding what buyers like and care about and then interacting with those interests, often without mentioning your products/services.
Personalizing content and campaigns to consumer preferences leads to increased acquisition rates, engagement and buyer loyalty. And loyal customers are worth up to 10 times as much as their original purchase. The good news is - whether B2B or B2C - you don't have to be a giant, successful business to leverage consumer preferences and reap the benefits of customer-first marketing. But where does that information come from? Just how do you tap into the passions and hobbies of your buyers and prospective buyers? You listen, ask, observe and reach.
LISTEN: Customer-first marketing means paying attention to your customers on social media
Consumers spend an average of two hours and 22 minutes per day on social networking and messaging platforms. Customers' social pages are excellent sources for uncovering their actual interests and intentions. Different from social monitoring, social listening tools offer insights beyond mere mentions, comments and posts directed at your business. You can set up alerts within these tools to be notified when people talk about your brand online, even if they didn't specifically intend for your company to see it. Customer-first marketing means analyzing the profiles of people who participate in conversations about your brand so you can see what kinds of content they're connecting with, from entertainment preferences to favorite activities. You can even design live events or interactive campaigns focused on these interests. Listening to your audience on social can give you actionable insights to adjust the nature of your campaigns.
One of the best ways to find out what buyers like and want is to outright ask. Carefully crafted surveys remove the guesswork with direct audience communication. For a high response rate, surveys should be simple, embedded and unbiased with humanized messaging to show there is a real purpose to the questions. Including a progress bar will also increase survey completion rates. Use these surveys to get to know your customer beyond generic demographics. Ask about interests, hobbies, tastes, likes, dislikes, etc., but remain focused on only a few things at a time. The information you receive may reveal surprising trends among your audience and niche topics of interest outside of your industry - anything from film and TV to cooking and fitness - that you can hone in on with future campaigns.
OBSERVE: Step outside your content comfort zone
Whether in your blog, social media platforms, email campaigns, or website, you have the opportunity to bring customers closer to you with non-promotional content. In fact, 58% of marketers ranked audience relevance as the most important factor for content effectiveness. Use your CRM database or other tracking tools to discover what topics and resources are resonating with your audience. As you determine their likes and dislikes from the data, push yourself to post content on topics outside of your industry if your customer research demonstrates interest. Look for trends and news to share that might influence your buyers. This unconventional content will break the monotony of promotional posts and spark conversations with customers. This content made possible through customer-first marketing gives them the impression that you are tuned into the customer's voice, allowing you to delight them with awareness of their preferences.
REACH: Go further with your buyer personas
Buyer personas are helpful guides to individuals you wish to attract. But basic buyer personas don't often dig deep enough. Build your buyer personas out a few steps further to include things like the challenges they face, their passions, how they live their lives and who influences their perceptions and decisions. To be Intelligent about your buyers, think beyond how your company can meet their needs to their emotions, desires and fears - to what makes them human. This personal information may seem irrelevant to your business. However, it gives you opportunities to revamp your branding to resonate with the consumers you want to reach. Doing so will help you establish stronger connections and lasting relationships with customers.
Nurturing buyers with attention to their preferences improves the customer experience. And consequently, your sales will increase as buyers grow familiar with and trusting of your brand. Not only this, but a customer-centric focus will produce other, rippling benefits like reduced costs of attracting new customers, more relevant ad content and placement and employee empowerment to better handle buyer needs. It's obvious that depth of customer understanding can provide a serious competitive edge. All you have to do is listen, ask, observe and reach.