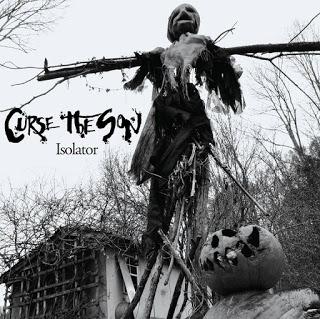 I was just thinking…I love me some good old fashioned moody, sludgy, grooving doom.I also love me some good old fashioned melodic vocals, with a little growl to 'em, but still actual singing, ya know?Not the typical growly stuff a lot of doom bands favor, but some good old fashioned melodic hard rock and metal vocals with some good old fashioned grit to 'em.Kinda like a lot of the 90's bands used, with a lot of brooding anger.Maybe throw in some hauntingly cool harmony vocals here and there too…yeah…kinda like Ozzy, Chris Cornell, and Alice in Chains thrown into a blender…it would have to be a black blender of course.Well hold on to your ear surfboards Waveriders, cause I found just the thing.
Curse the Son's Isolator begins with the title track, featuring a quiet melody of subdued drums and guitar behind some groovy mellow bass riffing before bursting forth with a wall of heavy sound chugging along at a mid-tempo stomp behind melodic vocals, all complete with stops and starts, fading out and back in at strategic points."Callous Unemotional Traits" boils up to the surface next, slow and sludgy, with haunting harmony vocals recalling the legendary sound of Layne Stayley and Jerry Cantrell with a pinch of Mastodon thrown in."Sleepwalker Wakes" brings the tempo down even more, alternating between straight-time and half-time, dialing up the sludge factor another notch while switching up to a more melodic vocal approach reminiscent of Soundgarden's Chris Cornell.Don't get comfortable though Waveriders, because just when you think it's safe to get in the water again, "Hull Crush Depth" envelops you in slow waves of sound alternating between ebbing tides of subdued drums behind groovy bass guitar with psychedelic-tinged vocals one moment, and tidal waves of fuzzy doom washing over your bow to send your ship to the doomy depths the next.
"Gaslighter" continues the slow roll of the rising tide, but this time opening with an infectious guitar riff doubled by the bass guitar behind bitter lamenting vocals begging for forgiveness as they "drain your soul."The evil tritones are on display again as "Aislamiento" creeps up behind you with it's fangs ready before boiling down to a sullen waltz of doom complete with airy passages of melodic bass riffing that would make Lord Geezer Butler proud between layers of crushing distorted guitar, before a killer drum and bass breakdown about 5½ minutes in before building back up to carry the song out."Side Effects May Include…" erupts forth from the sonic ground with a mid-tempo snarl of bass guitar before being joined by droning blades of sludgy distortion and thundering drums with earthy vocals alternating between sky high passages and low gritty ground level trips through the doomy mud.I think the side effects may include HEAVY!
Isolator
is moody and heavy throughout, with lighter passages interspersed within, and you can't help but bob your head and tap your leaden feet while listening.Guitar solos are nowhere to be seen, but the bass riffing and wall-of-fuzz guitars more than make up for their absence, and the drums are thunderous here, light and airy there creating the perfect light and shade within the dynamics of the album.So if you're like me and you prefer your doom moody, sludgy, and groovy, and your vocals melodic and gritty with some hauntingly cool harmony vocals sprinkled about, check out Curse the Son's Isolator.Your ear surfboards will thank you.Like totally bro…
-Riffcaster